My First Coachella Experience
Nearly one full year ago, I received my very first Coachella Valley Music & Arts Festival box, containing my wristband and other goodies that welcomed me warmly. I had only heard countless stories about anything and everything Coachella, like huge music acts, enormous crowds, vicious dust storms, a silent disco, and the glorious scent of Spicy Pie. But I was finally able to see for myself, to roam on my own two feet around the grounds, and witness the incredibly vast field of energy at my first Coachella ever.
Plans for Coachella were made for me late in 2014 between myself, my old roommate, and some local friends; they had all already been to Coachella at least once, and some several times. As a music festival newbie, I simply went with the flow of other car campers, preparing my tent, blankets, and stocking up on grub. My mind was mostly on the music, coming back from San Diego's first CRSSD Fest in March. I left it up to my roommate to show me lots of music acts and where he thought they would be playing so that I had an idea of how to best manage my time. In order for me to really get the most out of my first Coachella, I wanted to make sure that I was able to balance my time at stages with experiencing art installations and spending time with homies on the camping grounds. I must have thought Coachella was a lot smaller than it really was, because I probably only saw about half of the entire musical grounds on the first day.
Heading To Indio
It came time to make the trek, about a 2 hour drive eastward to Indio from my apartment. I had my food stocked up in the cooler, chairs and blankets filling my car to the brim, and slapped my camping sticker onto the car. My roommate and I left Thursday morning at about 5:30AM with friends because we wanted to get to the camping grounds bright and early. The drive wasn't too bad, and I was bumping Alison Wonderland's new album, "Run" to get me pumped for one of her first ever sets in the US.
Our plan that morning was ambitiously inviting: we were going to meet-up near the grounds before we formed the ultimate caravan of 20+ car camping vehicles. At this point, I was almost immediately encompassed by the spirit of Coachella, meeting and greeting dozens of good people with a common destination. We made it to the entrance for the camping grounds before they opened, and we knew we were going to have our space very close to the entrance of the festival grounds. We all got through security and were ushered through the camping grounds as one large team, numbered and identified with stickers (insert picture of roll pack sticker on car) on our rear windshields.
Settling Into The Camping Grounds
Not everyone who was going to be camping with us came for the early morning ride; some folks weren't meeting up until Friday for the music, while others were coming on Saturday to join the party. Those of us who arrived just after the crack of dawn on Thursday set up our giant home base and personal tents with some room for a music party area and plenty of chairs to relax on. My friends were DJing on the decks, people were joining our headquarters and greeting us with smiling faces, food, and interesting stories from previous years. The energy on the Coachella campgrounds is part of what has made me a dedicated attendee of the now twice-a-year festival. I specifically remember meeting my first out of country campers nearby, Rob and company, who had come all the way down from England just for this one weekend of greatness. I had asked him how many times he had been here and how much he enjoys it, and he told me
Honestly man, this is my sixth year doing it and every year we've been planning a little better, a little smarter. By now, we have it down to a science, like how to beat the heat and pace ourselves out on the festival grounds. It can get a bit too stuffy so we put a bunch of aluminum lined throughout the inside of the car, it reflects all the sun out and you can just kinda stay cool in there. I only get 14 days of vacation a year, so setting aside 5 of those for Coachella tells you something about how worth it the experience is for us.
Making friends with some campers nearby was a small, but essential part of camping for me because it really brought me into the community. As it being my first Coachella, I didn't really know where most things would be at nor what to expect when we woke up each morning. There were vendors lined along the commune areas of the camp grounds with activities like Yoga, dodgeball, dance parties out in the open, and some interesting food/drink options. It was here that I was first blessed with the epic smells of Spicy Pie, and the attempt at a snowball fight which happened at night.
I never made a clear-cut morning routine, but some of the things that you could do to get ready in the morning included a hair salon and makeup studio — let me just say that my friend Eric got a haircut, and was looking fly.
Coachella Music
I was really pumped about all of the music that I saw listed for the main music lineup and the two other stages boasting heat. At my first Coachella, the Do Lab stole my heart overall with some of the future acts I had been anticipating for weeks. The Heineken House was a funky place to stay cool(it had A/C) and catch acts like Sir Mix-A-Lot, DJ Craze, and Soulection's So Super Sam. These stages spoke to me because they took me away from massive crowds and focused on intimate energy. In those spots, the music was totally in command of our ears and bodies.
My main excitement for my first Coachella was seeing Alison Wonderland perform her United States debut at the Sahara Stage on Saturday. In a sense, it was also her first Coachella, at least in terms of performing. I had been hyping many of my friends up to her, especially since she just released her album, "Run," and had been supporting her music for a couple of years She had convinced me that she could throw down a set with flair, and the audience was very receptive to her set. Whoever designed her stage knew what they were doing. The setup featured screens which showed her hands working on the CDJs and bouncing along to some wonderful drops.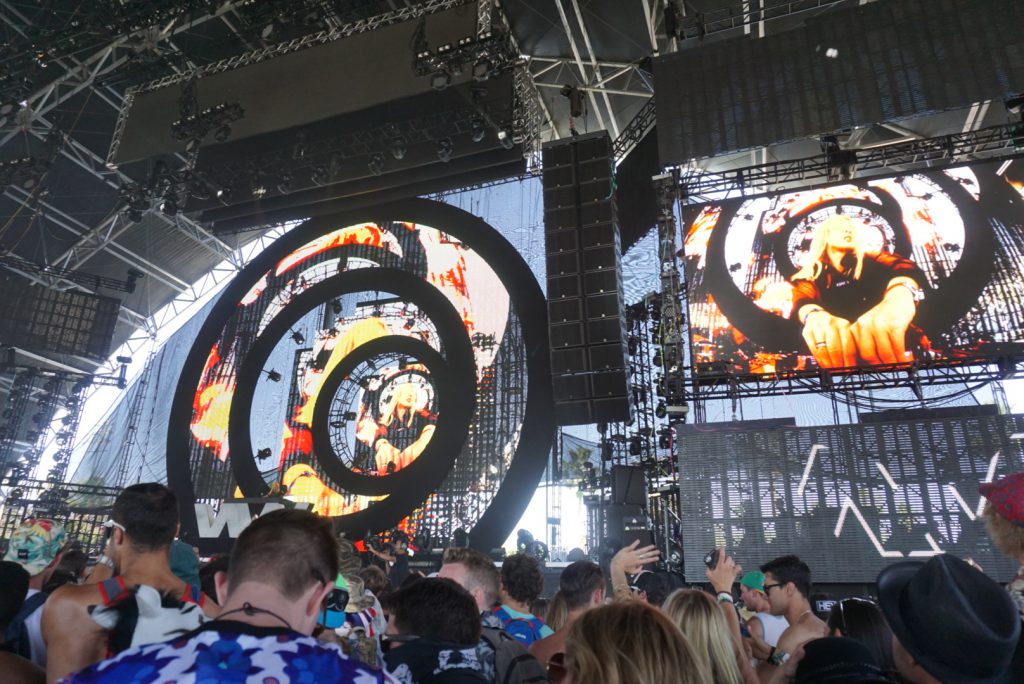 Bringing my friends to Alison Wonderland was a really important moment for me because it was literally my most anticipated set of the weekend. Similarly, I went with my crew to go see their favorite acts as well. My friend Eric [pictured above] showed me Tame Impala and I felt the true power of a rocking band at night on stage right before AC/DC. Soulection's Joe Kay teamed up with rapper Jay Prince for a smooth and laid-back soul-filled set. Tracks ranged from Jay Prince's own tracks to some throwback instrumentals of songs like "Overnight Celebrity" and "PYT."
Not only do I have some broad tastes in music, but my homies extend the tastes even further. Because of that, I was introduced to some really dope groups like Kasabian, Gorgon City, and Caribou that I wouldn't have sought out otherwise.
The difficulty of all of the great talent at Coachella is TIME CONFLICTS!!! My advice for time conflicts is to rate the acts on the bill from 1-3, 1 meaning you have to see the act and 3 meaning you just have a desire to see them. Give a 1 at least 40 minutes of your time, a 2 at least 20, and a 3 10-15, and you should be able to follow it. Of course any plans are prone to change based on how you feel in the moment or who you're spending time with. From personal experience I can say that it was a nice balance, and I didn't feel awful about missing many acts in particular. The Do Lab stage hooked me personally because I was hearing so much about it from friends and the music lineup was overall the most appealing to me.
The Do LaB Stage
The Do Lab lineups were stacked. Some acts packed plenty of artsy trap and house vibes, while the audience got showered with water guns and were entertained with inflatable beach balls. Below is a candid image of my crew-mate Anthony and I, right after I tried to hit the ball but he moved it slightly out of my reach!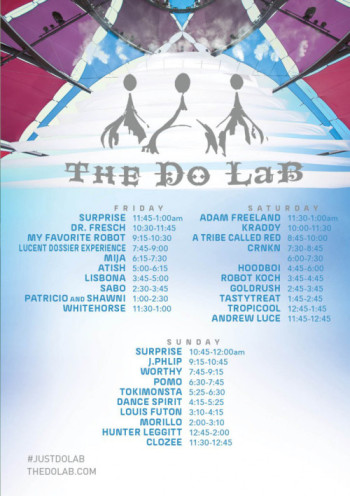 Parts of the stage design fluttered in the wind with a big treehouse-looking station up top with people who controlled the sound and some visual effects. Music heard included some open-air bangers from artists like LOUDPVCK, Jackal, Tokimonsta, Andrew Luce, Kraddy, and more. This music was next level because it had the thumping bass that moves you but the dynamic energy that the DJs were playing with during their sets. You would hear a familiar modern anthem get mixed into a bass-heavy remix of Candy Shop. Part of the beauty of the Do Lab is related to their motto, "Just Do Lab." That mixture of knowing what to expect, yet not exactly knowing what to expect was guided so well by acts like Justin Jay, Louis Futon, Pomo, and Mija. These DJs have a general style, sure, but the way they navigated their set felt so unrestricted and natural. It was unlike seeing them at a club show because of this, but they delivered many of the tracks that they knew their fans would appreciate. Louis Futon's sound kept going out because of an overheating issue, but that was the only thing which went wrong that I can think of.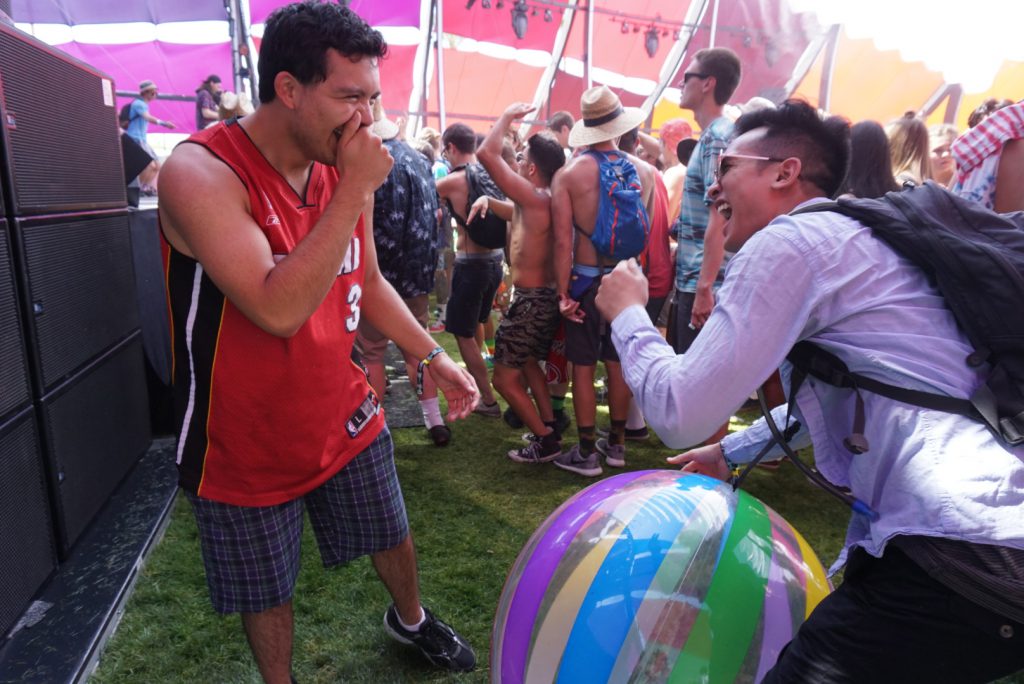 At night, the Do Lab turned into a truly beautiful scene. I still recall the feeling of walking into Kraddy's set to hear him dropping a track by Buku, and seeing acrobats descend from large hoops from the above. Fire dancers and more came onto the stage while a gnarly bass set was played, artists made their work on walls, now lit by the fire sticks on the stage. Because of all of this, the Do Lab had a thorough presentation and made a ridiculously strong impression on me. It's part of why the Do Lab is again the stage I expect to find myself stuck to this year in 2016.
Back to Reality
Nearing the end of the my first Coachella, I was pretty exhausted. I had just set up camp just over three days earlier and it went by so fast. My last set of the weekend was chilling off to the side at Kaytranada, eating some Jamaican jerk chicken and rice. I had plenty of room to dance, since people were either at Kygo after David Guetta, or Drake. My girl and I decided it would be smarter to leave about 20 minutes before the sets ended, and boy did that save us time. I was on the freeway by about 11:45 and made it home to West LA by 1:30. I cannot stress how amazing it felt to not deal with any traffic, especially since I had class on Monday morning! I left all of my gear in my car, took a shower, and slept soundly knowing that I had done it. I had done Coachella, and it was a weekend that I shall never forget as one of the most transformative experiences of my last 5 years.