Beyond Wonderland SoCal 2016 has already begun, campers are arriving at the campgrounds! The San Manuel Amphitheater in San Bernardino is about to be transformed into a magical land of contradictions and madness. A two-day festival filled with experiential installations, themed stages, costumed performers and of course amazing music. As you pack up your bags and get ready to fall through the rabbit hole, here are some things you should probably know.
Beyond Wonderland SoCal 2016 Set Times:
Make sure you know what time your favorite artists are playing and where they'll be!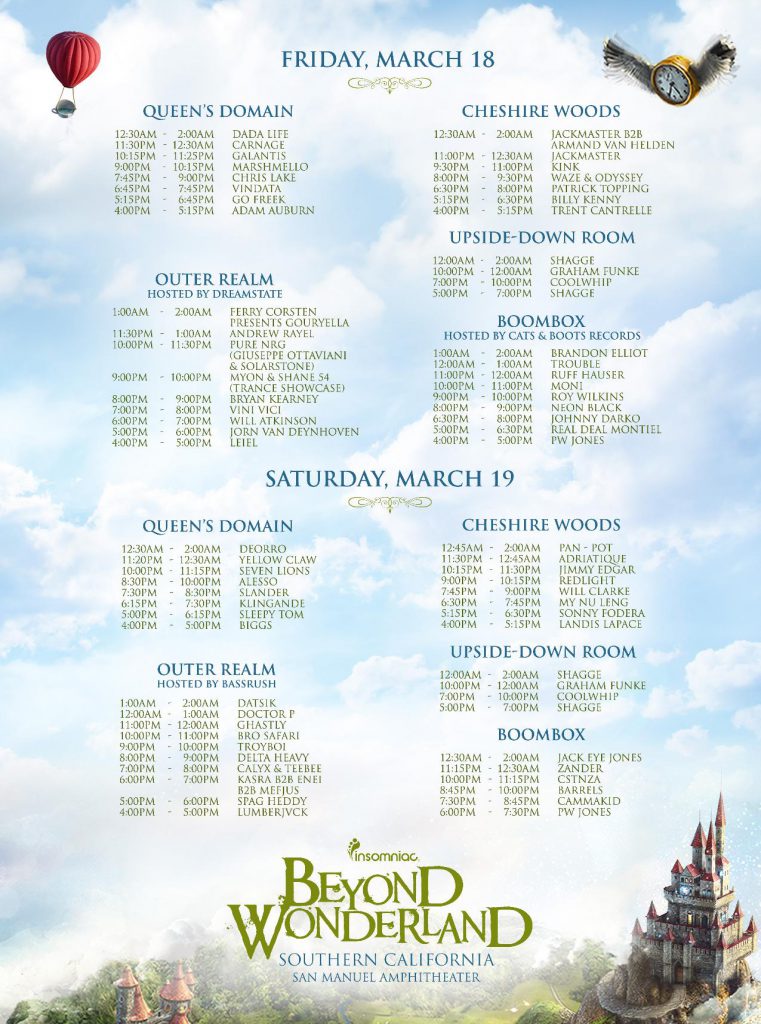 Beyond Wonderland SoCal 2016 Map:
Make sure to find out where water is and the best meet-up spots for your crew!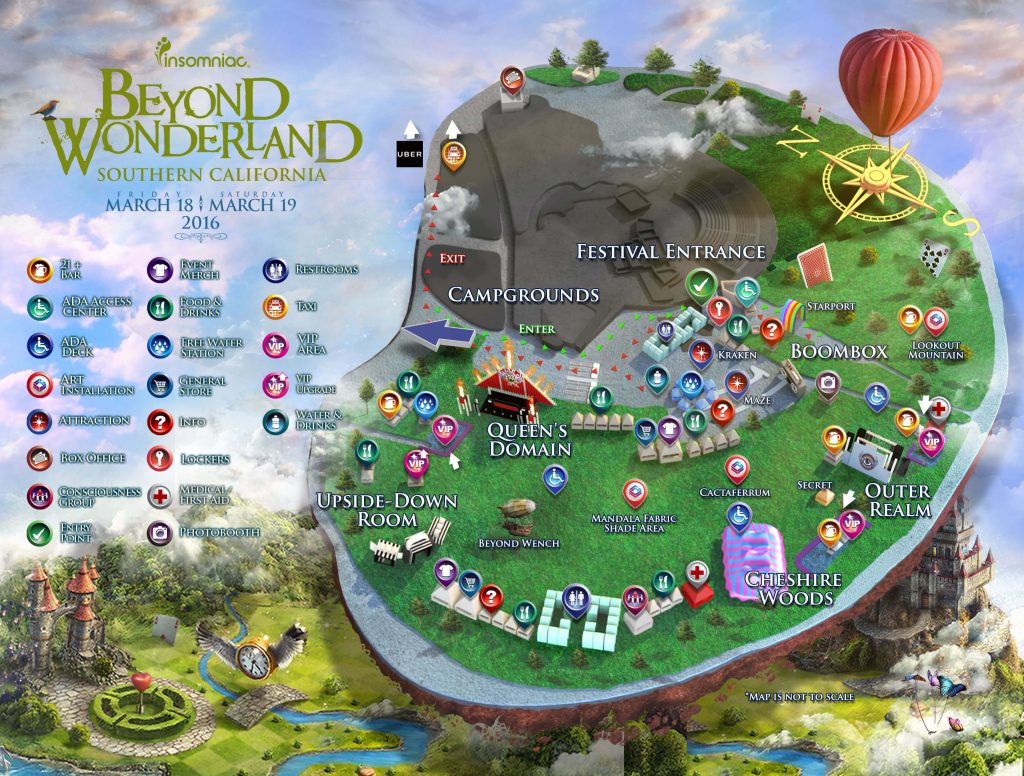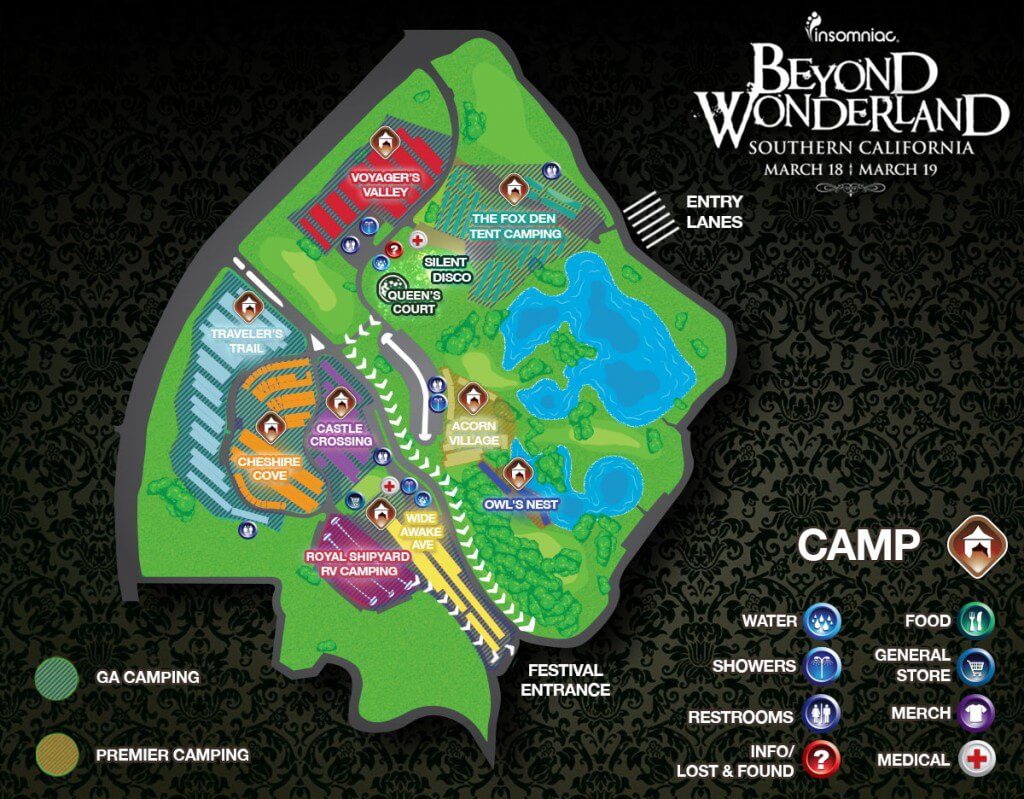 Beyond Wonderland SoCal 2016 Playlist:
ACCEPTABLE  ITEMS
YES Small bags, single compartment backpacks, plush backpacks, & purses (maximum 12"x12")
YES Official Insomniac water bottles—must be empty upon entry
YES CamelBaks with no more than two main compartments and one smaller compartment—must be empty upon entry
YES Cell phones
YES Fanny packs
YES Sunglasses & hats
YES Lighters and sealed packs of cigarettes
YES Single-use/disposable E-cigs or vapes that do not have refillable liquid chambers
YES Physician-prescribed medication that is not expired (must show physician's prescription and consult with a safety officer upon entry)
YES Earplugs
YES Sealed lip balm & gloss
YES Powder makeup and sealed tampons
YES Glowsticks & glowing/illuminated costumes or jewelry
YES Sealed packs of gum
YES Hula hoops (including LED hoops)
YES LED poi
YES Inflatables (must be deflated upon entry)
YES Flags/banners or handmade signs (no corporate/company branded and no hard flagpoles)
YES Festival totems or decorated pool noodles (see Totem Guidelines below)
YES Non-professional flash/still cameras, handheld video devices under 6" (Sony Action Cam, GoPro, etc.), and GoPro extendable poles
PROHIBITED  ITEMS
NO Illegal substances
NO Drugs or drug paraphernalia
NO Pets
NO Massagers
NO Laser pointers and air horns
NO LED gloves or LED microlights used for light shows
NO Pacifiers, dust masks or gas masks
NO Eye drops (available inside festival at the general store)
NO Over-the-counter medication (available inside festival at general store or from a first aid station)
NO Liquid makeup or unsealed tampons (upon entry)
NO Glass, cans, cups or coolers
NO Markers, pens or spray paint
NO Large chains or spiked jewelry
NO Stickers, flyers
NO Balls or Frisbees
NO Tents, large umbrellas, chairs or blankets (except in campsite)
NO Bota bags
NO Large purses, bags or backpack (over 12″×12″)
NO Stuffed animals or dolls
NO Open packs of cigarettes (upon entry)
NO Outside food or beverages (including alcohol and candy)
NO Weapons of any kind (includes pocket knives, pepper spray, fireworks, etc.)
NO Professional photo, video, or audio recording equipment (no detachable lenses, tripods, big zooms or commercial-use rigs)
Rage hard, be safe and enjoy this break from reality at Beyond Wonderland SoCal!
For more information on Beyond Wonderland SoCal click HERE!