Miami Music Week/Winter Music Conference 2016 is right around the corner and Protocol Recordings has prepared a "Miami 2016" compilation in antcipation. Protocol Recordings has had a heavy presence with Miami and MMW/WMC and the label is starting the party off in style by releasing this sizzling 20-track compilation mixed by up and coming DJs Florian Picasso and Blinders.  This hour-long episode features some familiar hits as well as some exclusive tracks from Deniz Koyu, Arno Cost, Sam Void, Alvedon, and Tom Tyger.  Of course we can't forget about Nicky Romero's own music, tracks include "Harmony" (w/ Stadiumx) and brand new "Future Funk" (w/ Nile Rodgers).  This music is meant to take the listener through a journey of some of the hottest house music. The listener will experience 20 tracks, 4 upcoming releases and 13 exclusive tracks. The rising prodigies who compiled this episode are also debuting two new tracks themselves,  "You Don't Know" from Blinders and "Final Call" by Florian Picasso.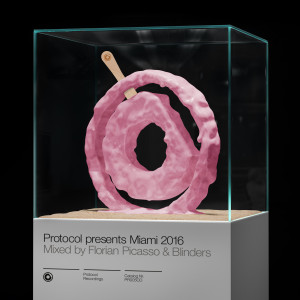 With an eye for amazing talent, Protocol Recordings, will be hosting their very popular annual event/showcase on March 19 at Icon Nightclub.  I personally enjoyed this classic art-deco inspired nightclub concept. The lineup for this event hasn't been released as of yet, however, it is sure not to disappoint.
Don't start your Miami Music Week this year without listening to this mix.  Press play and let this house music start up your party week right. Trust me when I say this compilation will not disappoint!
Check out Volt & State – Sandcastles (Ben Lemonz Remix) on SoundCloud:
Track List for Protocol Recordings "Miami 2016" Compilation:
01. Volt & State – Sandcastles (Ben Lemonz Remix) [Exclusive]
02. Arno Cost ft. River – Coming Alive [Protocol Rec. upcoming release]
03. Pandaboyz & Nano Bites – Live As Me [Exclusive]
04. Feider & Daszko – Crashed ft. Melanie Fontana [Exclusive]
05. Sam Void – Reachless [Exclusive]
06. Corey James & Teamworx – Make The Crowd Go [Exclusive]
07. Blinders – You Don't Know [Protocol Rec. upcoming release]
08. Def Rock & Charlie Ray – Venom [Exclusive]
09. Volt & State, Sam Void, Avedon – Hold On
10. Florian Picasso – Final Call [Protocol Rec. upcoming release]
11. Tom Tyger & Simon Alex – Axe [Exclusive]
12. Nico De Andrea – Kids Of Africa [Exclusive]
13. Arno Cost – 1000 Suns [Protocol Rec. upcoming release]
14. Ovion – I Dream [Exclusive]
15. Exit Friendzone & Murtagh – Crossfire ft. Karra [Exclusive]
16. Glen Dale & Avedon – Follow You [Exclusive]
17. Deniz Koyu & Don Palm – Aviators (Lift) [Exclusive]
18. Florian Picasso – Want It Back (Miami Edit) [Exclusive]
19. Nicky Romero & Stadiumx – Harmony
20. Nicky Romero & Nile Rodgers – Future Funk
21. Protocol presents Miami 2016 mixed by Florian Picasso & Blinders (Continuous Mix)
---
For more information on Protocol Recordings: