Super City 50 Event Review!
If you weren't at Super City 50 this last weekend, you missed out on a great opener for festival season. The O.co Oakland Coliseum brought the bass with a Bay Area presence for this one-day EDM fest. I went into it with no expectations and was pleasantly surprised with how well the day turned out. Super City 50 offered three different types of tickets to choose from: floor, bowl, and VIP. Floor tickets allowed access throughout the entire ground area of main stage, while bowl tickets were strictly seats. VIP tickets were available as well which allowed access to the floor, bowl, and a VIP lounge that had its own stage inside. Also included in VIP was express "red carpet" entry to the event and a gift bag with merchandise, but more on that later.
The Bay Area rave scene was out in full force spreading good vibes throughout the crowd. Main stage hosted K Theory, Chuckie, Showtek, Chromeo, The Chainsmokers, Diplo, and Alesso. All of which kept the crowd bouncing as the sun set over the coliseum. There were rumors that Diplo would bring Skrillex as a suprise guest, but instead brought E-40 to help close out his set. Alesso wrapped up the night with classic main stage feels tunes, making it hard to walk away.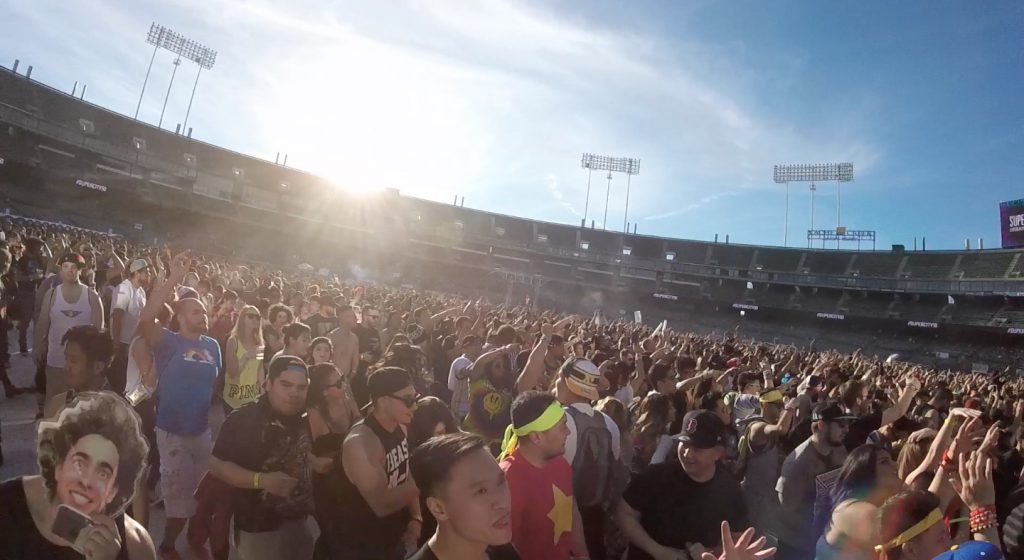 Super City 50 didn't go on without some hiccups though. Set times for the smaller stages were never sent out either, making it nearly impossible to catch a specific artist unless you happened to be walking by at the time. VIP was an utter disaster, leaving many people feeling that their money had gone to waste as the promotions company did not deliver on their promises. VIP wristbands "ran out" and the entire VIP entrance was closed, forcing VIPs to utilize the GA line. The gift bags that were supposed to contain exclusive merchandise from artists were only filled with an LED wristband and nothing else. Furthermore, the stage was not very visible from the VIP area which led many people heading to the floor or bowl instead. On a less serious note, if you haven't already seen on YouTube, one festival-goer got a little too wild when he traded his rave gear for his birthday suit.
Luckily, the music completely stole the show. It is still unclear if this was a one-time event or if it will be returning to Oakland in the future. Hopefully the event is allowed to extend to a proper end time as the Oakland Police Department forced the event to end two hours earlier than originally stated by the promotions company.
Super City 50 has released a statement regarding the VIP issues via Facebook: