Chart topping duo Blasterjaxx returns for its second release on Maxximize, the widely acclaimed DBSTF collab 'Parnassia'. Initially supported by DJs like Dimitri Vegas & Like Mike, Hardwell, Ummet Ozcan, Quintino and W&W, it's officially out now, including a wonderful, politically incorrect video. Watch as Mr. Trump Dump gets in tune with the voices in his head and chased all over. It's bizarre, silly, and a video you just can't turn away from. Enjoy!
Blasterjaxx & DBSTF – Parnassia:
Now, as the first single on Maxximize sparked worldwide critical acclaim, Blasterjaxx returns on its imprint for a collab with another Dutch duo, DBSTF. Hailing from the same city as the Blasterjaxx guys (government city The Hague), they too have built a solid reputation in hardstyle for many years already.
Working under the name D-Block & S-te-fan led to loads of high profile performances as well as releases on their own hardstyle label Scantraxx Evolutionz. Last year the duo also started to work as DBSTF, producing electro house styled hit records for DOORN and Revealed, now debuting on Maxximize alongside Blasterjaxx.
For sure, 'Parnassia' is a mainstage electro monster, filled with tension building chords, overwhelming synth stabs and a major drop to send crowds sky high. Turning this release into a worthy successor to Maxximize's first release, making sure 2016 is kicked off with a bang. And if happen to be in the New York area soon; Blasterjaxx hosts their own MAXXIMIZE event in NYC at the Hammerstein Ballroom on February 13, 2016! Click here for details and tickets!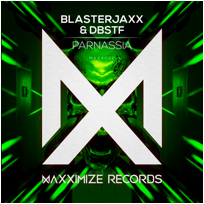 Blasterjaxx & DBSTF – 'Parnassia' out now on Maxximize Records
Beatport || Soundcloud || YouTube
Follow Blasterjaxx:
Website || Facebook || Instagram || Twitter || SoundCloud
Check out DBSTF:
Website || Facebook || Instagram || Twitter || SoundCloud
Keep tabs with Maxximize Records too!
Website || Facebook || Instagram || Twitter || SoundCloud