Fresh off the release of his latest single "Smoke Bomb," a collaboration with ganja-king Snoop Dogg himself, DATSIK has announced plans for a PK Sound bass-filled spring with fans as he takes his highly anticipated SPRING LOADED TOUR across North America beginning Tuesday, March 22 in Missoula, MT (full list of dates below). Special fan club sale starts tomorrow, Thursday, January 22 at 10am PST with limited quantities of $20 tickets per market.
For more event details and to purchase tickets to the SPRING LOADED TOUR, click here: www.springloadedtour.com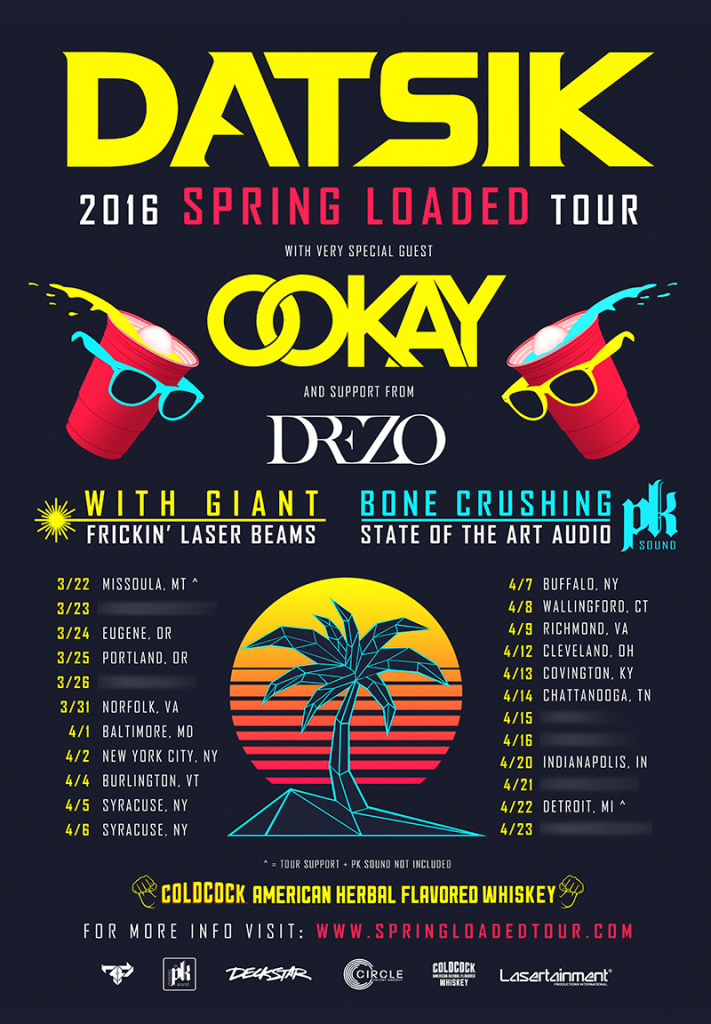 About DATSIK
Since launching the Datsik brand, Troy Beetles continues to evolve as a solo artist all the while pushing his beloved bass music world to new lengths, both on a personal artistry level and as a genre as a whole. From bedroom producer to chart-topping artist, internationally touring act and owner and founder of the enterprising Firepower Records, Datsik is poised to make bass music the sound of the future with his recent Down 4 My Ninjas EP (Nov. 2014/Firepower Records) and new release "Smoke Bomb" ft. Snoop Dogg (Nov. 2015/Ultra Records). Datsik took his initial steps into global dominance in 2009 with the Nuke 'Em and Boom EPs featuring Excision and the legendary Flux Pavilion as collaborators. In that same year, Datsik claimed 10 Beatport #1 releases. Additionally, he has also released massive remixes for dance music icons Skrillex, Diplo, Kaskade, and Zedd, as well as two collaborations with Bassnectar and two more with Diplo on his Express Yourself EP. He has also remixed artists from the mainstream pop world and hip-hop spheres such as Coldplay, Lil Wayne, MGMT, Linkin Park, Wu-Tang Clan, one of the biggest influences on his sound, and, most recently, Lana Del Rey. Other releases from Datsik's arsenal include Vitamin D, his debut artist album on Dim Mak Records (2012) and the Cold Blooded EP and the corresponding Let It Burn full-length album on Firepower (2013).
www.datsik.com
www.facebook.com/djdatsik
www.twitter.com/datsik
www.instagram.com/datsik
https://soundcloud.com/datsik