You cannot deny that BURNS is a rising star in the electronic music world. Having worked with artists ranging from Tommy Trash to Ellie Goulding, playing shows around the US, and opening for Calvin Harris at heavy hitting Las Vegas clubs Omnia and Hakkssan, BURNS has definitely hit the big time! Since his release of "Around You" and "Make It Clap" he's moved into his own sound that is truly unique. Not to mention that the energy behind him rivals main stage artists around the world. I had a chance to chat with BURNS about his life as a DJ, upcoming releases, and more!
---
How did you come up with the name BURNS?
It's my name.
Who are some of your favorite artists that you listen to?
Right now? Bryson Tiller, Drake, Jackson C Frank, Future, Burial, Outkast…
What's your favorite part of being an artist?
I can be creative and free, I've always been afraid of getting a real 9-5 job so I feel privileged to be able to create 24/7.
What song do you enjoy playing live most?
Right now, Make It Clap is my favourite to play out of my own.
https://soundcloud.com/thisisburns/burns-make-it-clap
How have you felt about the reaction of Make It Clap?
It's been a big record for me. I don't think there are many djs in the scene that haven't played it which is a huge compliment. It was a shift for me back to a more stripped back sound that had a lot of hiphop influence in there and I'm happy it worked!
How is the music scene different in California versus other places you've played?
LA is so diverse! Little pockets of different musical taste, you've got Hollywood that has a scene for the more commercial/ mainstream club music/ hip hop and then you drive an hour downtown and it way more underground and forward thinking, it's got a great mix, I'm very much an artist that dabbles in genres and scenes so it's perfect for me!
What's the craziest thing that's ever happened at a show?
I'm not sure?! Someone once paid me a lot of money to play a Drake record in Vegas and I didn't have the song with me so I got my tour manager to run up to my hotel room and burn it onto a cd for me to play with 10 mins left of my set, luckily we did it in time!
How are you inspired when making new music?
I'm inspired by everything around me, I listen to a LOT of music. I think it's so important as an artist to listen to everything and not to keep your vision too closed off from other scenes and genres, I pull little bits from everywhere and I think that makes for something unique.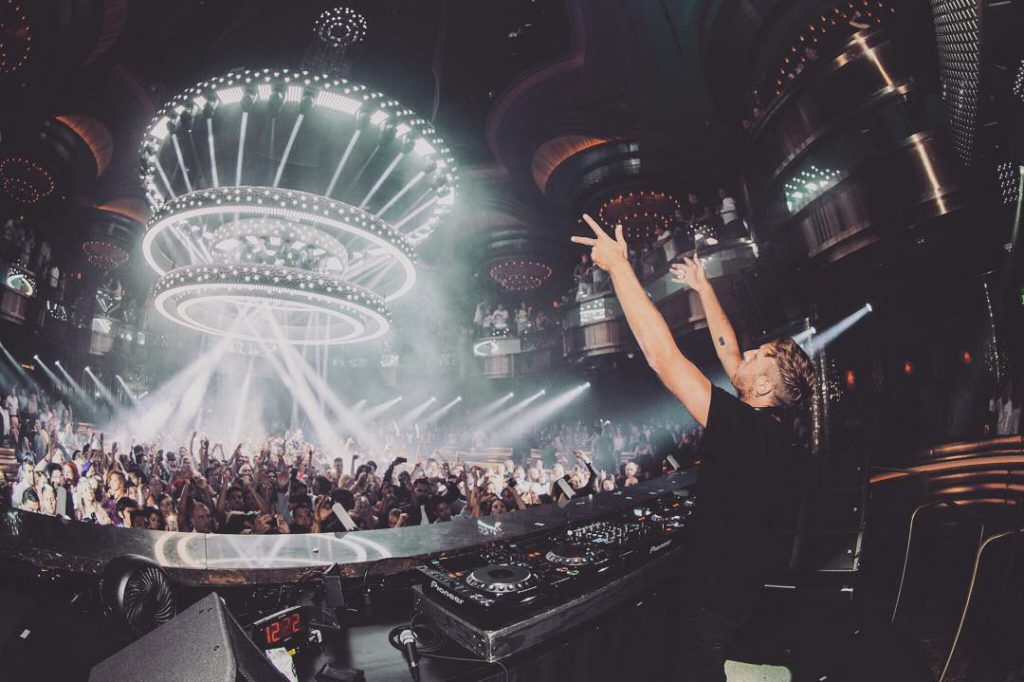 Do you feed off a nightclubs energy when you're playing?
Of course!
You've worked with Calvin for many years. What is your favorite part about working with him?
We've been friends for a long time, its just good to have a friend in the scene that you can always trust to give you an honest opinion on stuff, we don't kiss ass so I know if he says something is good he means it and vice versa, if something is shit he will definitely let me know haha.
What can we expect to see from you as an artist in the future?
I've got a big release due on Spinnin later this month but I can't say much about it yet! Then another following on Flyeye in February + a collaboration that's finished and should be coming later in the year…
I'm working on various other projects as a producer for other artists as well as my own 2nd project that will be revealed later in the year so I'm excited about 2016!
---
Follow BURNS on Social Media: