There are two things I used to believe were true in EDM. One, there is a huge difference between a rave and a club. Two, music can bring anyone together and change everything. Growing up in Southern California, I was spoiled with my options around this time of year. We normally had at least three "Massives" bidding for our attention for NYE, not to mention at least a dozen underground parties and another twenty clubs between San Diego and LA begging us to "ring in the new year" with them. Over the years, I found myself always preferring the larger massive events for the sense of unity and community that our scene has been known for over the smaller parties or "club" scenes that I had normally found to be judgmental, attitude filled and stuffy. When I moved to Florida, I had anticipated a major event to close out 2015 with. Spending my NYE at a busy club was not something I had ever imagined doing. However, it turned out that it was an excellent way to party the night away!
Early in the evening, Gilt already had the music pounding as we waited outside to be let into the party.  An amazing mix of old school songs to sing along to with some amazing house music seemed to be the flavor of the night.  The staff was amazing and seemed to be enjoying the soundtrack as much as the rest of us all night. There was a lot of confusion with party goers being split into three groups: open bar all night, open bar half-night or cash bar. However, there was never a delay to get a drink into our hands. Beyond the skills of the staff, the acceptance of rave gear like hoods and gloves into the venue also brought a huge sense of PLUR to the event.  Full formal wear, sexy little black dresses, casual with Spirithoods and everything in between was completely accepted at Gilt. Not only did the venue help facilitate this but the entire crowd was just so relaxed that everyone was having a great time.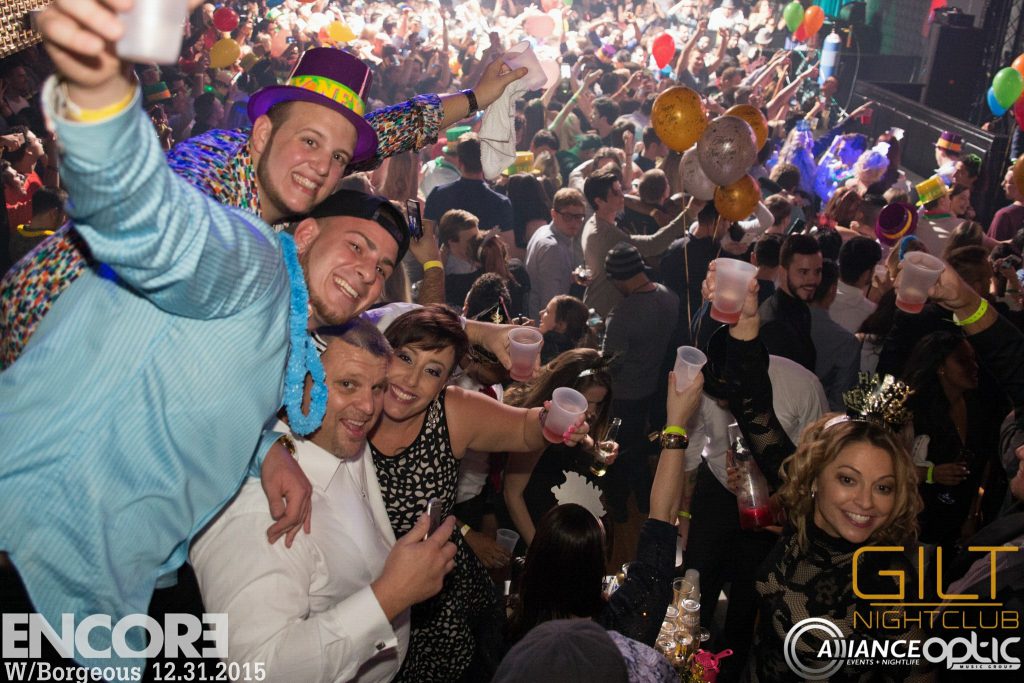 I will be the first to admit that I really knew nothing of Borgeous other than his hit (who everyone in the festival scene has been remixing and dropping this last year), "Tsunami".  An amazing song that I love, but I don't know if I could of actually picked out the original from a line up of remixes if my life had depended on it.  Also, my mind was stuck on my West Coast rave family who were all together in San Diego with Above and Beyond.  I really couldn't shake the idea that I would rather be with them. As the clock ticked down, I began to wonder what I was in for.  Only being familiar with one of his songs, I really was unsure what to expect at midnight when he took the stage.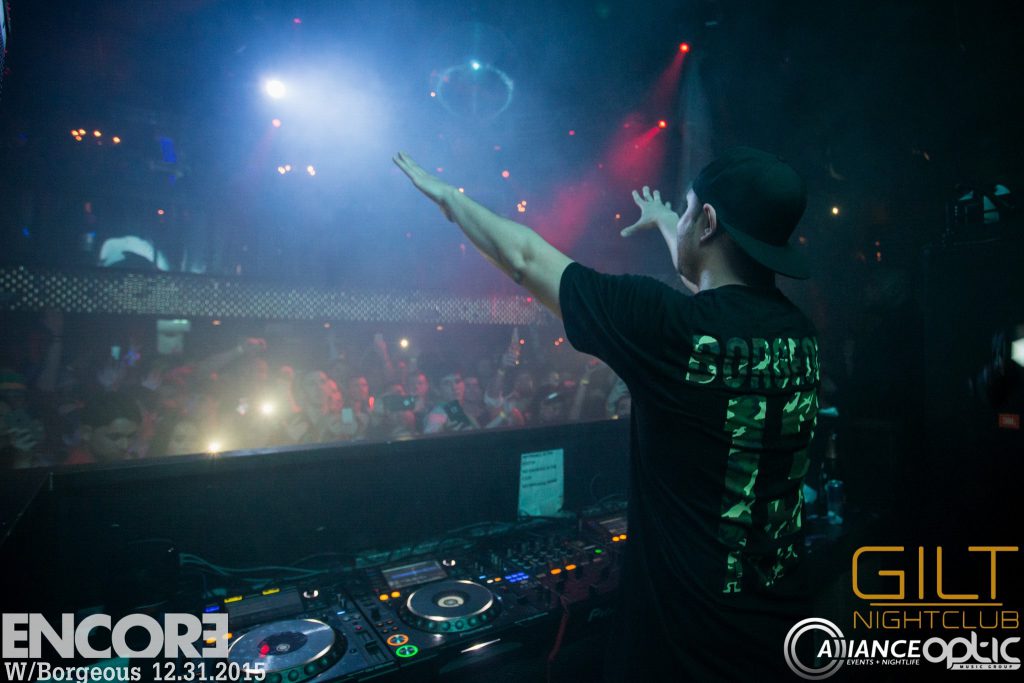 At midnight, three things that have been stuck in my memory: One, even the best planned balloon drop, could fail. Two, people that found huge bags full of balloons naturally distributed them around the crowd with joy. Finally, if you ever want to see how much a DJ can affect a room full of people, go see Borgeous live. As soon as he took the stage, the night turned into an amazing blur of songs you couldn't help but sing along or dance to. Every beat was perfectly weaved into a chain that just wouldn't let you stop smiling, singing and dancing. From midnight until 4am, Borgeous kept the party going non-stop with his energy surging through the entire venue. I can't pick out a single instance that the crowd lost any energy dancing the night away. It felt like his entire set was picked perfectly in the moment to make us move. It's been a long time since I've seen a DJ read a crowd as well as he did.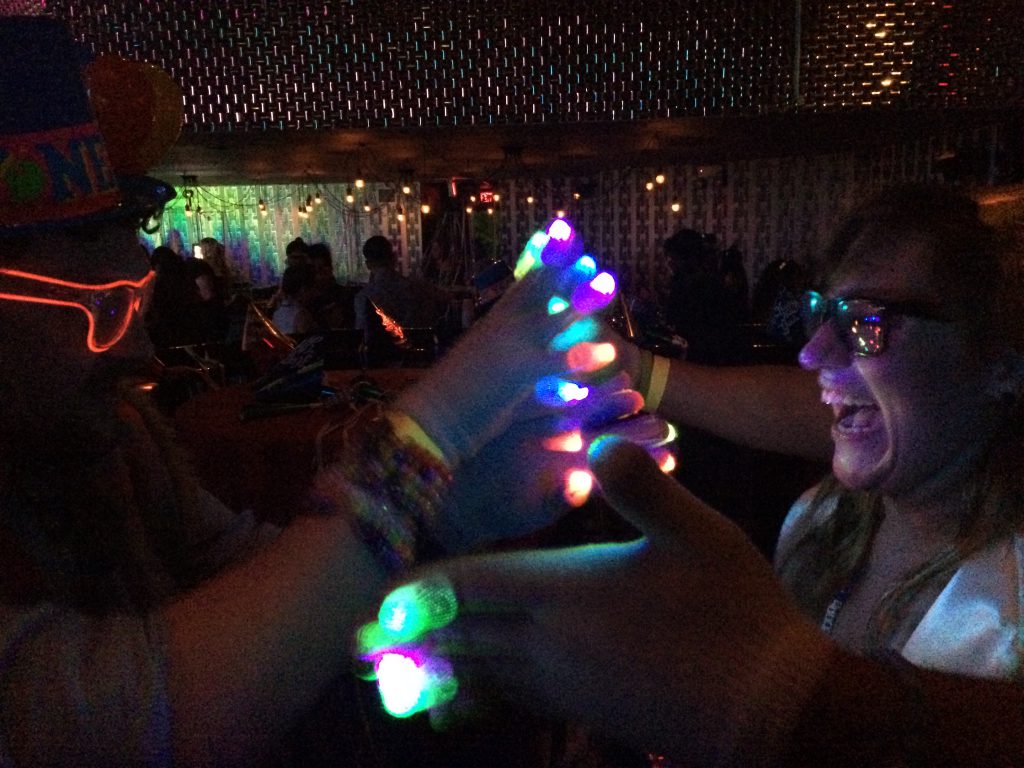 Borgeous' New Years Eve show was definitely the best "club" venue EDM event I've ever attended because of his connection to his audience.  He is now at the top of my list of artist to see (again) in 2016. His set just took your attention and wouldn't let it go. I can't think of a better way to send off all the memories of 2015 and begin looking forward to the adventures of 2016.  I truly believe now that music can bring everyone together and change anything.  If Borgeous is coming though your town, and you want a night of non-stop energy, because he is a must see show.