One of the things I love about Life in Color is that they incorporate paint into this well known festival. It started out as a small college paint party and grew into what it is today. The creativity behind it and that everyone is a canvas is what makes it fun. That being said, Life in Color has decided to throw a fan art contest. All you must do is design something that represents LIC Miami and then tag #LICMIAMI & #LICMIAMIART. Life in Color will choose a winner daily and that winner will receive 2 LIC Miami tickets.  What have you got to lose?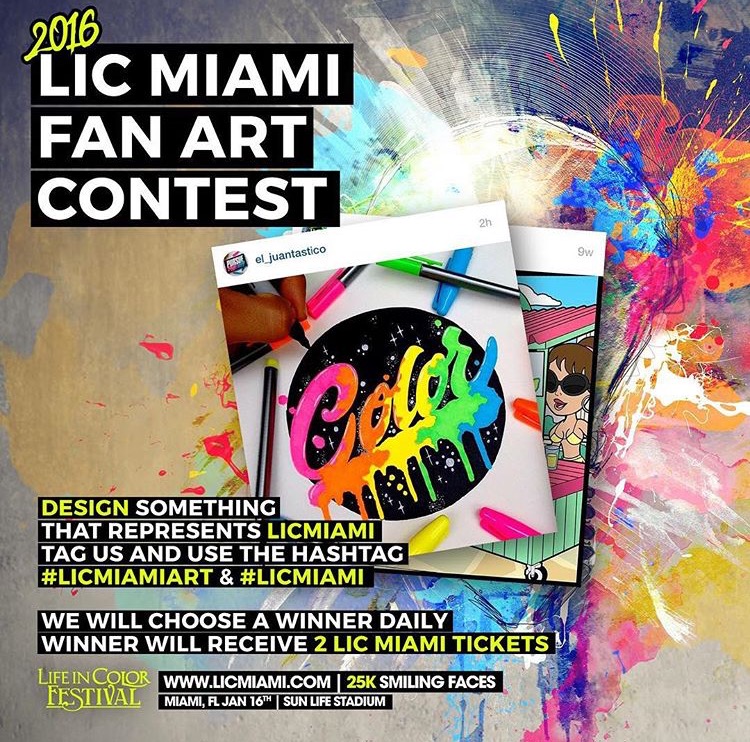 LIC Miami has been highly involved in the art community especially after last year. Last year they had renowned artist, David Garibaldi, paint each of the headliner's portraits as their big announcements last year. LIC even had him do a live painting both nights on the Main Stage.
It is always awesome to see different festivals incorporate their fans creative art on their websites and social media. This is another thing I love about our community, is that we can let our creativity shine through in so many ways! Whether it be through the art of kandi, costumes we create for these events, totems (I've seen some pretty awesome ones), or through something as simple as this. This is why I fell in love with this scene and what it stands for. I'm naturally a creative person, so contests like this I absolutely love.
Will I see you at LIC Miami? Who are you most excited to see? Be sure to let us know! Can't wait to see you all going hard in the paint, until next time!