Amongst all the negativity surrounding SFX Entertainment after the TomorrowWorld 2015 fiasco, SFX's golden child, Life in Color will once again be returning to sunny Miami, Florida at Sunlife Stadium. This will be its third consecutive year, however the dates have changed slightly. Instead of being two days, it will be returning to a single day once again. The event will be on January 16, 2016 rather in December like it was last year and will remain 16+.

Now the line up has been released and it is stacked for one day. The main headliner was released first as epic duo of Jack Ü, which is composed of Skrillex and Diplo. Other headliners include: Zed's Dead, Steve Aoki, Flosstradamus, Keys N Krates, 3Lau, among others.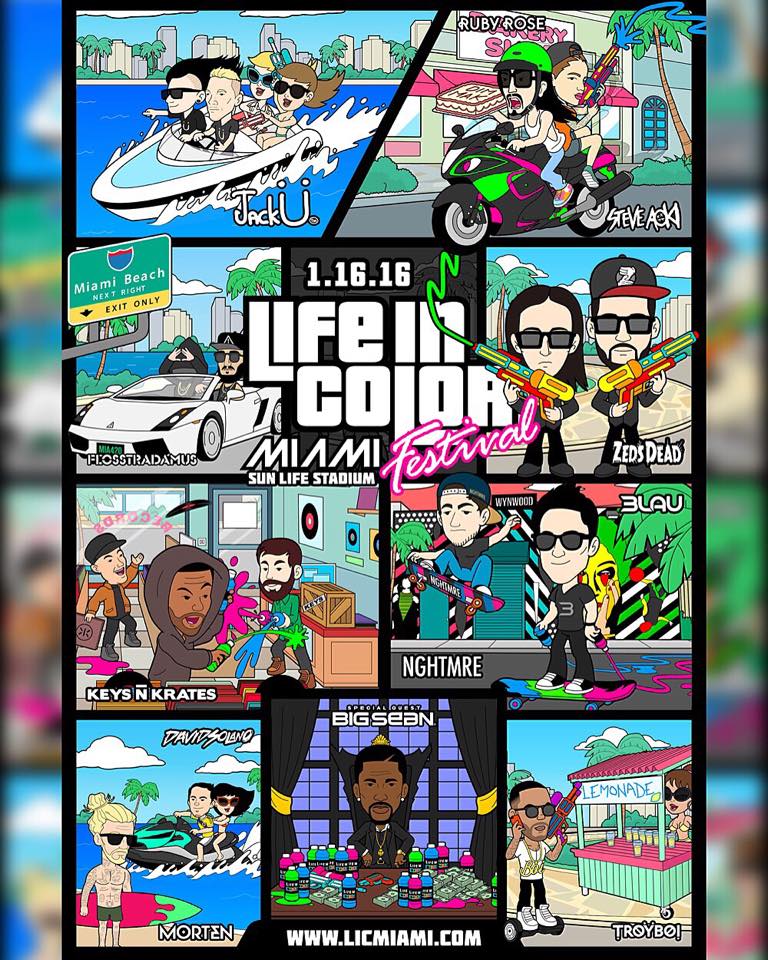 Tickets are still on sale, however, expect the prices to increase as we get closer to the event. Ticket prices are as follows:
GA Tier 1 – $89.99 plus fees (includes just general admission into the venue)
Paint + Express – $109.99 plus fees (includes express entry into venue along with 2 bottles of paint)
Survivor Tier 1 – $119.99 plus fees (includes the paint survival bag, official LIC bag, t-shirt, bottle of paint, a towel and shades and express entry into the venue)
I have personally been to two Life in Color events. My first being Life in Color Miami in Dec. 2014 and my second was Life in Color Orlando 2015. I do have to admit the paint can get annoying, but it is still fun. I suggest if you do intend to attend this event, that you wear white or something you don't mind getting ruined. Just get ready to go hard in the paint.