SBCR (Sir Bob Cornelius Rifo) has stepped away from the hard-hitting live production of The Bloody Beetroots style and returns with an album of dance floor driven tracks that still retain the dance punk aesthetic that his fans have always adored. This album was released on August 21st, the sequel to his inaugural album, "SBCR & Friends, Vol. 1"
I personally am a great fan of his, based largely through my introduction to The Bloody Beetroots very early in my time listening to EDM. Their sound was a comforting transition for me coming from such a rock/metal based musical liking. I've kept up with SBCR's work as the years have gone on, seeing him doing solo tours across many clubs that I frequent. Hearing that he has a new album out has me ecstatic to give it a listen. Each track has so much going for it, with a wonderful balance between rhythmic synth's with heavy bass to melodic builds and almost ambient you'd expect anywhere else but from SBCR.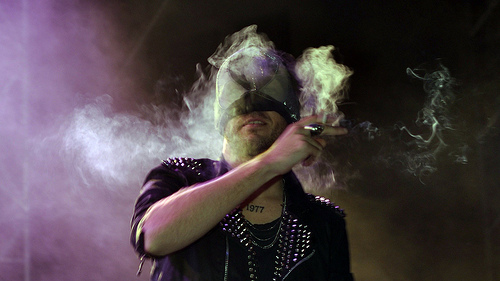 SBCR & Adversaries, Vol. 2's first track "SPIDER" has a wonderful blend of Electro buildups, high-pitched synth that give listeners a flashback to the "Warp" tracks that made The Bloody Beetroots famous, and his chord progression so undeniably elegant. It is loud, vicious, and volatile. SBCR is definitely showing his capabilities on this track, and showing the fans that he still has the energy he did with The BB and is still going to pump out tracks like these that showcase his talent and raw power. Fans of Knife Party will be in for a treat when they hear this track.
"Pizza House Party" by SBCR and Razihel combine forces to bring the crowd to a frenzy as this track has so much range is going to be fascinating to see how the crowd will react when this get played live. It's upbeat, bass heavy, bouncing across melodies and will guarantee to get people moving. Of all the tracks on this delicious album, I'm pretty sure this track will get served again and again at his festival sets when he has a crowd worthy of such a slice of awesome.
His next track is "Black New York Tee" is a more ambient track, almost akin to a psytrance tone than the big room house sound that is so saturated nowadays. You can hear that his skill is there, and he is still an amazing DJ as well as a performer. He transcended genres, eliciting a more intimate atmosphere, a song that I will one day hope to see featured through lightshows and remixes in the near future.
The fourth track on the album and the track was co-created with Jayceeoh is aptly named "Frankenstein". It's name is so fitting as this song is just a blend of so many genres all into one track. The song as a whole flows extremely well, seamlessly navigating between one genre to the next. This blend is something rarely approached or challenged by even the most talented of DJ's, but there's something for every listener to get behind in this track. I remember Jayceeoh's remix to "The Beat feat. Peter Frampton" originally from the Bloody Beetroots. Both Sir Rifo and Jayceeoh have great musical talent and this collab shows that they work well together as well.
"Krack" comes in as the fifth track, a refreshingly mellow track, presenting the vibe of background music for a 90's video game. A slower buildup, grooving through the chords like there's an impending boss battle for the adventures in your ongoing quest. SBCR and Owl Vision took this track way out there and it is amazing.
"Rise and Fall" is the final song on the album. Sir Rifo takes the decks into his own hands on this one and takes the "slow jam" route. Heavily synthesizing the vocals and the slow snaps and making the atmosphere definitely more focused on the dance floors than the festival grounds. Still a very nice track, incorporating slow dance and Electro into a groove that gives me the impression of a Flume influence with can only be described as some extra Sir Rifo kick.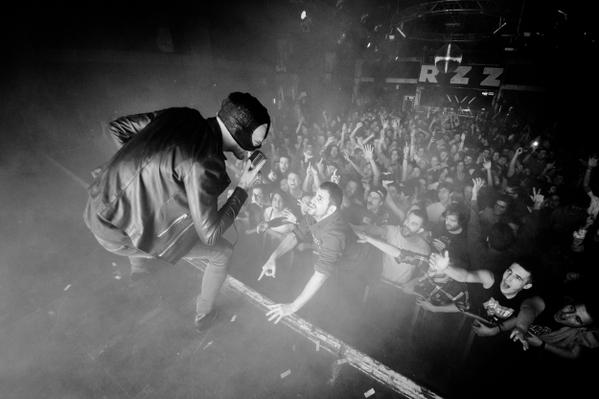 Albeit not as rock influenced as previous installments from Sir Rifo, that should not deter his followers from giving this album a listen. His newest album encompasses many different genres, musical ranges and big room sounds while still staying true to his unique style. His tracks were impactful, energized and majestic. He definitely showed his chops on the decks while demonstrating that he is more than just The Beetroots frontman. Sir Bob Cornelius Rifo: well done, well played and we'll see you when you jump onto the your next tour! I highly recommend this album to those that are bass friendly, high energy, and ready to step into the world of stranger music. It's a mad, mad world; SBCR knows the way.
You can check out some of his songs at Dim Mak's SoundCloud: http://dimmakrecs.us2.list-manage.com/track/click?u=8d4cb445fe6edfb6fa3c62a86&id=28b91c5388&e=bbbeb54b7d
This album available for purchase on Apple Music: http://dimmakrecs.us2.list-manage.com/track/click?u=8d4cb445fe6edfb6fa3c62a86&id=92a4578bbe&e=bbbeb54b7d