Of The Trees imprinted his Memory Palace legacy on a sold-out Red Rocks crowd with help from Barclay Crenshaw, Yheti, kLL sMTH, and The Librarian.
---
Picture this: You're at an intimate festival in the Midwest called Lighting of the Moon. It's 4am and one of your friends tells you there's an artist about to play named Of The Trees.
Intrigued by the arboreal moniker, you decide to venture back out from camp to check him out. Following the moonlit dogwood and oak tree path, you're led to an old, abandoned church, which seems fitting for the set you're about to see.
The inside is illuminated by green lights, and the room is occupied by under 20 people waiting for the set to start. The moment the first note hits your ears, you realize this artist is unlike anything you've ever witnessed before. You can't help but feel an inkling that his music will cause a ripple that will forever change the scene.
This isn't just some fable. This was my first encounter with Of The Trees, and it's a memory that vividly lives in my mind as the day I found my favorite artist.
Fast forward to March of this year. The same artist who played his heart out to an intimate crowd many years ago announced his greatest career milestone yet. Of The Trees was set to headline the legendary Red Rocks Amphitheatre.
Not only was this a huge accomplishment on its own, but to add to the overwhelming excitement, the event sold out in just a mere four days. After endless hours of putting his whole heart into his craft, It was clear that this landmark billing was more than deserved and the night was undoubtedly going to be legendary.
With his Memory Palace legacy about to be on full display, Of The Trees knew he had to roll out the perfect curation to bring his vision to life. Of course, he picked the dream team and added Barclay Crenshaw, Yheti, kLL sMTH, and The Librarian to the bill. Each artist brings their own unique energy to the table and represents the fellowship present within the walls of Memory Palace. With his loyal knights at his side, Of The Trees' goal "to fortify the mind" was in near sight.
The Librarian shook the dust off every book in her collection to kick things off with a genre-hopping set.
If you can count on The Librarian to provide anything, it's an extensive collection of music to flip through. She came out with a point to prove the second her hands touched the decks. When anyone says they got whiplash from her selecta talents, they're not joking. They don't mean it in a bad way, either. It was impressive how easily she could spread her sounds across one set. They call her The Librarian for a reason, and she shared her extensive library of music with perfection.
Up next, the vibes were set to max with kLL sMTH taking charge of the decks. He played old classics like Juvenile's "Slow Motion" morphed into liquid drum and bass that had the whole crowd grinning ear to ear. Something that always sets kLL sMTH apart from the rest is his undoubted talent for scratching. Once he fell into his scratching flow, he left every single mouth in the audience agape. This Colorado local not only accomplished playing any producer's dream venue, but he also slayed his performance. He had the crowd in the palm of his hand his whole set.
Yheti made sure to keep the weirdness alive with his wonky sounds. True to form, he had countless new VIPs of old songs within his discography like "Weird Trumpet," along with plenty of originals. The moment that everyone couldn't stop talking about after the night was over was definitely his mashup of "Blocced," "Noxious," "Skanka," and "Babatunde." That's four — yes, count them — four tracks into one. His trolling of tracks kept getting listeners left and right as he would bait us with a drop and Yhetify it into something beyond most people's imaginations.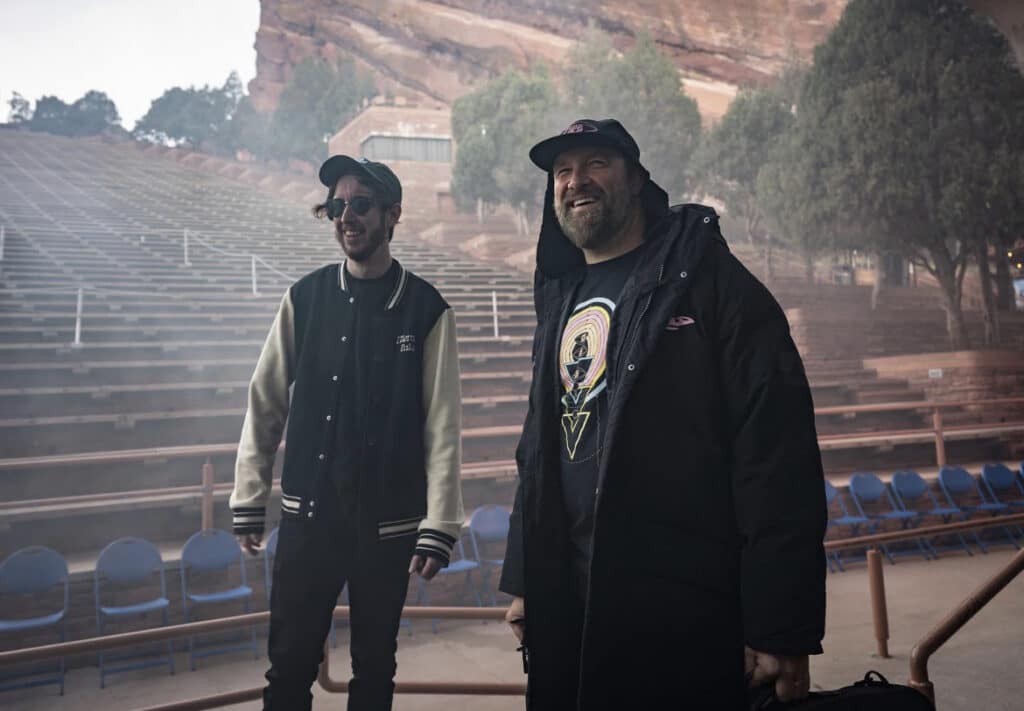 A Dirtybird that has been causing as much of a stir within the bass music scene recently as he historically has in house music, Barclay Crenshaw was on direct support duties.
The showman that he is, he pulled out all the stops to create a new experience. As he came into focus on stage, he was surrounded by talented dancers ready to lay it all on the line. From sultry grooves to flags waving in unison, this set left all in sensory overload. While riding the high of the night, Barclay informed the crowd that he planned to release a new album that would follow with a tour, hanging up his house hat for the time being to focus on his bass-focused Barclay Crenshaw project in 2024.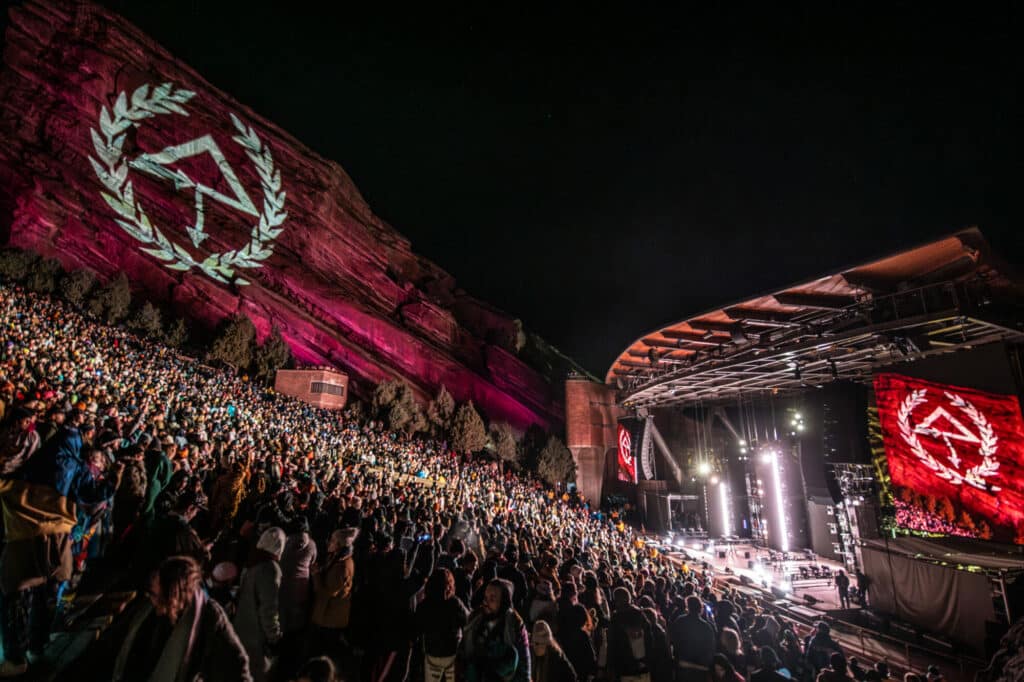 The moment was finally here. It was time for Of The Trees to claim his throne.
The stage was pitch black with only the sounds of radio static to stimulate your senses. As the dial seemingly turned in search of a channel with a strong signal, different versions of the words "Of The Trees" finally came into focus. Along with the overlapping of birds chirping and the nature-inspired sounds that always come with a Tree set, the buildup reached a peak.
Once Resonant Language's heater of a track "Non-Scents" dropped, the grand reveal of the stage design with projection mapping of a castle fit for a king graced our eyes. Of The Trees aka Tyler Coombs was standing at the top. There was an audible cheer across the crowd as his loyal subjects all witnessed him sitting on the throne for which he had worked so hard. Just a few minutes into his set goosebumps were already widespread.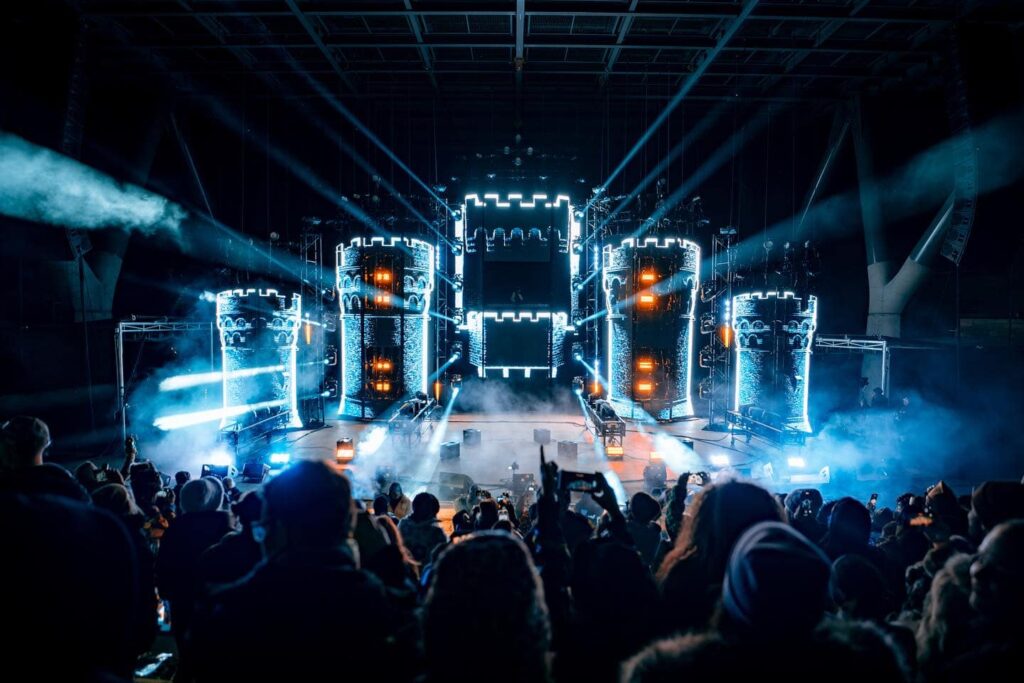 The next moment that brought tears to my eyes was when he played a flip of A$AP Ferg's "New Level."
You could see a smile spread all across his face from ear to ear as he truly was on a new level — figuratively and literally, as he stood up in his castle. Throughout the night, the illuminated structure would take on different images, including some clips of the A/V set he had worked so hard on earlier this year. All of the elements were accounted for, as plenty of pyrotechnics were present. They set the stage aflame for many songs, including the monumental "Durin's Tower" moment that any OG fan could appreciate.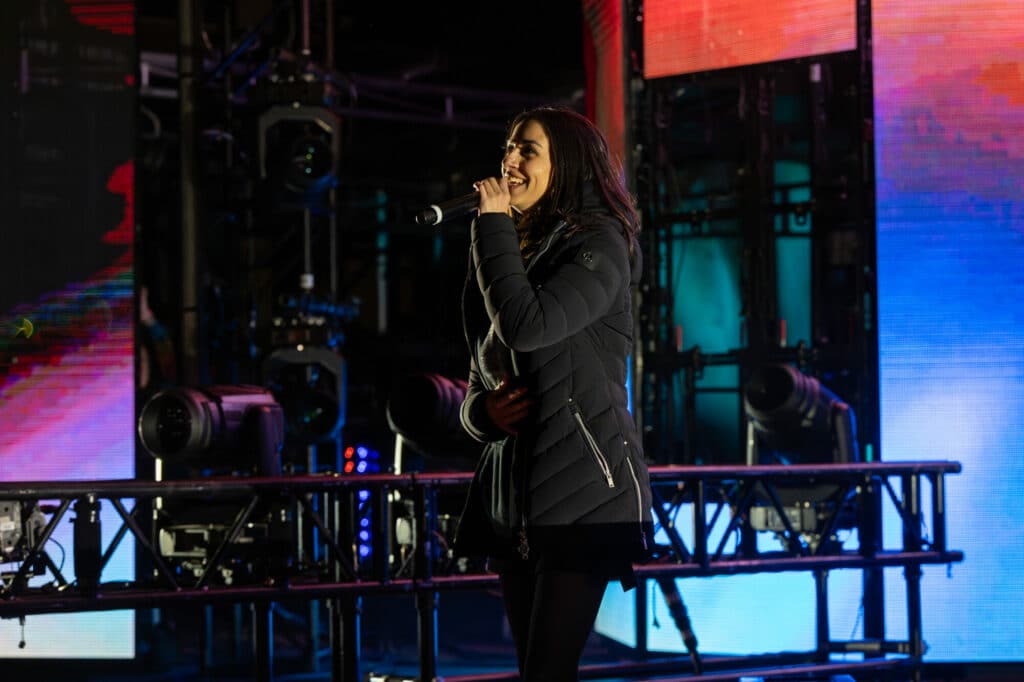 Live performances included appearances from Kala and Sophie Marks. Both swept the crowd away as their beautiful melodies of "Honeydust" and "Windhorse" rang out across the rocks with all attendees singing along in perfect unison. Anytime vocalists are in the flesh it brings the song to life in ways not possible without them.
It wouldn't be an Of The Trees set without a moment to honor his late best friend CharlestheFirst. The sweet sounds of one of their last collabs together always manages to bring sorrow and love into my heart. That's something that is honorable about Tyler's passion for music. He will always provide an experience that puts everyone involved in his success on a pedestal, too.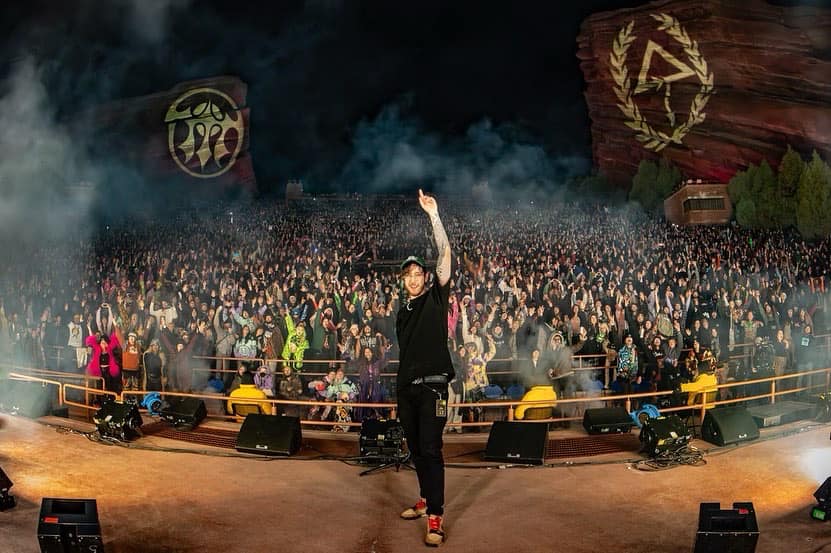 Multiple times throughout the night, I would have flashbacks to the first time I saw him in that intimate abandoned church, and swells of tears would fill my eyes.
The moment that truly took me back to that night and put into perspective the magnitude of his accomplishments since then was when he ended the night with "6AM." The visual of a younger Of The Trees watching himself play out a track that has been around since the beginning to a crowd of 10,000 people at a sold-out Red Rocks show still gives me chills even as I write about it. So much hard work and commitment has been put into his art, and his legacy is one that will ring throughout the masses until the end of time. What began as just a ripple is now a tidal wave. It's an honor to have been along for the ride.
---
Follow Of The Trees:
Website| Facebook | X | Instagram | SoundCloud
Follow Memory Palace:
Website| Facebook | X | Instagram | SoundCloud