Blindness doesn't stop Trance By Touch creator DJ Hey from delivering her sounds to the world. We spoke to her about the rewards of her craft.
---
Talk to Heather Nyblade, professionally known as DJ Hey, and you'll quickly be pulled into her love of trance and all things electronic music. Blind since birth, this creative powerhouse residing in California has had many inspirations, but none greater than Ferry Corsten. Listening to Ferry's radio show — and then meeting him in 2013 — thrust her into the world of DJing, and she's stayed the course.
In her early days, DJ Hey didn't lean into being blind and simply put out music like any other artist. But when she talked with Ferry, he suggested she embrace her condition and use it to set her apart. From that moment, she's promoted herself as a blind DJ and carried this into the theme of her weekly Twitch radio show, Trance By Touch. She's also been featured on other radio shows, including Onstage Radio, Trance Women of the World, and Transform Radio.
While DJ Hey spends much of her time on Twitch, she also performs live and hopes to do so more in the future. She's already been featured at festivals, nightclubs, and parties in Southern California. Notably, she has performed at Exchange LA and Belly Up in Solana Beach. Her desire to perform live is bigger than a career or objective; it's also about breaking stigmas around people with disabilities. During our conversation, it was clear that DJ Hey believes that anyone can do anything to which they set their mind, regardless of disabilities or other obstacles. Listen to DJ Hey's guest mix, and read her inspiring interview below!
Stream EDMID Guest Mix 397 || DJ Hey on SoundCloud:
---
You've been blind since birth, so I imagine the auditory world has been a big part of your life. While that's likely true for most people who are blind, you took it further and went into music. What motivated you to try this?
You are right about the auditory world for those who are blind and visually impaired. However, it's a misconception that our hearing is stronger. We simply rely on our hearing more because we have to. We use our hearing as much as everyone else does.
When I tuned into Ferry Corsten's radio show, I noticed that he was playing music that people don't get to hear on a daily basis. I liked that it was so different from genres people would hear all the time, and that motivated me to want to do the same thing. The music has really meant a lot to me, so I wanted to provide this joy to others. I wanted to stand out by helping them understand that the music I'm known for playing is all about melody and emotion. That's why I love playing all subgenres of trance, from chillout to uplifting and everything in between. 
What did you find most challenging as you were learning the tools needed to DJ?
Since there's so much to remember, and this is true for sighted performers as well, it was challenging to understand the equipment while learning about music composition and transitions. I really just had to develop muscle memory. Thankfully, I had a DJ trainer who helped me build these skills and the muscle memory that I now put to use every day.
What is some of the special equipment you use to DJ? How would you make decisions to add new gear or push harder to work with what you already have?
Right now, I use a DJ controller that plugs into my laptop, and I use a program called djay Pro by Algoriddim. I also learned that a lot of club DJs use three pieces, including CDJs and the 900 Nexus mixer, but I find it easier to use an all-in-one system. 
Thankfully, my controller is really tactile, so I was able to memorize the placement of all the controls. It definitely took time to learn the equipment, but that was just part of the learning curve, and now it's much easier to use muscle memory to mix my music.
The question I get asked most often is how I get the track information if I can't read the visual display. Despite not seeing text on a screen, I can "read" the text on a screen through a tool called a screen reader. Screen readers are how the visually impaired read digital text in nearly all its forms.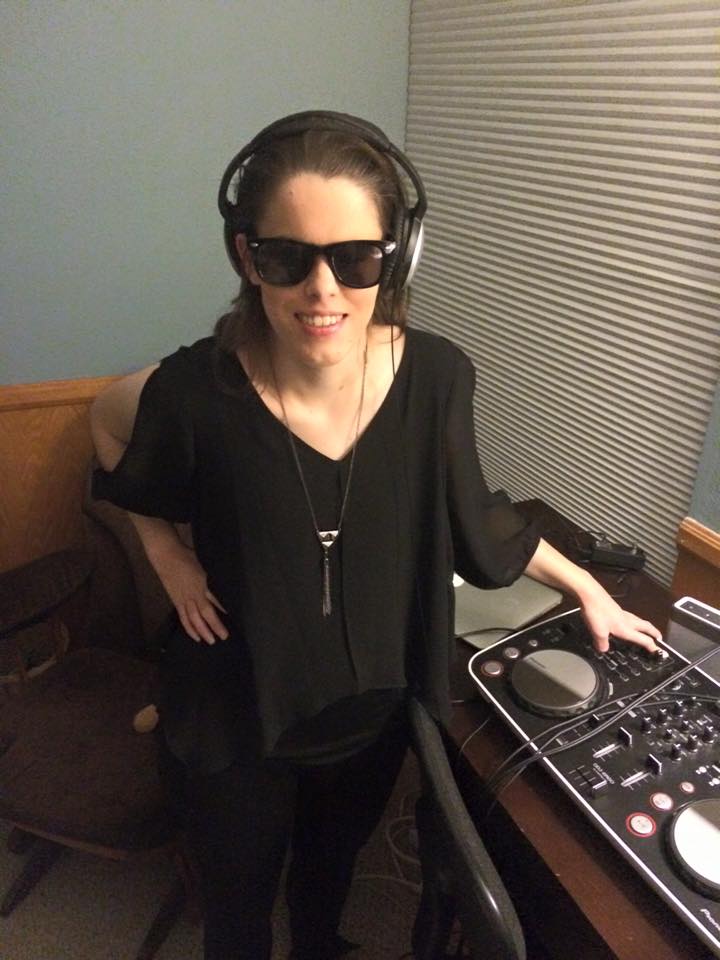 You met Ferry Corsten in 2013, and that show inspired you to pursue a career as a DJ. Tell us a little more about that meeting, that show, and the continued influence that Ferry has had over the years.
That meeting was simply the best one I've had in my life! The minute I started talking to him, I went on about how his radio show inspired me. He told me to keep at it and never give up on pursuing my dreams. I was behind the booth for the show, and the promoter was so friendly, bringing me drinks and supporting my pursuit. He also helped spread the word about me and was able to get me some of my early bookings. 
If you could only listen to three DJs for the rest of your life, who would they be and why? (I have to imagine that Ferry Corsten is one of them!)
Definitely Ferry, of course! Starpicker is another who I really admire and would love to meet if he comes to the US anytime soon. Another is Dustin Husain, whom I met once. Since we were both inspired by Ferry, I feel like we're kindred spirits.
While you have had ample opportunity to perform live, you are quite committed to your weekly radio show, Trance By Touch, on Twitch. That's such a great name! How long have you been doing the show, and what do you find rewarding about performing regularly on Twitch?
I've been doing the show for two years now. I find it rewarding to bring awareness to a sighted audience that despite being blind, I'm capable of delivering my art to them. Ferry Corsten also encouraged me to push the fact that I'm blind as something truly unique to me as a performer. That's both how I selected the name and how I now promote myself.
You mentioned living by the Casey Kasem quote, "Keep your feet on the ground and keep reaching for the stars." What would reaching the stars mean to you? What is the North Star that you seek to feel fully sated?
I had the pleasure of meeting Casey Kasem in 2006 during a career training program for the blind. They asked what I wanted to do as a career, and I said I wanted to be a DJ and that I really admired Casey Kasem. The program then arranged a meeting for me, and he was so kind and down to earth! He was really personable like he was on the radio, and I admired that. Because of this, I always live by the adage, "Don't ever be afraid to ask!" 
Reaching for the stars to me simply means to keep going and pursue my dreams. My North Star is to perform at big-name events with Ferry Corsten, like Luminosity and Dreamstate.
Music festivals often have fascinating food options in addition to music and other art. What's your favorite food in general? And do you have a special food find from any music festivals you'd like to share?
I love all sorts of food! At Dreamstate, I got a cheeseburger, and that may sound boring, but it was the complete experience. It was just so nicely prepared, and we were eating outdoors and enjoying some seriously yummy cocktails, so that was a special festival food moment for sure.
Finally, what would you like to share with anyone out there who wants to pursue a dream but is worried that they aren't "enough" to go for it?
I would say that you should never listen to those who try to put you down. Tell them to fuck off with a smile on your face! Always keep going and remember that Casey Kasem quote, "Keep your feet on the ground and keep reaching for the stars!"
---
Follow DJ Hey:
Website | Facebook | Instagram | TikTok | Mixcloud | YouTube | Twitch