The art and lyricism of liner notes successfully transitioned from vinyl to cassettes and CDs. In the digital era, liner notes have mostly been lost to the sands of time.
---
It was 1986 and I was in high school when I bought my first CD player. It was a "high-end" Denon that cost $600, which was more than half my entire summer earnings that year. I knew it would be worth it, and it truly was. For the next few years, I spent countless hours in local record stores seeking obscure used CDs, not only for the music but for the art and words thoughtfully designed into the CD sleeves.
Liner notes were first printed on the vinyl record liners that covered the disc to protect it from damage, hence the name. Prior to the 1980s, when vinyl records ruled the audiophile world, the contents of liner notes were limited to the perfect 12"x12" square of these sleeves.
Album credits most often appeared in liner notes, and they were listed in great detail, right down to things like the backup drummer or assistant sound engineer. But in the most creative hands, liner notes became an art all unto themselves, containing lyrics, drawings, forewords, and other stories relating to the album. Then came cassettes and CDs.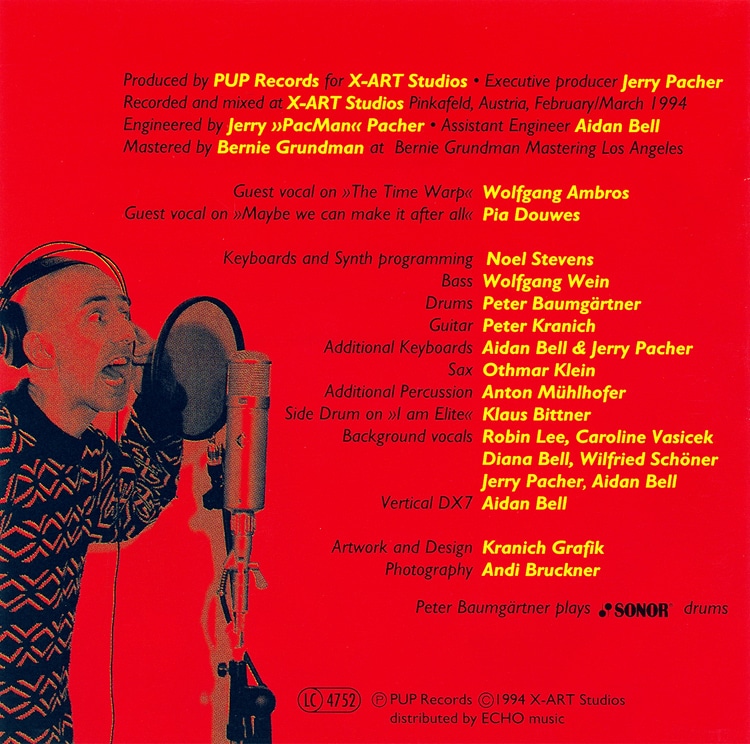 When the '80s ushered in a transition to cassette tapes, and then CDs, many thought liner notes would disappear.
Cassettes and CDs presented a challenge to liner notes: limited space. But it didn't take long for designers to innovate fold-out liner notes for cassette tapes that were a nod to the zine movement. And for CDs, liner notes often became booklets that took on a whole new life. This era also saw the creation and rise of the mixtape. It still lives on today, if in a different format.
My audiophile days began when I'd borrow vinyl records from the collections of my older brother and sister. I never really collected vinyl myself at the time, because they had such great collections! The collector in me came out in the '90s when I was "all in" on CDs. I was a huge Pink Floyd fan and had been listening to The Wall on vinyl for years when I found the used CD at a record store. I opened the jewel case to check the condition of the CD and was presented with my first example of booklet-style liner notes. I was blown away.
The vinyl version of The Wall had a minimalist but beautiful sleeve, with a black-and-white brick wall wrapped across both front and back. The back contained the tracklist and very detailed credits, but nothing more. The CD booklet contained lyrics to every song, however, as well as a foreword written by Roger Waters. I was immediately hooked.
The booklet-style liner notes of the CD era may have kept the format alive. The advent of the CD was also where the death of liner notes began, though.
The proliferation of the CD bifurcated the future of liner notes. On the one hand, these beautiful and intricate booklets became the new art to accompany the music. On the other hand, the digital format of the CD gave rise to a new method of data exchange: metadata. Simply put, every track or album could now contain all the credits, lyrics, and other information as digital metadata forever affixed to it. A new era had begun.
At first, the growth of metadata was a boon for music enthusiasts. Resources like the Compact Disc Database (CDDB) popped up, and the metadata for nearly every modern track in existence could be read by anyone at any time. Did you hear a song you like and want to identify the vocalist? Do you want to know where a track was recorded? Are you looking for lyrics? CDDB had it all.
But soon, the metadata began to disappear. Well, that's not entirely accurate. It never disappeared, but it became harder and harder to find. CDDB became Gracenote and later shifted its business model from consumer to commercial. Just like that, all the metadata became inaccessible to everyday listeners.
Streaming platforms have done little to correct the problem, and I'd argue they've made it worse.
Platforms like Spotify have access to oodles of metadata, and they use a lot of it to organize music and even to make recommendations to listeners. But if you want to look at individual song or album credits, good luck. Despite having the data, very little is accessible to listeners, and this can be more than just frustrating. 
Song titles and attributed artists have become stuffed with chaff in attempts to highlight credits that would otherwise be buried. Titles containing things like "featuring" may be there to highlight a vocalist because everyone knows that name won't be seen otherwise. And collaborations get messy, too.
Take "Escape" by Kx5. Spotify lists this as performed by "deadmau5, Hayla, John Summit, Kaskade, Kx5." It's redundant, but if the artist's individual names aren't listed, the track won't be attributed to them. All of this persists despite how metadata was designed to solve this precise problem.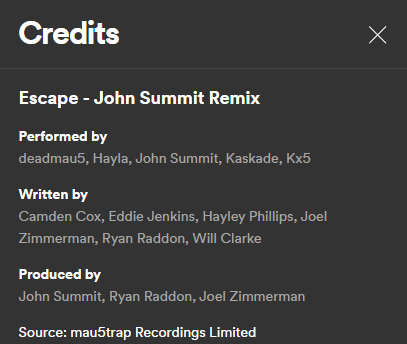 Liner notes may be dying off, but there is a creative future beyond the music.
I personally grieve the decline of liner notes, but I also don't think all hope is lost. The one problem I don't see improving anytime soon is song credit attribution. It's currently really hard to find, let's say, the vocalist on a track if they aren't "featured" in the song title.
But the art and creativity that went into liner notes definitely lives on. Music videos often take the place of the art that was once found in print. Modern music videos have taken on a life of their own, many becoming short movies in their own right, such as that of Janelle Monáe's "Dirty Computer." 
Don't get me wrong — it's terrific to see the creativity live on and morph based on modern technology. I just wish looking up credits weren't so darn challenging.
---