We touched base with MistaJam to chat about his brand new EMEXL collab, the Boom Box EP, on Patrick Topping's Trick imprint!
---
When MistaJam — famed British dance music artist and host of Capital Dance — enters the studio, he's focused on one goal: getting people up off their couches and onto the dancefloor. He's been mighty successful, flinging out peppy body movers like the recent "Defibrillator," "Nothing Else Matters," and his brand-new EMEXL collaboration, the Boom Box EP.
This ferocious two-tracker plucks listeners out of 2023 and transports them back three decades to explore the origins of rave. First up is "Boom Box," a caffeinated track sure to usher party animals into the crowd. It slaps the senses with a stinging laser effect, a red-hot tempo, and lyrics that beg you to crank up the volume.
The sideways carnival sound of "Stage 3" takes the debauchery even further underground, featuring a motivating MC vocal byte that complements the explosive energy. It emits a similar vibe as Da Hool's "Meet Her At The Love Parade," which only adds to the euphoric nostalgia.
Such an amazing EP needed to find a home on an extra special record label. Ultimately, Patrick Topping's Trick imprint had the honor of snatching it up. Trick kicked off back in 2019 with "Watch What Ya Doing" by the label boss himself, and it has since gone on to feature both budding stars and established icons alike. MistaJam joins the ranks of artists like Justin Jay, Will Clarke, Eli Brown, Alan Fitzpatrick, Rebūke, and Shaded, proving that Trick has the fix for all your house and techno desires.
In honor of MistaJam's Trick debut, we caught up with him to get all the details surrounding the Boom Box EP and more! Smash play on the below and continue on for our chat. Don't forget to grab your copy of the EP on your favorite music platform!
Stream MistaJam – Boom Box on Spotify:
---
Hello MistaJam, thank you so much for taking time out to chat about your most recent release, the Boom Box EP. This two-track project brought you together with your fellow UK artist EMEXL, a producer who recently remixed your track "Nothing Else Matters." What was it about EMEXL's artistry that inspired you to collab with him on Boom Box?
He has great ideas! We met online during a livestream interview I did for a mutual friend of ours. For a laugh, he sampled a quote from me that I said during the interview. It was really strong but didn't quite feel finished, so our mutual friend Graeme put us in touch and we started to work from there. Through conversation, we realized that we're of similar age but grew up in different parts of the country, so we have certain different musical points of reference that have seemed to really complement each other so far.
Sometimes, by the time an artist reaches the final product, it's much different than the original vision. Was this the case with the Boom Box EP? What was the vision going in and what changed along the way?
Not at all. The vision remained the same from the very beginning. '90s rave energy with 2023 sonics!
Without a doubt, you press play on "Boom Box" or "Stage 3" and you're being transported back to late 20th century rave. Can you open up about what you loved most about this era and compare it to what you love most about the scene today?
Even though I'm no spring chicken, I was far too young to be fully active in the '90s club scene, but I was able to be a student and a collector of the music. I've still got my compilation albums, 7" and 12" vinyl and even the cassettes! It was on TV a lot more and I loved the energy, the colors, the vibrancy, and the unity of the entire dance music scene around that period. Having older family members who were actively going out in the rave scene, I'd see the hugely positive impact it had on them, and it ended up not only dominating the underground but also the mainstream charts.
I also think there's a dissertation to be done about the socioeconomic conditions back in the '90s compared to now. It feels like that energy is not only back, but is really needed — that sense of unity, energy, and love on the dancefloor. After a period of what has felt like people clubbing for aesthetics, it feels like love and passion for the music is back! Dancing is back! And I love that I can fully be a part of it this time around.
You, and a few of your fellow comrades, were rinsing "Boom Box" in sets ahead of the release. For the up-and-comer, can you talk about the importance of testing IDs?
If you're making club music, the only place you're going to get honest feedback is the club. For me, it's part of what I've always done as a DJ — testing and breaking new music during a set. The difference is now that I've got out of my own way and am working on more of my own productions and compositions, I can see directly from a crowd's reaction whether something works or not.
Also, placing your own musical compositions alongside your favorite records in a set can really show where your music may not be cutting it. There have been many demos that have only survived one spin because they just weren't strong enough to sit alongside the rest of my set. The biggest difference for me with "Boom Box" is how many other DJs are playing the song. The level of support I've had on this record is unlike any other record I've released in the last five years, and it's mindblowing that it's working in so many DJs sets — DJs I've massively admired for years!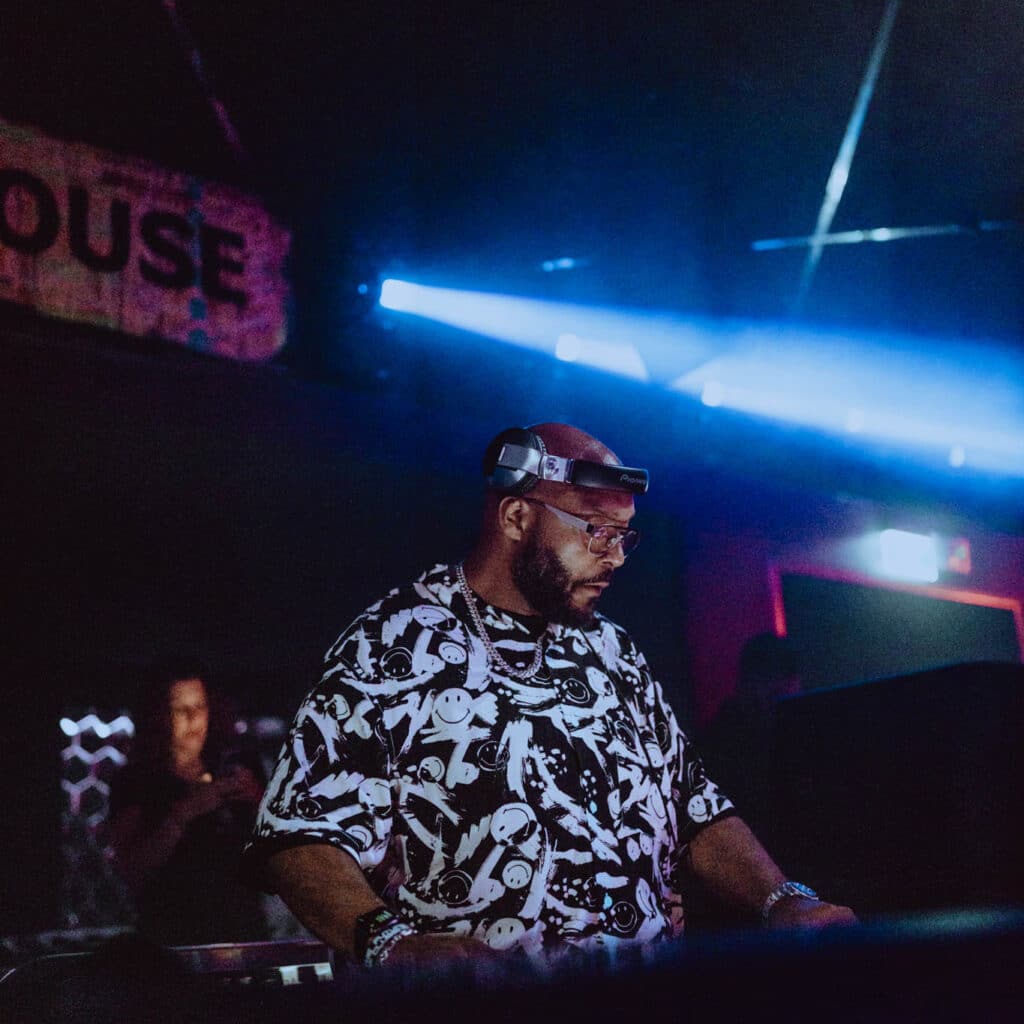 The Boom Box EP has been heralded as the biggest release on Patrick Topping's Trick imprint thus far. Can you fill us in on how you handle the pressure of living up to the hype?
My job is to make the music. I can't think too much about the numbers or it will influence the most important part of it. I am, however, truly grateful so many people have gravitated towards this EP. It's literally a dream come true!
You interviewed Patrick Topping on Capital Dance Radio a couple of times this year. What was your biggest takeaway from those interviews, or something you learned about Patrick that surprised you the most?
That he learned to be a DJ so he could keep going out to Ibiza because he loved it so much! His tenacity, passion for music, and attention to detail mean he is where he is right now — plus it helps that he could be one of the genuinely nicest people in dance music! The scene can be very cliquey, political, and closed minded. To see someone like Patrick not only grow the way he has but also be as passionate as he is about everyone being welcome to one of his Trick parties is really inspirational.
During the original interview, you played a game called set roulette. The guest "spins the wheel" to land on cringiest, weirdest, or wildest, and then has to describe an experience they've had in the scene. Patrick "spun the wheel" and landed on wildest, but I'm dying to know what your answer would have been.
I'm lucky enough to have been a DJ for a very long time so there are loads of wild stories that aren't for public consumption, but I guess this one classifies as wild — even though it never actually came to fruition. Idris Elba, Fatboy Slim, Diplo/Major Lazer, Harry Love, and I were going to be a DJ team for a Red Bull Culture Clash event back in the day! It ended up not happening because Idris got a very big Hollywood role which took him out for well over a year, but the meeting we all had in his North London studio to discuss ideas was possibly one of the wildest things I've ever experienced!
Finally, in honor of your favorite drink, where's your favorite place to grab tea in the UK and what makes it extra special?
See, I'm a simple man so I don't really think it's the venue that's important but it's what tea you choose. The only correct answer is Yorkshire Tea – Yorkshire Gold if you really want to treat yourself. Pour freshly boiled water into the cup with the tea bag already in, leave to brew for three minutes, stir and remove the bag without squeezing, finish with a splash of semi-skimmed or 2% milk, and enjoy!
MistaJam, thank you again for your time! I hope that everyone is enjoying the Boom Box EP as much as we are!
---
Follow MistaJam:
Facebook | Twitter | Instagram | SoundCloud | YouTube