After hosting parties in the Mojave Desert, San Diego Unified Bass District is bringing Moonlight Mirage to Wicked West this month.
---
While San Diego might be most renowned for the house and techno shows that have graced venues across the city, the rumblings of bass music haven't been far behind. Collectives like the San Diego Unified Bass District, also known as SdubD or simply The Bass District, have helped champion the deep wubs that rattle the bones of bass music lovers with shows in town and the Mojave Desert. Launched with a mission to include as many schools of thought and walks of life as possible, they've hosted some quality artists from a range of genres since inception, and they're running it back with another edition of Moonlight Mirage this month.
Last year saw Moonlight Mirage take place over two days in the desert with a stacked lineup of talent, but in their efforts to deliver an unparalleled experience, they've shifted gears for this year's edition with a new home, Wicked West. Set to take place on October 14 in partnership with Wookpack, the upcoming show still packs just as much of a heavy-hitting punch for bass lovers in America's Finest City. Headlining the festivities is G-Space, who will be making his San Diego debut and is fresh off the release of The Second Renaissance, but that's just the tip of the iceberg.
Joining G-Space are some other fast-rising stars in the bass music realm, including Untitld, Kurei, and Ooga, and there's even more in store with the support lineup that features the likes of Sage Savi, Heinrich, Ice Tea Cole B, Declay, Wavefiend, Submana, and more. Beyond the music, the team behind Moonlight Mirage is gearing up to make this year's edition extra special. They have years of production experience under their belts, so those attending can rest assured that their quality lighting, sound, and other elements will be fully displayed throughout the show.
Moonlight Mirage will open its doors at 1pm and feature a full day of beats, so make sure to support this independent promoter and arrive early to experience it all. Tickets are on sale now via Eventbrite; please note that this event is 21+. Follow them on Instagram for more details.
---
Moonlight Mirage 2023 – Lineup: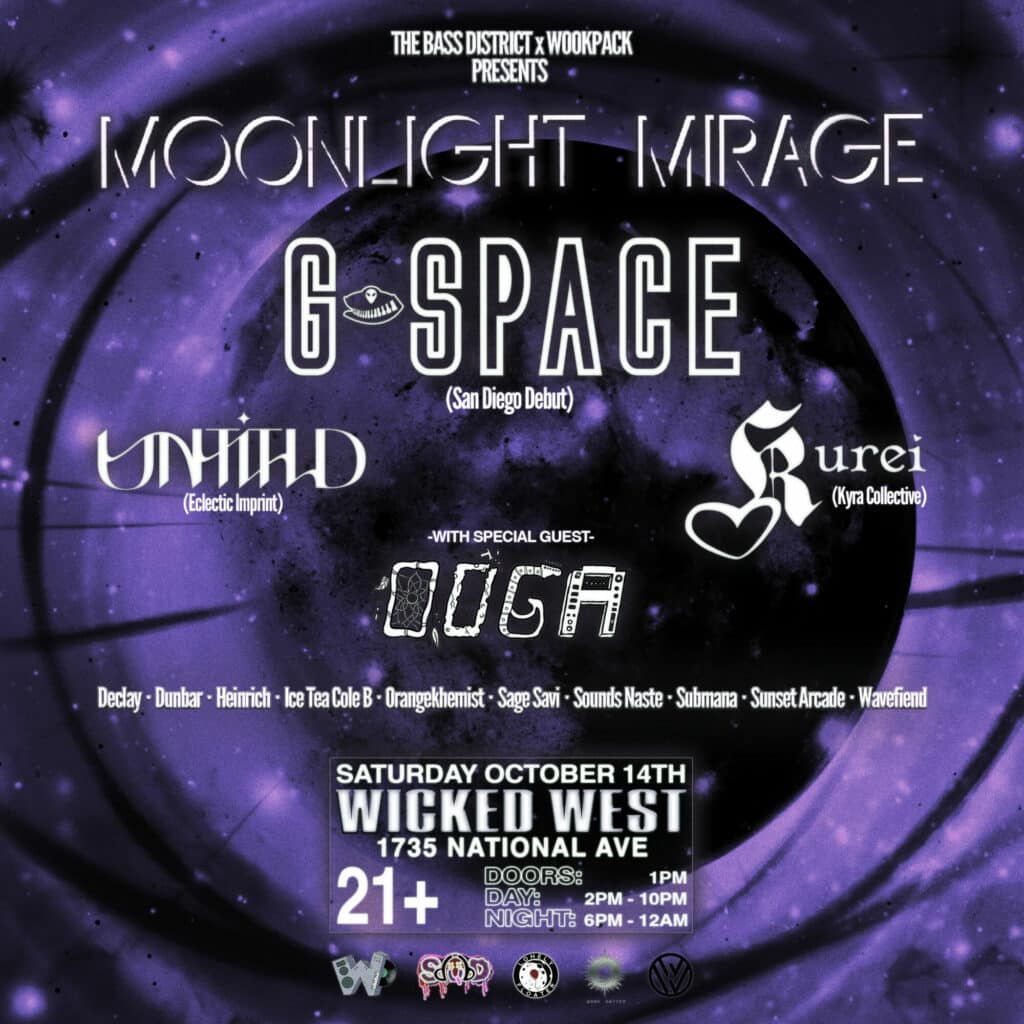 ---
Follow San Diego Unified Bass District: