Get ready for a jam-packed weekend of insane performances at Imagine Music Festival with set times, the festival map, and more!
---
From September 14-17, the largest camping electronic music festival in the Atlanta area returns. For the second year, Imagine Music Festival makes its way to Kingston Downs in Rome, GA for a weekend of top-notch music, workshops, and campground fun. Attendees can escape to the picturesque setting and lose themselves in the underwater realm that is Imagine.
With a massive lineup boasting heavy hitters from bass, funk, progressive, and house, and stage takeovers from Brownies & Lemonade, KIDSGONEMAD!, Monstercat, and Experts Only (formerly known as Off The Grid), attendees are in for a spectacular weekend. Kick the party off on Thursday, journey through the fantastical festival from stage to stage, let loose at the pool parties, and immerse yourself in all Imagine has to offer.
As you prepare for the weekend's festivities, we've got you covered with set times and the festival map. Weather forecasts are showing temperatures in the 80s with a chance of rain on Sunday, so make sure to pack layers. We've also provided a list of permitted and prohibited items for the festival and campgrounds, so double-check your gear before you go!
Imagine Music Festival 2023 – Essential Info:
Dates: September 14-17
Hours:
Thursday, September 14 – Pre-Party 5:30PM – 12:00AM
Friday, September 15 – Sunday, September 17 – Festival Music 3:00PM – 1:00AM
Venue Address: Kingston Downs – 0 Gore Springs Rd SE, Rome, GA 30161
Tickets: Purchase HERE
Facebook Event Page: RSVP HERE
---
Imagine Music Festival 2023 – Set Times: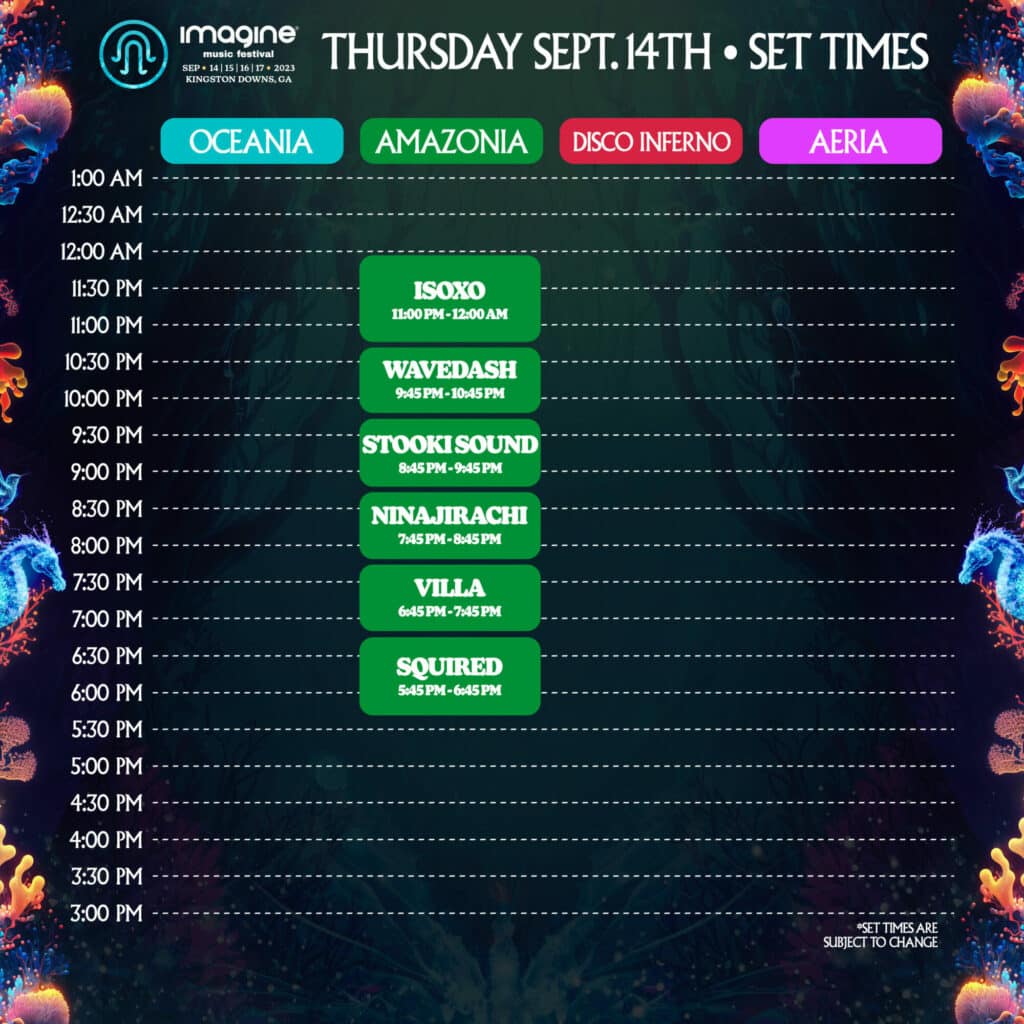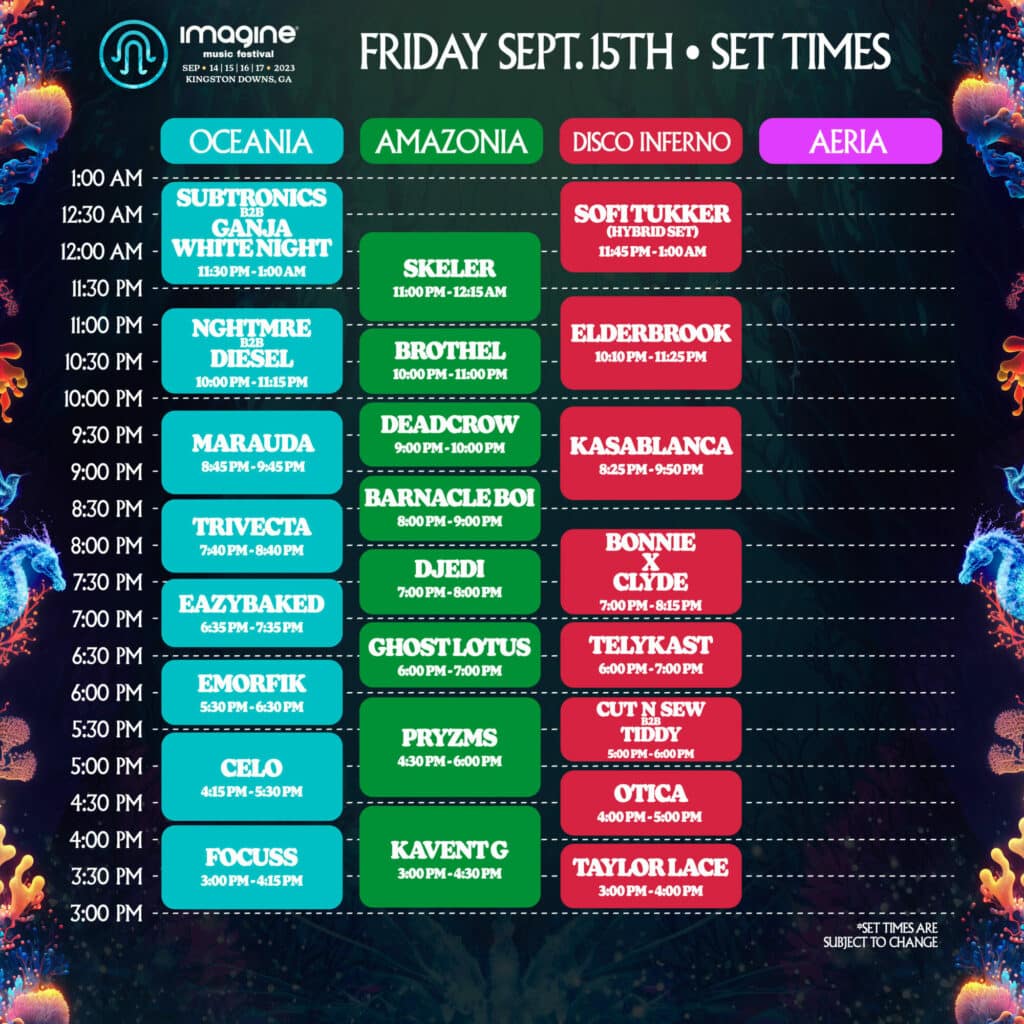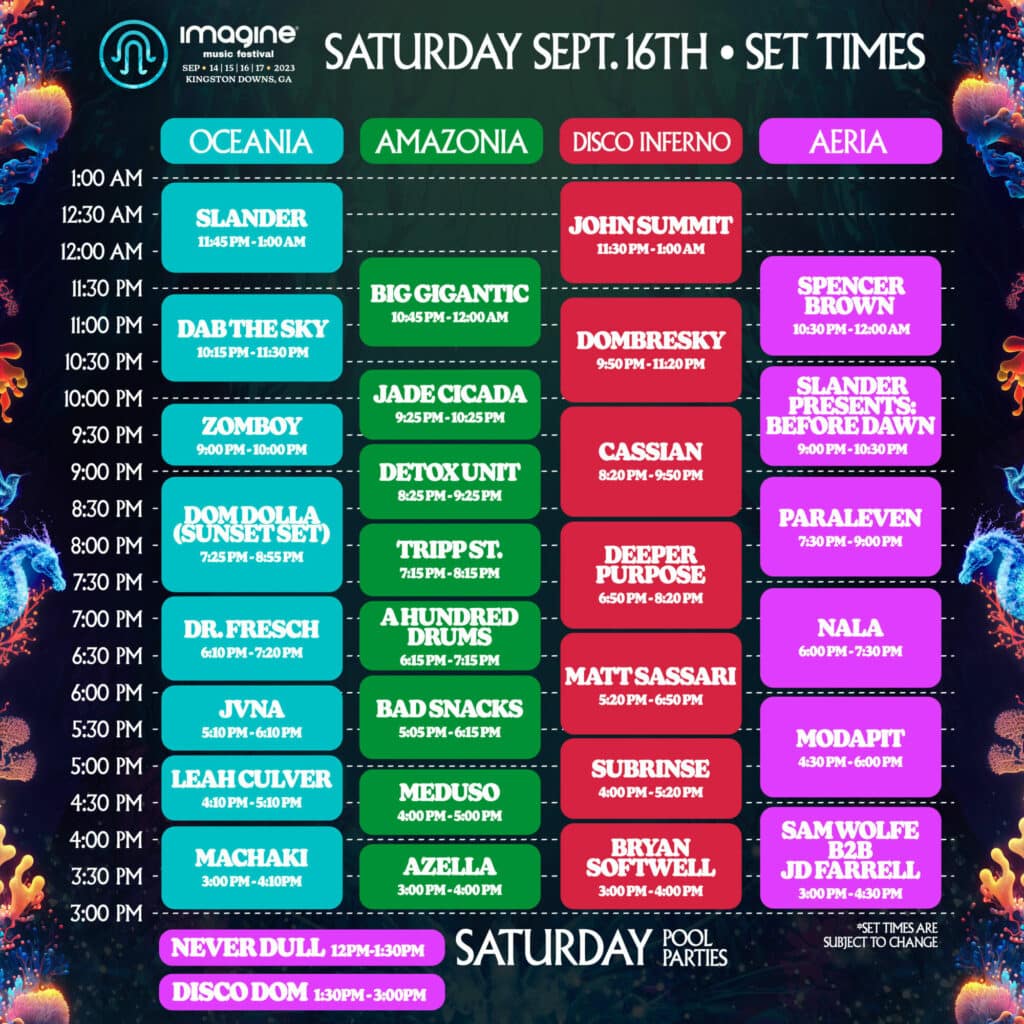 ---
Imagine Music Festival 2023 – Festival Map: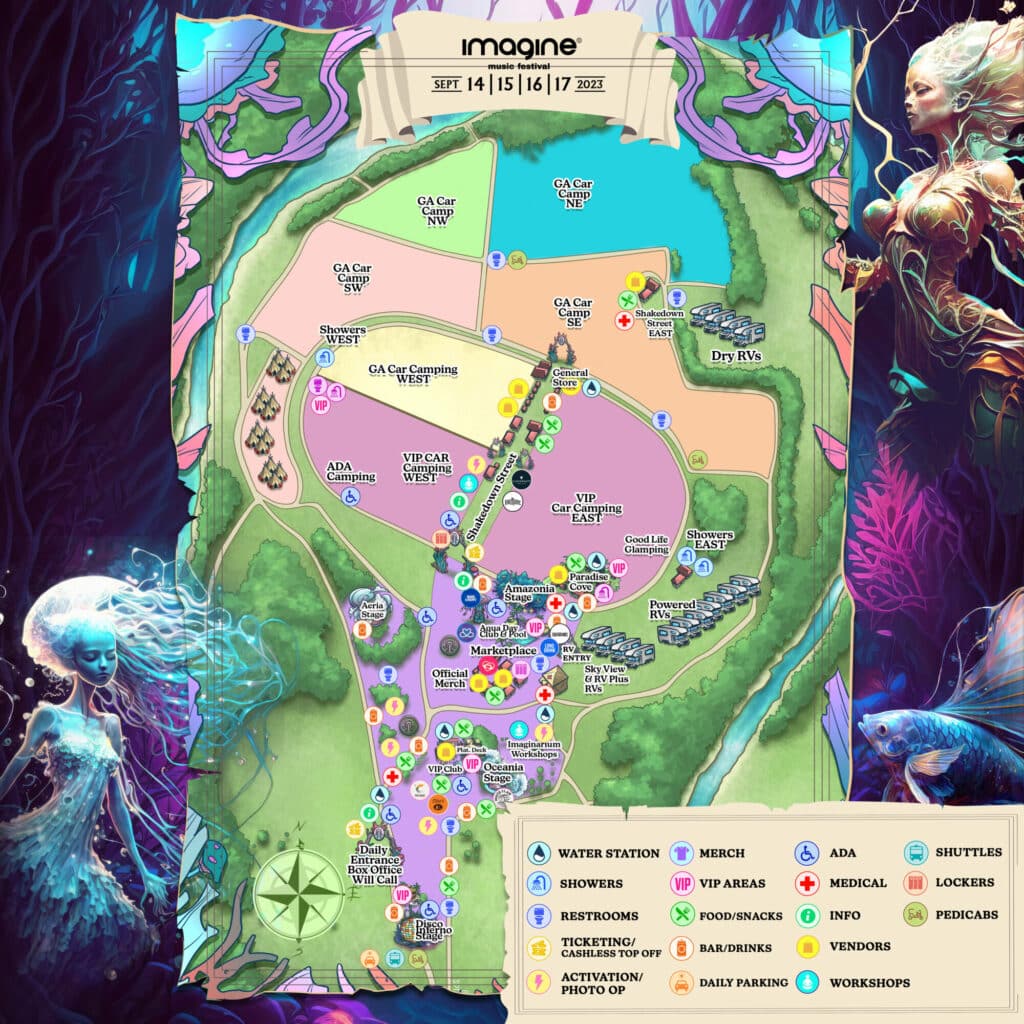 ---
Reminder To Mind Your Belongings:
Unfortunately, during this festival season, many have reported pickpockets, bag slashings, and theft of wallets, smartphones, purses, and other valuables. While this small number of bad apples in the bunch doesn't define an entire crowd, some opportunistic people come to these events to take advantage of unsuspecting partygoers, and it's important to be mindful of your valuables while at Imagine Music Festival.
Looking for tips to keep your belongings safe? Check our post highlighting some ideas!
---
Imagine Music Festival 2023 – Do's & Don'ts:
Prohibited Items
Illegal substances
Drugs or drug paraphernalia
Pets
Chairs
Compressed Gas Cylinders (CO2, etc.)
Massagers
Laser pointers and air horns
Pacifiers
Stuffed Animals
Eye drops
Over-the-counter medications (see FAQ for Prescription Medication Requirements)
Glass, cans, cups, or coolers
Markers, pens or spray paint
Unauthorized vending/soliciting materials (promotional stickers, flyers, commodities, etc)
Balls or Frisbees
Large purses, bags, or backpacks (over 12″×12″)
Outside food or beverages (including alcohol and candy)
Weapons of any kind (includes pocket knives, pepper spray, firearms, etc.)
Professional photo, video, or audio recording equipment (no detachable lenses, tripods, big zooms, or commercial-use rigs)
Vitamins or Supplements
Refillable vape devices are allowed only with enough liquid for one day's use. No extra juice is allowed. All juice must be attached to the vape device. Single Use, factory-sealed vape pens such as Juuls, Post, etc, Extra Pods must be factory sealed upon entry.
Campground Prohibited Items
Bad Attitudes (Positive vibes only!)
Obscure gels, liquids, or wax, including vape juice (juice within tank is okay)refillable vape devices are allowed only with enough liquid for one day's use. No extra juice is allowed. All juice must be attached to vape device.
Glass of any kind (this includes wine bottles, drinking glasses, pickle jars, and test tubes)
No kegs are allowed into the festival. We will seize ALL excessive* amounts of alcohol. *Excessive means anything over 1 case of beer per person and 1 box of wine per person. Kegs, glass, liquor, or vending of alcohol is not permitted in the campgrounds, and alcohol may not be brought from the campsites into the festival venue.
Weapons, items that could be used as a weapon, or harmful objects of any kind (including steak knives, pepper spray,etc)
Drones
Fireworks or explosives of any kind
Illegal substances
Bicycles, scooters, or personal motorized vehicles (including, but not limited to: golf carts, ATVs, motor scooters, powered skateboards, and airboats)Professional photography equipment (cameras with a detachable lens >2", tripods, video cameras, etc)
Pets (even really, really small ones- Please reference service animal policy)
Box trucks or trailers (a camping trailer is OK, but it is considered an RV which requires an RV pass)
Charcoal, lighter fluid, gasoline, firewood or other combustibles used to generate flame or heat (other than gas grills).
Gas-powered generators
Gas cans
Laser pens or similar focused-light devices
Over-the-Counter Medications (unless in unopened, factory-sealed packaging)
Vitamins or Supplements
Non-Compliant Prescription Medications (See FAQ for Prescription Medication Questions)
Vending of any kind is not allowed (Sharing yes, selling, no. You know the difference.)
No totems over 10 feet in height, constructed of metal or wooden pieces, sharpened elements, or are capable of being pounded into the ground or causing harm to others.
NO OPEN FLAMES OF ANY KIND WILL BE ALLOWED. (CAMP FIRES, FIRE PITS, TIKI TORCHES, ETC)]
Branded, wrapped or sponsored vehicles, RVs, tents, etc utilized for marketing purposes.
Campground Permitted Items
Rain gear
Camping gear (tent, tarp, sleeping bags, etc.)
Your favorite hoodie
Extra shoes/sneakers
Mud boots (in case it rains)
Bug spray
Sunscreen (lots of it)
A hat for shade
A bandana
Sunglasses
Reusable Water Bottles or Camelbak-style bladders (must be empty)
Biodegradable plastic bags for trash (Help keep our beautiful site clean)
Toilet paper (you never know)
Lantern / flashlight / headlamp (AND extra batteries!)
Flag or balloon to identify your campsite
Prescription Medications, Inhalers, and Epi-Pens (See FAQ for Prescription Medication Requirements)
Propane gas grills
Extra set of keys to keep with you at all times (avoid keeping keys in your car!)
Small luggage lock for your tent (please don't bring any valuables – if you must, keep them locked out of view in your vehicle)
Soaps, detergents and shampoos
Single use, factory sealed vape pens such as Juuls, Post, etc, Extra pods must be factory sealed upon entry
Smokers – bring an ashtray! Every butt you throw on the ground someone has to pick up!
Blanket (for sitting)
Earplugs (for sleeping)
---
Follow Imagine Music Festival: