Factory 93 is bringing a heater of hard techno show to Los Angeles with I Hate Models, Héctor Oaks, Charlie Sparks, and more on November 11.
---
While many have immersed themselves in the sound of melodic techno over the past few years, another area in that realm has begun to blossom and reach greater heights: hard techno. Defined by the fast-paced, booming beats that will leave you clutching your chest as it dominates every sense of your being, this genre has won over the hearts and minds of many looking for an escape from the world. Now, Factory 93 is leaning into the hard techno realm with their latest show announcement that will feature headliner I Hate Models.
On November 11, Factory 93 will take over the venue at 516 S Anderson Street in Los Angeles and bring a hearty dose of hard techno to the masses. I Hate Models, who has become renowned for captivating sets at festivals like EDC Las Vegas, Decibel, Awakenings, and more, will be taking the reins for the final set of the night. But this show kicks off at 4pm and there's plenty of action to be had before the sun dips below the horizon.
Joining I Hate Models are a flurry of other talented artists in this space. Rising star Declan James will guide everyone to a profound state of mind early on before self-proclaimed mental health warrior and Lazy Tapes label boss Cera Khin hops on the decks. Then, it will be time to take another step into the hard techno realm as Charlie Sparks turns the page on another chapter of the evening before Héctor Oaks gives everyone their last push with a set that that shouldn't be missed.
Pre-sale tickets for this hard techno soiree will be available on Friday, September 15 at 10am PT with the general sale kicking off at 12pm PT. Head over to their website to sign up for early access and Front Gate to make your purchase. Let us know if you plan to attend this event on Twitter!
---
Factory 93 Presents I Hate Models – Lineup: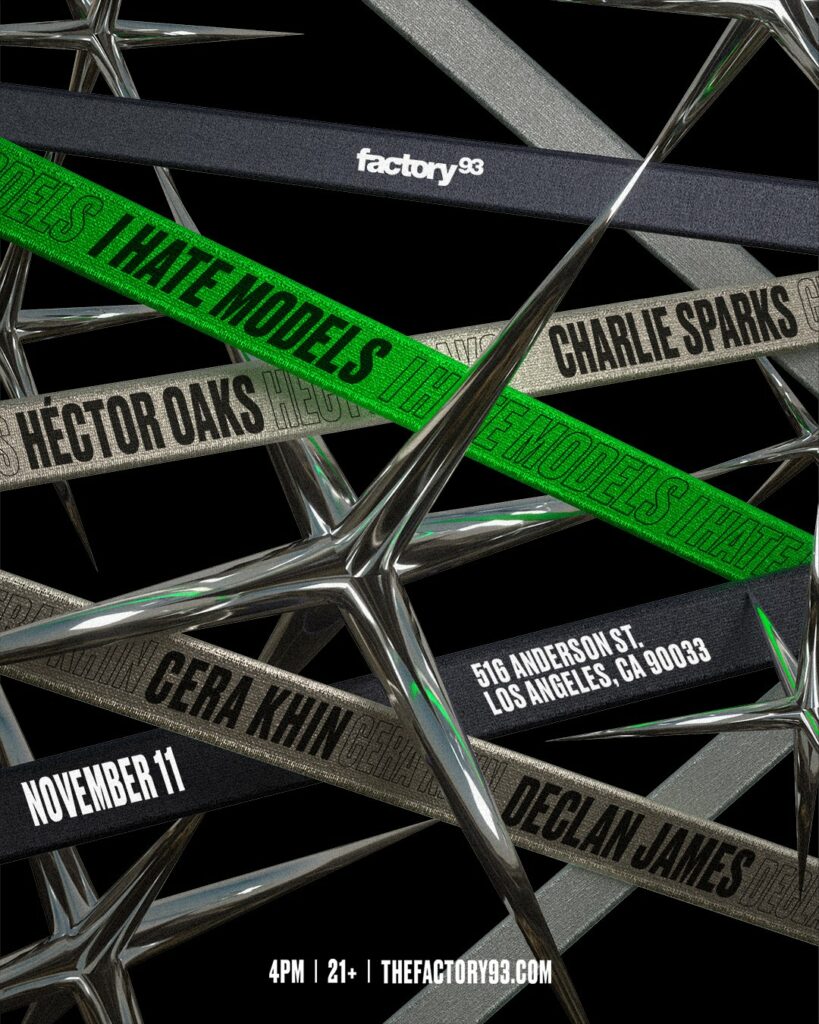 ---
Follow Factory 93:
Website | Facebook | Twitter | Instagram | SoundCloud | Twitch