This year's edition of Electric Zoo was set to reach new heights. However, New York's biggest dance party turned into a nightmare for many.
---
For more than a decade, Electric Zoo has been a staple festival in the electronic scene. The New York event has hosted some of the biggest names in dance music, and its popularity has resulted in international editions of the festival in countries such as Mexico, Japan, and Brazil. This year was slated to be the biggest edition in their 14-year history. Event organizers teased a plethora of first-time experiences for new and seasoned EZOO fans, and to fit it all, the festival was nearly doubling its size. The expectations were high, yet what was supposed to be one of the biggest summer dance parties turned into a nightmare for many on Randall's Island.
On September 1, the morning gave the impression that everything was normal. The official Electric Zoo app greeted attendees with a note just after 9am, "We can't wait to welcome you to a brand new Electric Zoo in just a few hours." However, just before doors were set to open Friday, EZOO reversed that message with a shocking announcement: Day 1 is canceled.
The event cited that "global supply chain disruptions" impacted the completion of this year's main-stage structure, which forced them to make the last-minute cancellation. The surprising announcement was felt throughout the community. Artists slated to play the first day quickly expressed their disappointment and frustration. Fans shared their emotions on the Electic Zoo Subreddit, writing, "This is the clown move of all clown moves" and "I took off work for this and was just starting to get ready when I saw this, fucking unreal," while pictures and videos of the unfinished main stage began to surface.
The first day's cancellation also shocked festival workers. Several security staff members told EDM Identity that after they reported on-site, they learned about Friday's cancellation through social media, not management. Our team, along with other members of the media, also saw the last-minute cancellation through social media channels. We later received an official update from festival organizers an hour after the announcement.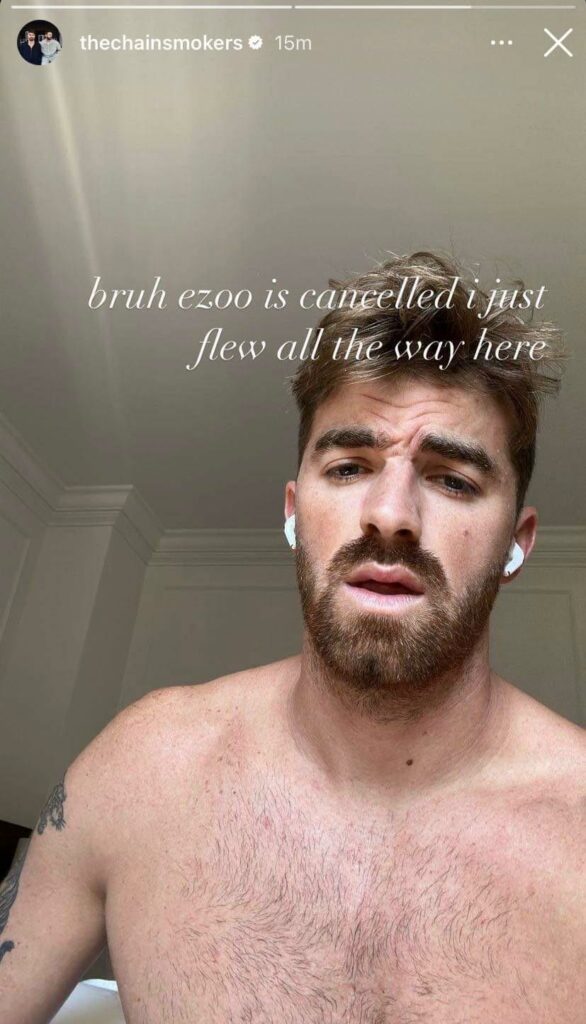 Friday was filled with theories about Electric Zoo's production process.
Angry attendees started questioning the language of the abrupt statement after photos online showed the main stage's construction progress. One image from Friday morning revealed that the main stage was nowhere near ready, which led people to wonder why organizers sent the morning app message and when they knew that the first day was not going to be possible.
The city also responded to Friday's cancellation with a statement that conflicted with EZOO's noon announcement, stating that when the city teams were on site Friday morning, "construction on the stages was not complete." Billboard later reported that festival organizers failed to receive the proper permits to host the event on Friday.
Production issues would continue to plague the event throughout the weekend.
Doors on Saturday opened at 3pm instead of 1pm, and even with the two-hour delay, that was still not enough time to have things ready for attendees. At 3pm, crews were still testing the screens at the Continuum Stage while Matt Caines was playing. Sign covers were still being set up on barricades, and security prevented access to the main stage area for an additional hour and a half because crews were addressing last-minute configurations on the structure.
The schedule change bumped the early Saturday acts, and others, like Matroda, who was slated to be the fourth artist to play the main stage at 4:45pm, almost faced the same fate. According to his social media, he told the festival's promoters to open the main stage despite the visuals not being ready.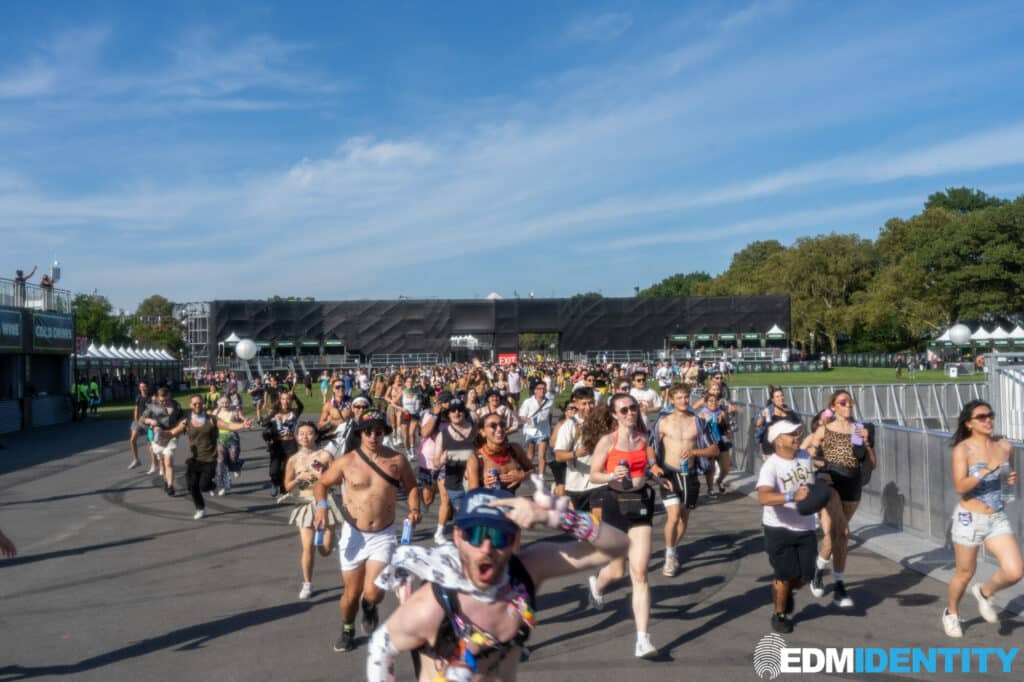 Visual malfunctions would continue throughout Saturday.
Artists like Gryffin, GRiZ, and Zedd experienced screen issues that impacted the full potential of their immersive shows. Despite the hiccups, Friday's cancellation seemed like old news. Inside, people were drinking, groups were taking their squad pictures, and everyone was dancing. It seemed, for a moment, that Electric Zoo was going to redeem the rest of the Labor Day weekend.
But outside of the festival, more issues continued to arise as thousands of attendees were stuck in lengthy lines that took hours, some not even making it inside the grounds until close to the end of that night.
Sound bleed was an effect that attendees could not escape from.
This year's Continuum and Landing stages were so close to each other that some coined it as Electric Zoo's first "b2b stage." The festival portrayed the Secret Garden stage as a tranquil area where ravers can relax from the event's saturated sound and visuals. However, music from the nearby MegaMirage and Landing stages could still be heard. And right in the heart of the festival, you could hear the vast electronic genres competing in your ear. The extended real estate was supposed to be a selling point for this year's edition, but it created more issues.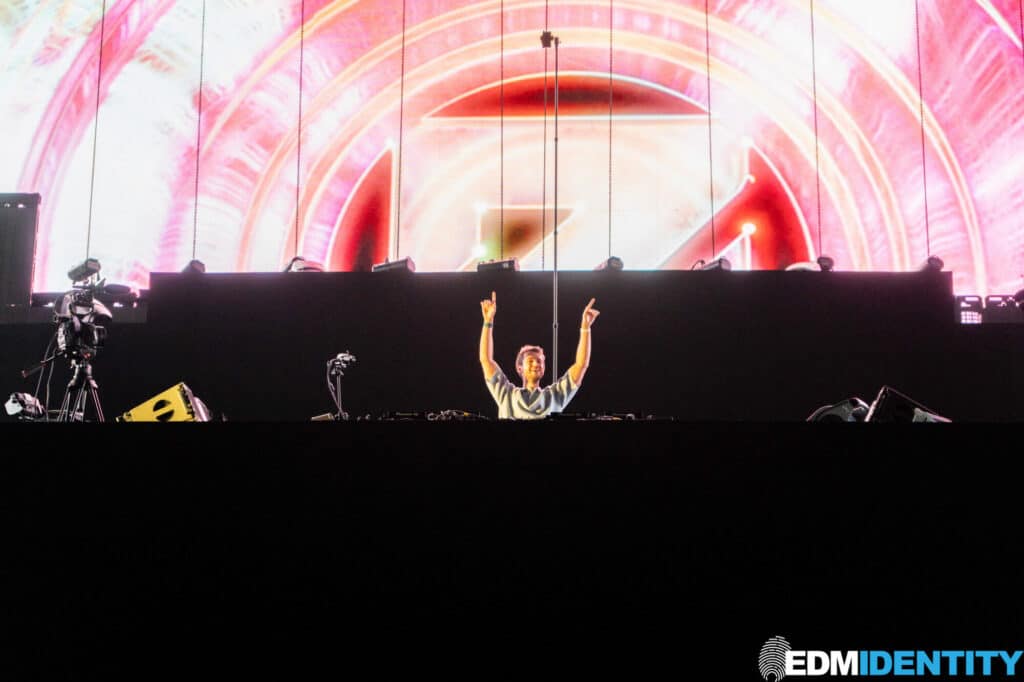 The stage design, or the lack thereof, was one of the biggest disappointments of the weekend for fans.
Leading up to the event, Electric Zoo teased elegant renderings of their stages. The preview of the MegaMirage—modeled after the Brooklyn Mirage's panoramic video wall—featured a massive framework that would maximize the event's new additional space. Instead, the structure up close was small and hollow, with the ground covered in manure and hard dirt. One person on X (formerly Twitter) wrote, "LMFAO, that is not what it looked like at all."
Additionally, the Convergence stage failed to replicate the right and left chandeliers, with Saturday featuring a bass that overpowered the mid and high frequencies. Sunday, thankfully, presented a cleaner mix.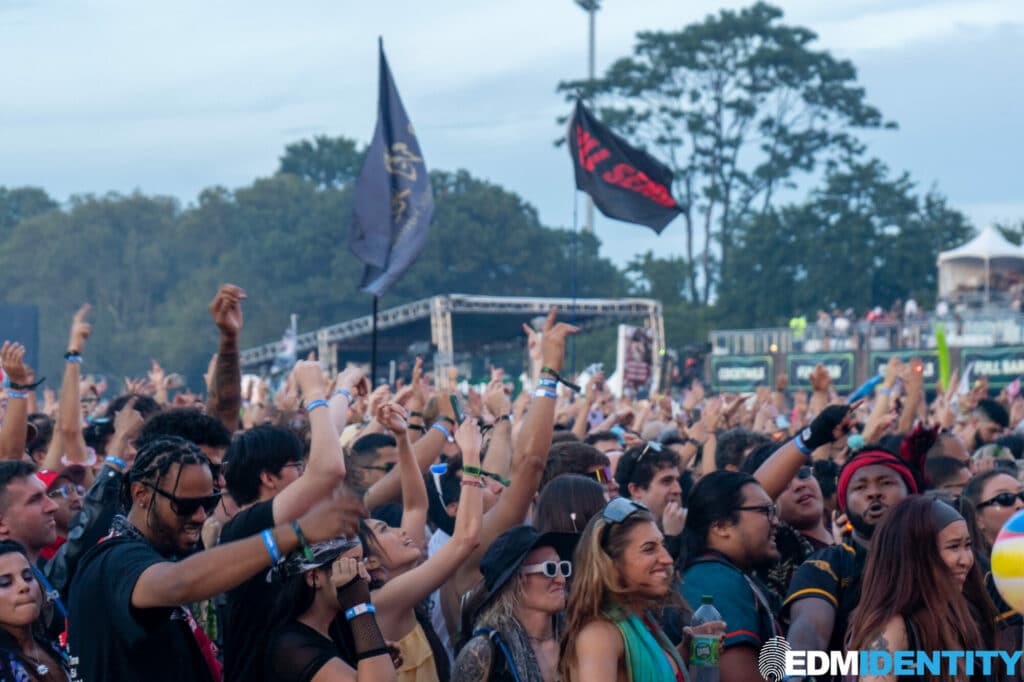 Although the final day had its problems, the vibes were high if you made it inside the festival.
Thousands made their way to Electric Zoo on Sunday and were able to get inside to catch the final performances of the weekend, and it seemed like the day was going off without a hitch. But if you didn't arrive early enough, you might've gotten stuck outside as the gates were closed due to the festival reaching its capacity. Attendees were told to stay away from Randall's Island and that refunds would be given to those who didn't make it inside the festival's grounds.
While no initial reason was given as to how the festival had reached capacity, it has since come to light from the NYPD that EZOO had oversold Sunday by an estimated 7,000 guests. Not only did this leave many outside the gates, but it created an unsafe situation as those who had made it to Randall's Island broke down barriers in their attempt to access the experience they paid for.
Those who were inside were still able to dance the night away, though, and many seemed to enjoy their time inside Electric Zoo. One raver, who wished to remain anonymous, told EDM Identity that this was their third time attending and that they had a great time. They never felt unsafe and said they were fortunate that they "didn't have to deal with any of the issues most people did." But after learning about the chaotic production issues, they most likely would not attend next year, saying, "It just gave me Fyre Festival vibes."
The future of Electric Zoo remains uncertain.
What many people fail to realize about music festivals is that organizers are building a city from the ground up. The event's infrastructure must be carefully built from power and sewage to technology to stages, not to mention the staff that makes the festival possible, like security, first responders, and more. It takes a village and then some to create a sophisticated festival experience that requires almost a year of planning.
While Electric Zoo has dealt with past controversies, its future remains unclear. What is certain is that they lost the trust of the dance music community, and if they aim to return next year—like these production issues—they must invest the proper time and money to help the community move forward.
---
Follow Electric Zoo: