Despite some logistical issues, HARD Summer prevailed and was a memorable experience for festivalgoers in Downtown LA.
---
Over the years, HARD Summer has occupied many homes, from venues like the Pomona Fairplex and Fontana's Auto Club Speedway, to Glen Helen Amphitheater and NOS Events Center in San Bernardino, but this year marked something special as they returned to Los Angeles. For the first time in a decade, the hottest Southern California festival hosted an edition in the City of Angels, and dance music lovers, new and old, enjoyed a weekend spent at the LA Memorial Coliseum, BMO Stadium, and Exposition Park.
This was my seventh time attending HARD Summer, and it's not just a festival I've been to the most, but one that holds a special place in my heart. Upon parking at USC nearby and entering the vicinity of this year's festival grounds, I immediately felt the electricity of downtown Los Angeles. Maybe it was the excitement of a new venue closer to home, the hustle and bustle of fans scurrying around me, or just the heat (which wasn't as bad as when it was in previous locations), but you could definitely feel the anticipation approaching the venue.
While I don't always plan on attending HARD Summer every year, I somehow always make my way back. One thing is certain—no matter where the festival is held, you can always expect a banging lineup full of various genres to please many audiences. This year's standouts for me included sets from John Summit b2b Kaskade, Skrillex b2b Four Tet, Dillon Francis, MK b2b Sonny Fodera, Blanke, Hamdi, Knock2, and more.
Security lines weren't too bad when I arrived around 4:30 on Saturday, although I heard some friends that arrived a bit after me were stuck in a longer line. Nothing can be as bad as HARD Summer 2016, though, when my friends and I waited upward of two hours to get into the festival both days, with people passing out in the heat around me. I'm grateful those logistics have improved drastically since then.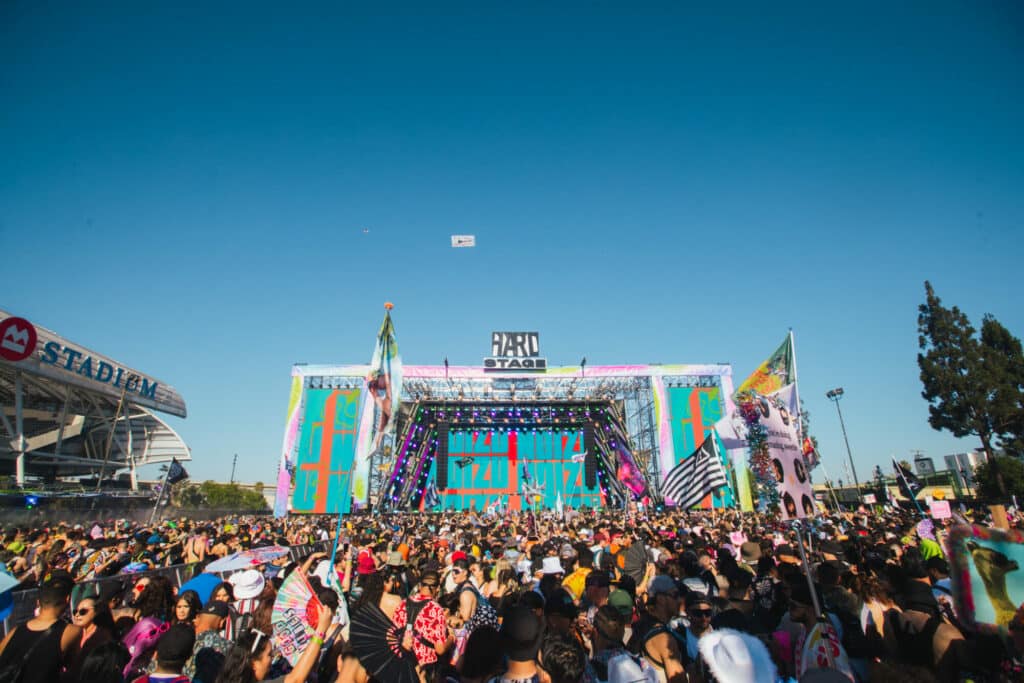 With only two water stations servicing the entire festival on the first day, people waited upward of an hour to get free water.
My group split up upon entering, and those that waited in the water station line near the HARD Stage were there for almost an hour. I opted to get in line for a drink and grabbed a $5 can of Liquid Death to avoid the water station madness. While waiting for my group to reconvene, I headed to HARD Stage VIP to catch Noizu throwing down a mix of fiery house music and darker progressive beats.
The VIP experience at the HARD Stage was enjoyable, with plenty of drink options and some food trucks. It would have been nice if this area had an elevated viewing platform, though, like the HARDER VIP did this year, along with a larger layout. The VIP restrooms and lockers were also a bit of a walk away compared to other festivals, although there was nowhere else for them to be placed in this layout. The biggest issue that presented itself was the massive crowd who flocked in for headlining sets, which caused issues with overcrowding. Additionally, there were many chokepoints when leaving VIP here and navigating this area in general, and I do hope they revamp the layout for 2024.
My initial reaction to the HARD Stage this year was that it felt weak compared to previous ones, but I understand the limitations that the new venue presented. It would've been nice to see this stage inside the LA Coliseum for a more iconic experience, especially since it felt like more attendees could fit inside. That being said, past issues with crowd control during EDC Los Angeles would've presented themselves as there was no way to police how many people were on the floor in place.
The layout of HARD Summer covers a lot of terrain, so be prepared to walk.
While this is true every year, this year's new multiple-venue layout saw attendees traversing in and out of many areas, often stuck behind a crowd. Depending on who was playing where or whose set had just ended, you had to be wary of a sea of HARD fans coming from everywhere. At times, this was overwhelming for some people, who took shelter in various stairwells or nooks out of the way when the opportunity presented itself.
The venue this year did feel generally tighter among people compared to previous editions; I remember the days of the Auto Club Speedway and Glen Helen Amphitheater, with plenty of space to maneuver around attendees and make your way from stage to stage. But one major highlight of the new layout is that there was pretty much no sound bleed between stages, which was an absolute blessing.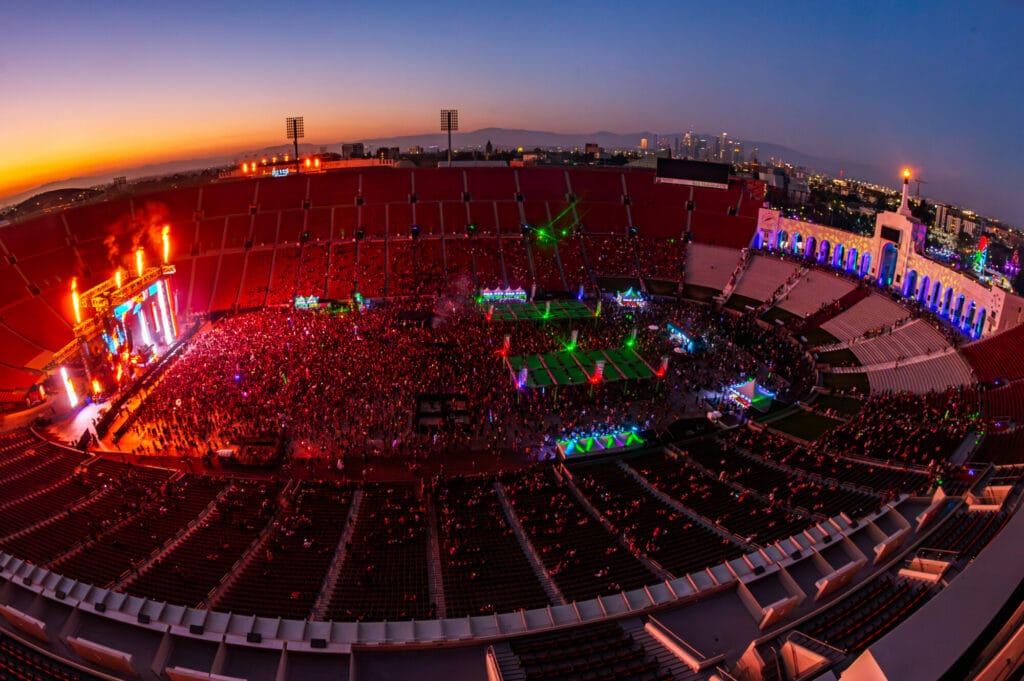 Highlights on the first day included the likes of Wilkinson, Dillon Francis, and a massive set from John Summit and Kaskade.
I opted for a heavy dose of drum and bass on Saturday, enjoying the sounds of Alix Perez for the first time in the Green Stage, along with Wilkinson, who played soothing releases like "Used To This" with Issey Cross. The VIP area here was prime, with plenty of space to dance and vibe out; however, I had to climb the entire stairs to the top of the LA Coliseum to use the bathrooms outside the stadium. The Coliseum also felt too large for the Green Stage, with plenty of seating being unused by fans around the stadium.
Heading back to HARD VIP to snag a good spot for Dillon Francis and John Summit b2b Kaskade, I made my way almost to the front with no problem; however, I heard that many others struggled to get into VIP the rest of the evening, with the area eventually being "at capacity." I can't imagine the frustration of paying for VIP and not being able to get in. I would recommend heading to some sets early to ensure entry and a solid spot, especially for the closing headliners. If you know it's going to be packed, plan ahead.
These closing acts completely made my night and overall day one worthwhile. Seeing Dillon Francis from the front of VIP was such a full-circle moment for me (along with meeting him at last year's Nocturnal Wonderland, but that's a different story). He was my favorite performance from my first HARD Summer back in 2016, and he always plays a fun set no matter the year. A show-stopping performance from John Summit and Kaskade closed out the night. They played heavenly remixes and new mashups of some of their best tracks. I couldn't get enough as I replayed highlights from their set in my mind on the way out, amped up for the second day.
HARD stepped up and made much-needed improvements to the second day of the festival.
While leaving the first night was an absolute mess, with the whole festival trying to leave through one narrow street. Thankfully, HARD relieved some stress on day two by opening up additional exits. Additional improvements were made and much appreciated, like more water stations and improved pathways and lighting to the HARD Stage. I've learned that there are always going to be hiccups when a festival takes place at a new, unfamiliar venue; it's how the promoter decides to handle those stressors and adapt for the future that will resonate lastingly with fans.
After a quick meetup with the EDM Identity team, I grabbed a free HARD popsicle outside the entrance to the Coliseum to cool off and headed in for Hamdi. This budding artist has already caught the attention of artists like Skrillex and Zeds Dead. He did not disappoint, with popular releases like "Counting" with Princess Superstar and "Criminal" with Zeds Dead and Warrior Queen blasting through the speakers.
Bouncing around between a few sets after, like Dirt Monkey, Wuki, and MK b2b Sonny Fodera, my group enjoyed tuning into the heavier bass and drum and bass sounds of Blanke before I headed over to the press lounge to interview him. Making my way toward the press lounge and into Purple Stage's VIP was also a bit congested as attendees maneuvered inside the BMO stadium to access the area.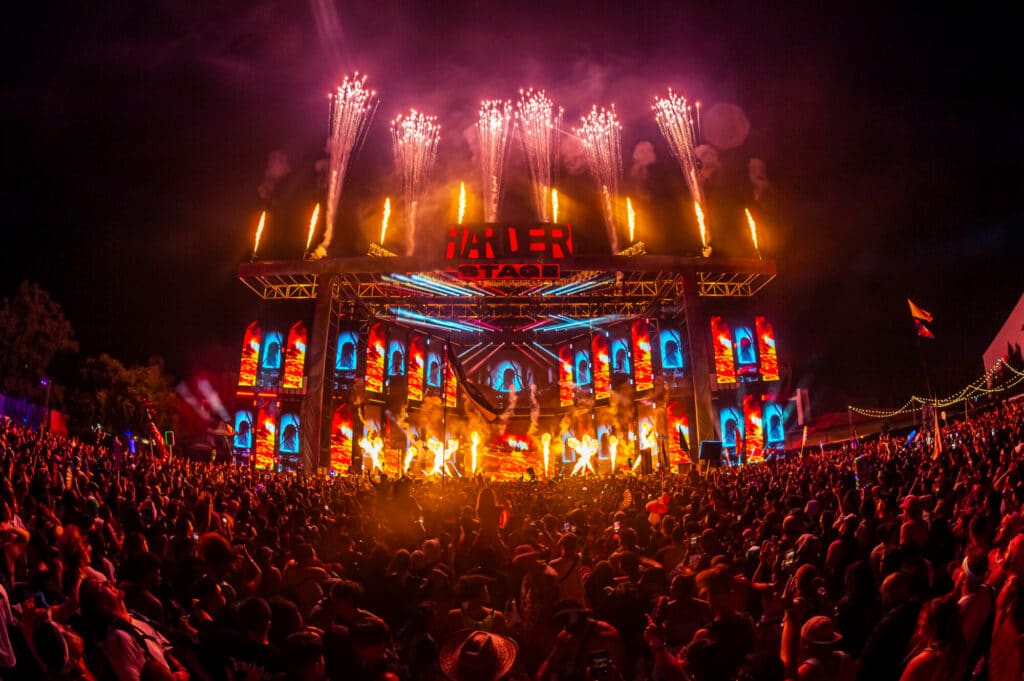 Knock2 blew everyone away at the HARDER Stage for one of the more memorable sets of the weekend.
First of all, the HARDER Stage in itself was much wider and seemingly more spacious than the main HARD Stage, and I couldn't wrap my head around the decisions made in the layout; however, given the excessive choke points of people leaving this area after the set, it almost seems unavoidable for this to happen no matter what stage is where. I genuinely am curious how HARD will make changes for next year, but Pasquale did mention via Instagram that the venue will move again if fixing these issues is unattainable.
The pool at the HARDER Stage VIP was a treat, though, along with other amenities, like an elevated viewing platform, concierge, free goodies, air-conditioned restrooms, food options, and more. For an extra layer of comfort, exclusivity, and better viewing options, I would recommend looking into VIP at HARD Summer. As I dipped my feet in the pool and sipped on one of the HARD-themed cocktails, I basked in the bass of Knock2, watching everyone go wild for this set.
Skrillex b2b Four Tet closed out HARD Summer with a bang, playing a lively set that was up to par with their recent Coachella performance.
Skrillex and Four Tet took a top spot in my favorite performances this weekend. From the infectious energy onstage to the giant inflatable balls thrown into the crowd, their set truly was the icing on the cake of HARD Summer 2023. The pair even FaceTimed Fred again.. and shared his reaction on the giant LED screens. No matter where they play, whether alone or together, catching these artists is always bound to be something special.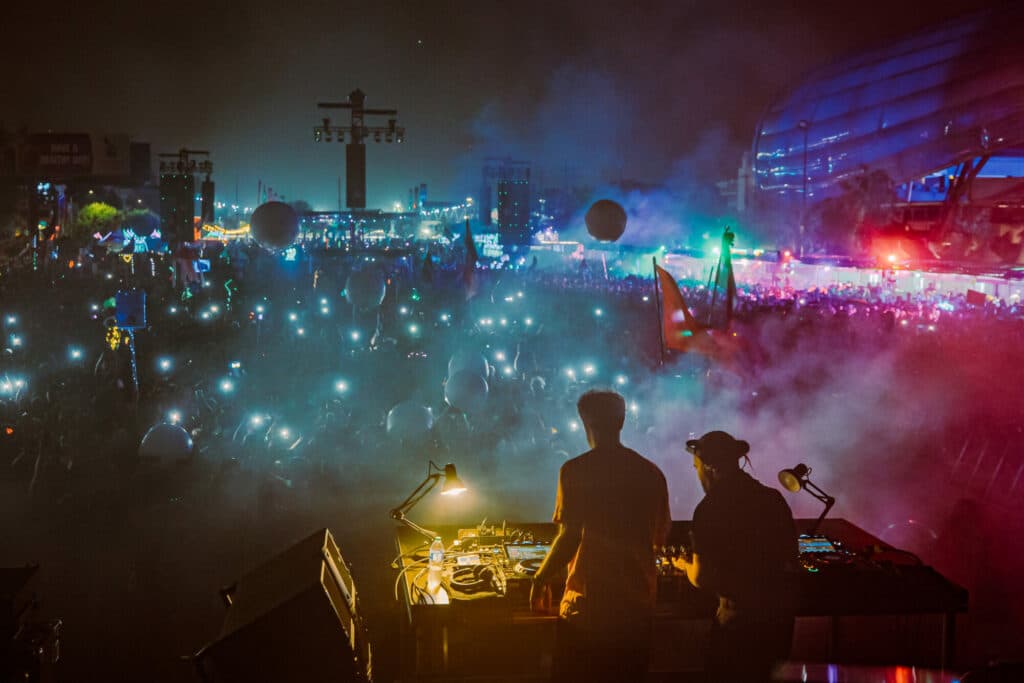 Despite logistical issues, it was gratifying to see HARD Summer returning to Los Angeles.
Overall, HARD Summer was a blast this year, and there's no doubt that you had a better knowledge of the layout by the second day. There were still a lot of chokepoints in crowds or when trying to navigate some small or tight walkways, but it was nice to see that HARD made improvements to day two and listened to feedback. There can definitely be improvements made if HARD is hosted here again next year, but I generally had a great time reuniting with friends and dancing to my favorite artists.
HARD Summer will always hold a special place in my heart. It was my first big "rave" (although back then, it was being pushed more as a music festival) when I was barely getting into the scene in 2016. I've made my way to seven editions since then and discovered that the people you go with make your experience worthwhile, no matter the venue. I came, I saw, and I conquered HARD with some of my closest friends yet again, and who knows, I may keep my streak going next year.
---
Follow HARD Summer: