We sat down to chat with REAPER after his set at Toxic Summer about who's on his radar, playing Rampage, his legacy, and more.
---
The topic of drum and bass in the US often brings up a heated debate that questions if Americans are truly embracing the genre. While many DJs enjoy the style and sprinkle it into their sets every so often, only a few Stateside producers have been known to dive in headfirst with the goal of pushing the genre to the masses. Driven by his pure love for the genre, REAPER is one artist who doesn't shy away from shouting his love for drum and bass from the rooftops. Often advocating for it openly, his entire project has been about sharing that love with others and giving them an experience of the genre they won't forget.
Thoroughly maintaining an air of mystique under the alias he selected for its "tough and guttural" nature, REAPER first began his masked descent into the bass music scene in 2019. He began capturing a core fanbase with his releases, later erupting into the masses with his live debut at LA's 1720 Warehouse in 2020 with Brownies & Lemonade.
When the pandemic shut down live shows and festivals, REAPER took the opportunity to look at the positive side and grow his online presence and his fanbase through livestreams and releases like "Monster" featuring Josh Rubin. After the world opened again, REAPER came out of the gates swinging. He started with a US tour, and now festivals like Rampage and Toxic Summer call for his presence.
Having witnessed the massive growth that REAPER has accomplished in just four years, we have high hopes that he will continue to be a driving force for drum and bass in America. When the opportunity arose, we jumped at the chance to catch up with him at Toxic Summer in San Francisco. Check out his latest release, "Monster," and continue reading for our chat!
Stream REAPER and Josh Rubin – "MONSTER" on Spotify:
---
Hi REAPER; thanks for taking the time to chat with us tonight! How are you feeling after your set at Toxic Summer?
Honestly, pretty exhausted. It was so hot in there! But the vibes were incredible — it felt like a blend of a festival and a small club.
You've also talked about how Rampage played a big part in your love for drum and bass, and now you're playing the festival. How does it feel to go from being a fan to performing there in just four years?
It's an incredible feeling. I've watched almost every Rampage live set on YouTube, so it was absolutely electrifying when we got the call that I was invited to play!
Shortly after your live debut in 2020, the US was shut down by the global pandemic, but you came out of it touring the US. How did you take the crisis in stride and use the time at home for your artistry? 
Oh man, the lockdown was tough. I had at least 30 shows canceled, including a bus tour. My team and I kept the project alive by consistently releasing music and playing live streams. We wanted to keep the fans engaged! As the lockdown lifted, there was even more demand for REAPER shows, which I feel very fortunate about.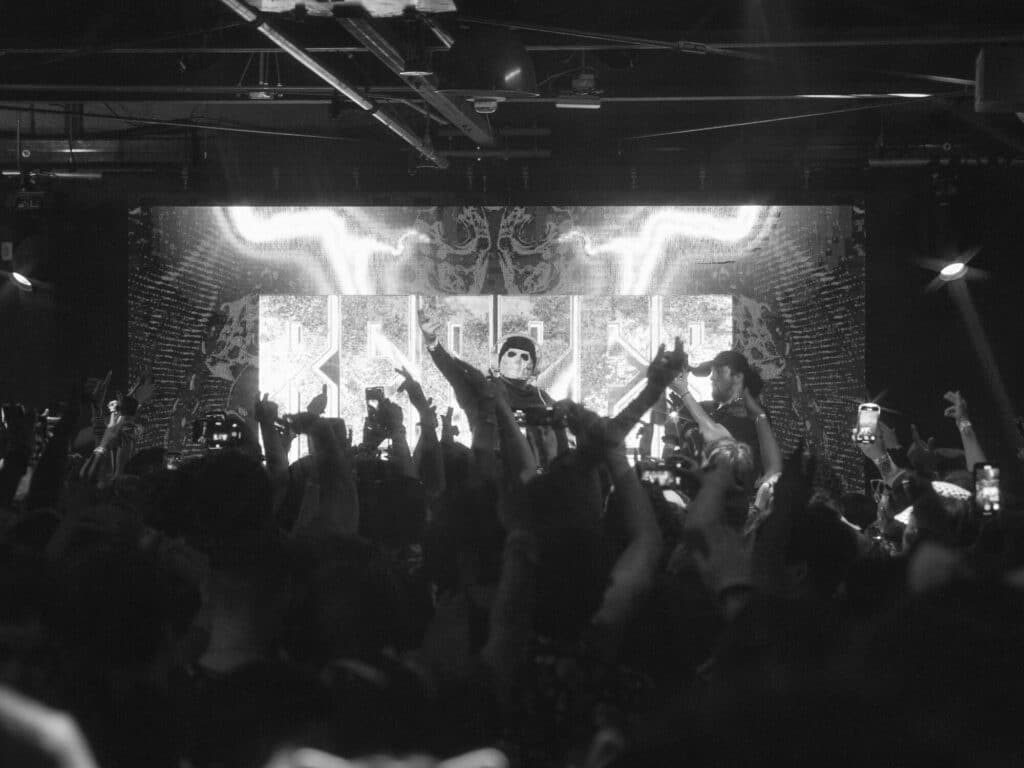 You've spoken really passionately in past interviews about your love for drum and bass and the desire to share that feeling with others. What role does inclusivity play in that mission?
Part of the message I want to spread is to be proud to be yourself and learn to love yourself more. When REAPER fans see a massive dude in a skull mask dancing around on stage like an idiot, I want them to feel confident in doing the same. Regardless of your background or origin, just be confident in who you are, and don't take what other people think so seriously. Let loose!
You also recently released an emotional track, "Monster," featuring Josh Rubin. What thoughts and emotions did you channel when working on that together? 
I've always felt that "Monster" is about a moment of self-realization. It's about realizing yourself, using that realization to find a resolution, and using that truth to habilitate yourself into something better. Josh's vocals are angelic and powerful, which drives the message home.
You host The Pulse on Insomniac Radio and are constantly giving a platform to smaller and younger drum and bass artists. Who are some artists currently on your radar you believe will help push American drum and bass to the next level?
Joel Cruz, Rebel Scum, Audioscribe, Skellytn, and Slang Dogs are a few that come to mind. All the big DJs playing DnB in their sets are also pushing it to the next level. 
Can you share some words of encouragement you can give those artists as they go through a similar journey?
Push the envelope with creative ideas that might not seem popular. Experiment. And I believe that consistent hard work pays off, so make sure to involve yourself in music or production every day!
What's coming up next for REAPER?
Lots of new music is being scheduled. And I'm about to head to Germany for some festivals next week. Then I have a huge run of club shows and fests going on throughout the fall!
What kind of legacy do you hope to leave behind in the world of dance music?
I want to be remembered as a powerful element that eternalized drum and bass in America. I want to be America's gateway to DnB.
---
Follow REAPER:
Facebook | Twitter | Instagram | SoundCloud