Bassrush and Vital Events are teaming up to bring a bigger and better Toxic Summer to life this year, so get pumped with our Patio Stage playlist!
---
For almost a decade now, Vital Events has been known as a dubstep giant in the San Francisco Bay Area and beyond. As the hosts of the long-running Wobbleland and Toxic Summer festivals, that reputation is not unfounded. This year, however, Vital Events came back firing on all cylinders, by teaming up with Insomniac's Bassrush to bring fans the biggest Toxic Summer yet to the bay.
This year's Toxic Summer returns to The Midway and attendees will surely be blown away by this year's lineup stacked with a mix of heavy-hitting legends and upcoming talent on its two stages. The main stage is set to host some absolute killers in the game right now including Emorfik, JAWNS, LAYZ, MUERTE, Perry Wayne, Reaper, and Jessica Audiffred. While those artists will be demolishing headbangers, the Patio stage will be bringing a flavor of its own, with local event companies LoFreq and Olympus Events' Audissey putting on their very own lineup for their corresponding days.
Rising artists slated to play the Patio stage on Friday during the Audissey takeover include Dazzles, Stripess, Strobez, Wufu, and Xerxes. Then, LoFreq takes control on Saturday with bd hbt b2b Jalaya, Dalfin, GLASSPVCK, Kryptt b2b Flesh Interface, Kyral x Banko, and ODUS.
To help you get pumped for Toxic Summer, we've put together a Spotify playlist filled with tremendous talent coming from the Patio stage. Give it a listen to get ready to bring that energy to the festival next weekend!
Two-day and single-day passes are still available today via TIXR but are going fast! The festival is 90% sold out, so get your tickets now, and don't miss the chance to see this epic lineup in action!
Stream the Toxic Summer 2023 Patio Stage Playlist on Spotify:
---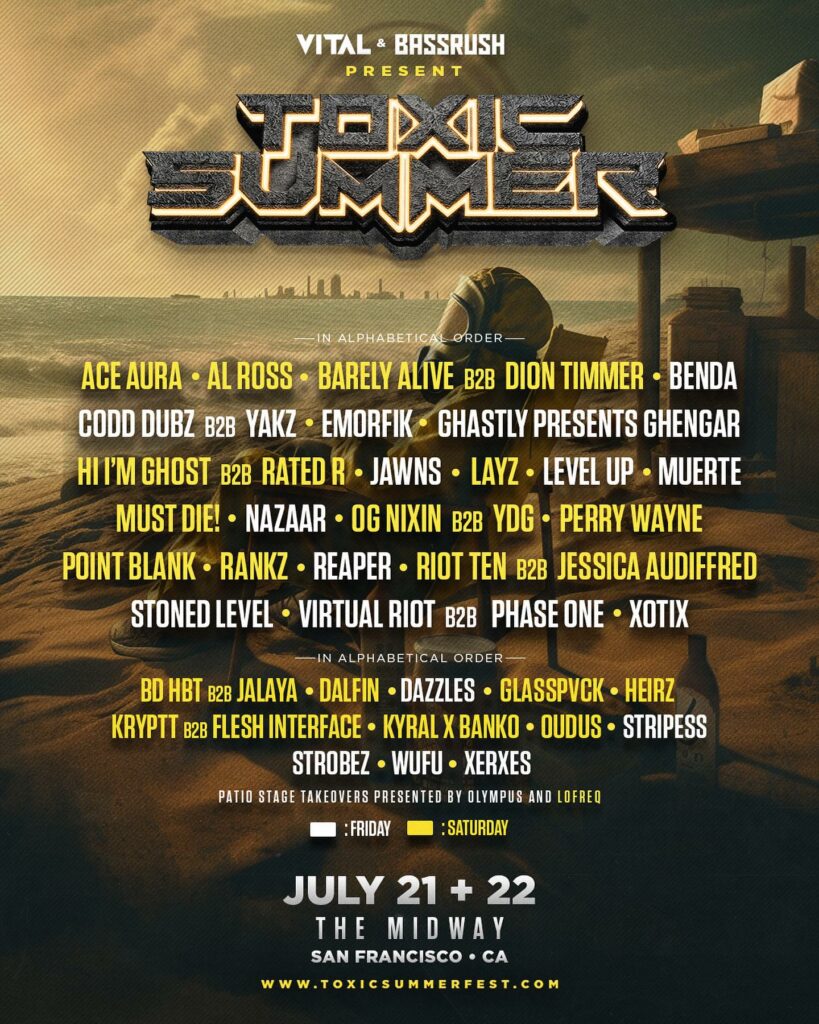 ---
Follow Vital Events:
Website | Facebook | Twitter | Instagram
Follow Bassrush:
Website | Facebook | Twitter | Instagram | SoundCloud