Meow Wolf Denver is back with another edition of DANCEPORTATION featuring a stunning lineup of Monstercat artists and more.
---
Since opening its doors in September 2021, Meow Wolf in Denver, Colorado, has brought a world of color and art to the streets of downtown with its eclectic energy. The art has become a coveted part of the community not only through telling their story with the Convergence Station exhibit but also by bringing a unique music experience with their venue inside the exhibit, The Perplexiplex, while also hosting their annual Vortex Music Festival to showcase their curation abilities further.
Their stunning venue hosts a wide variety of artists spanning many genres and artists. One of their biggest events is an immersive art and dance party in collaboration with Live Nation called DANCEPORTATION, which brings psychedelic visuals and atmospheric music across several stages throughout Meow Wolf. On September 23, they're teaming up with powerhouse Canadian label Monstercat for a takeover that dance music lovers won't want to miss out on.
Monstercat is bringing a stellar lineup of artists for the takeover, including headlining performers Infected Mushroom, Koven, Godlands, ShockOne, and Whales. Additionally, the takeover will stay true to its Denver roots and include local acts such as Broken Skyline, Kases, Mr. Frick, MUV, SOUNDKISSED, User00215, and Zejibo.
Those heading to the show will experience one of the most surreal nights for electronic music, art, and surprises, with guests gaining access to the entire exhibit as the stages will be throughout the world of color. Doors open at 9:30 pm, and music begins at 10:30 pm. All who are 21+ are welcome and encouraged to wear as much color and glitter as possible to enjoy only positive vibes and good music all night.
Tickets are available via Meow Wolf's website, so grab them now to lock in an unforgettable experience at one of the coolest venues in Denver!
Meow Wolf's DANCEPORTATION Monstercat Takeover – Lineup: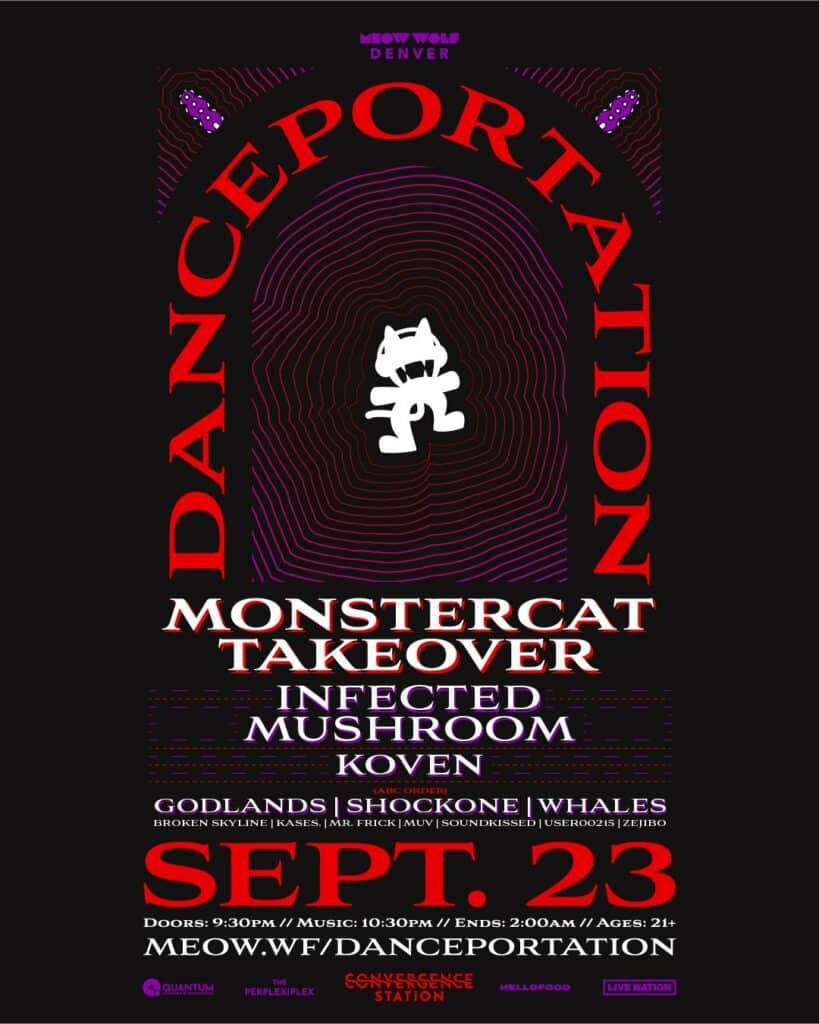 ---
Follow Meow Wolf:
Website | Facebook | Twitter | Instagram | YouTube | Twitch
Follow Monstercat:
Website | Facebook | Twitter | Instagram | SoundCloud