Camp EDC proved to be difficult for this rookie, so for Electric Forest, I was determined to take our campsite from rags to riches.
---
Camping at a festival holds an undeniable allure, offering music lovers and adventure seekers the opportunity to sleep where they play, deep in the heart of the action. With the convenience of having your belongings just a stone's throw away and the comfort of knowing your home is nearby, it's easy to see why festival camping is so appealing. However, what often goes unmentioned is the preparation required to truly enjoy the experience. Despite its perks, festival camping presents numerous challenges that can make or break your entire adventure, as I discovered firsthand at Camp EDC.
Related: Are you looking for some essential items to bring to summer camping festivals? Check out some of our favorites!
As I arrived at the sprawling parking lot of the Las Vegas Motor Speedway, I felt reasonably prepared for the weekend ahead. Little did I know that this fleeting sense of readiness would soon be shattered as I quickly realized I was far from adequately prepared. Festival camping is not for the faint of heart, as any seasoned camping enthusiast will attest. It's a tale of challenges, tested patience, and plans that never quite go as expected.
You have two choices in the face of these obstacles: let them defeat you or rise above them. This is the story of how I chose the latter. With Electric Forest, my next camping festival, just around the corner, I knew I had to use my Camp EDC experience as a turning point. I was determined to transform every painful mishap into a valuable lesson, using the past as my blueprint.
My tiny, ten-foot trailer and I had camped along Southern California's slow, sunny beaches many times before, and my setup was made for that.
Everything was giving cute, aesthetically pleasing energy. Festivals, however, are a different kind of beast, and my friend and I quickly learned the importance of efficiency over style. Our chairs, with their stylish, checkered fabric, were difficult to set up and, quite frankly, on their last leg, with one breaking in two under the weight of a fellow EDM Identity member. Let's just say Urban Outfitters will no longer be a camping essentials go-to.
The matching wooden coffee table was also missing a leg, making our vision of an outdoor lounging area virtually non-existent. As we looked around at other sites, we saw that all the successful setups had a portable folding table, which we completely forgot to consider because most campsites had picnic tables. Without a table, we lost room to set out all our cooking essentials, and we were left to store them inside the camper with us, which, remember, is only the size of a small car. The sheer heat kept us from wanting to cook anything anyways, but this was a huge burden on our ability to move around in our tiny home.
We also sorely lacked proper organization, with our luggage sprawled open and clothes flung everywhere, resulting in a few breakdowns from losing many vital things to the clutter. Our Camp EDC experience wasn't pretty, but we managed to make it work, and through a lot of trial and error, we began to note all the ways we were severely lacking, and it became our life's mission to make Electric Forest a true camping comeback story.
As Electric Forest drew closer, my friend and I went back to the drawing board.
A lot of planning needed to take place, and with our post-Camp-EDC-PTSD, we knew we had to do things entirely differently if we wanted to feel confident this time around. Our journey to Electric Forest was also much bigger than our weekend in Las Vegas, one that would take us one month and 4,815 miles to accomplish.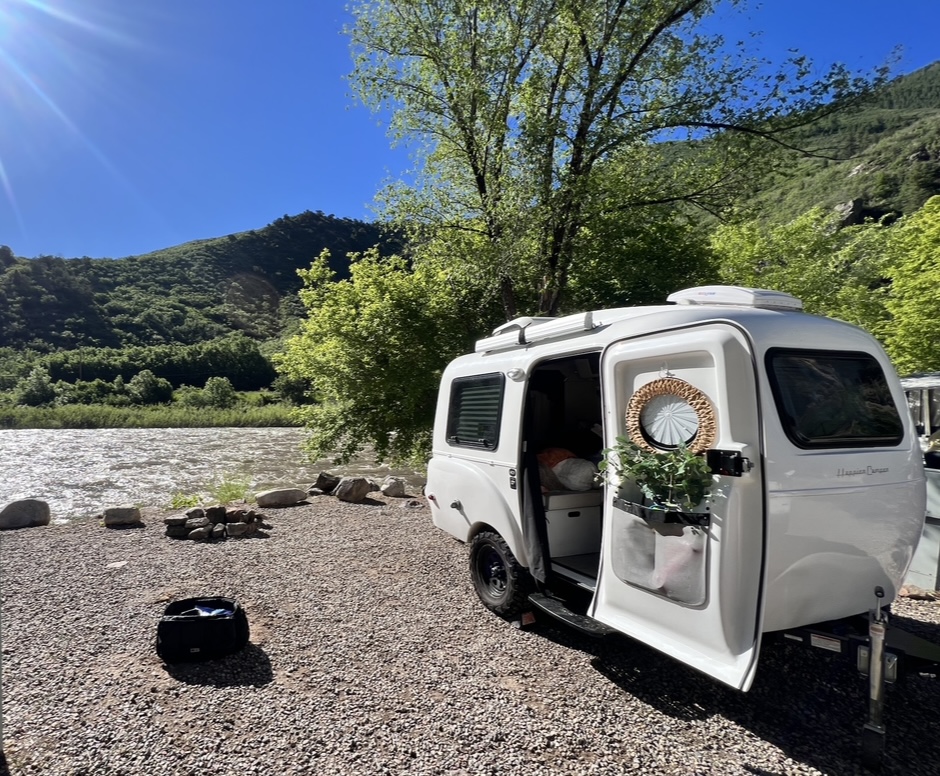 First, we focused on organization.
Living out of our luggage simply wouldn't cut it this time. We spent almost all of our time at Camp EDC stuffed inside the camper amongst all of our clutter, and it was enough to make us want to pull our own hair out. They say a cluttered space makes for a cluttered mind, and we knew that to make our space feel more zen, we had to devise a better plan.
With my camper providing minimal storage space, we decided we needed to make our own. We bought cheap, plastic storage bins from Target for our clothes and neatly labeled each drawer in Sharpie so everything had its proper place. We stored them upright in the trunk of my RAV4 for easy access, and this ended up being a lifesaver and an absolute must for all future festival camping.
We purchased a hanging shelf for our shoes and, more importantly, our bubble wands, which were an absolute necessity in the forest. We put all our toiletries, makeup, rave essentials, hair accessories – you name it – into small, designated plastic boxes that fit neatly between our clothing bins. This made it much easier to sneak off for a shower or transform into a proper festival baddie without having to tear the camper apart looking for body wash or face gems.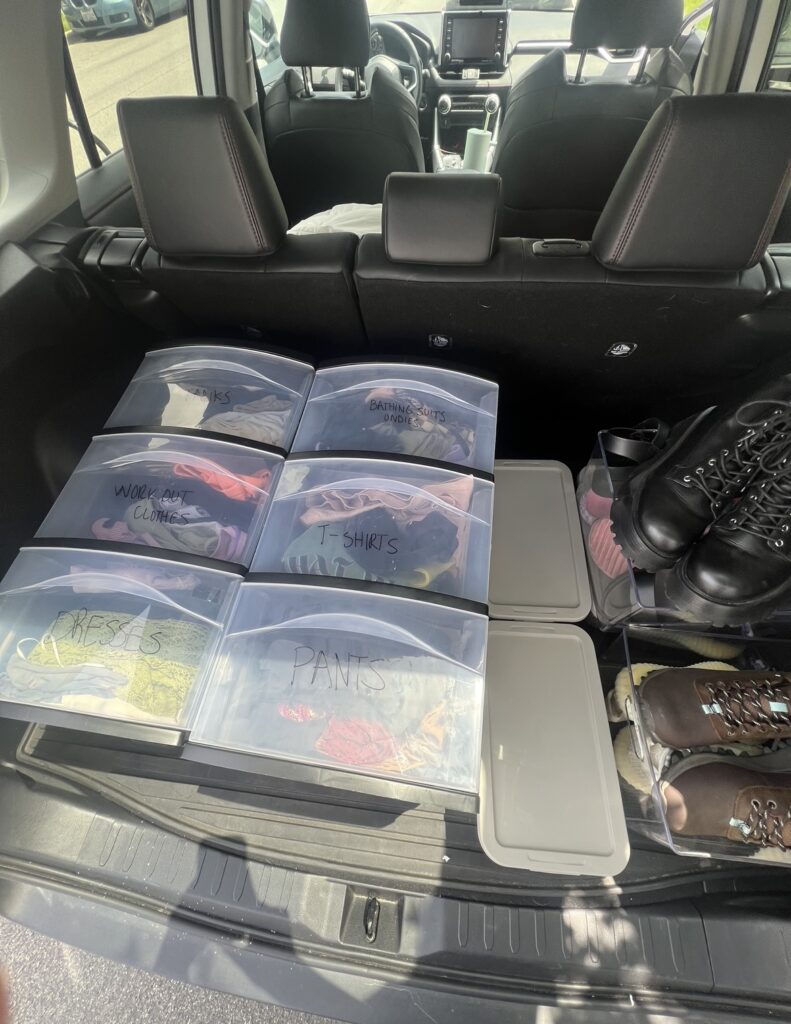 As we continued brainstorming ways to level up our organization, we contemplated how to store the bigger, bulkier items.
Where would all my big, fluffy festival jackets go while we made our way across the country? What about the massive blow-up sectional purchased solely with the intent of using it at Electric Forest? These types of things would only take up viable space and wouldn't even serve a purpose for most of our trip. With the generosity of my parents, a solution was found when they offered to lend us their Yakima Cargo Box, something I would have never considered before.
This may be a less viable option for some, but for those who have roof racks on their car, I can't recommend this enough. It ultimately served as a second floor for our living space and eventually led us to refer to anything stored in it as 'being upstairs.' It was the perfect home for all the things we didn't need in our day-to-day. Never underestimate the power of a good Yakima.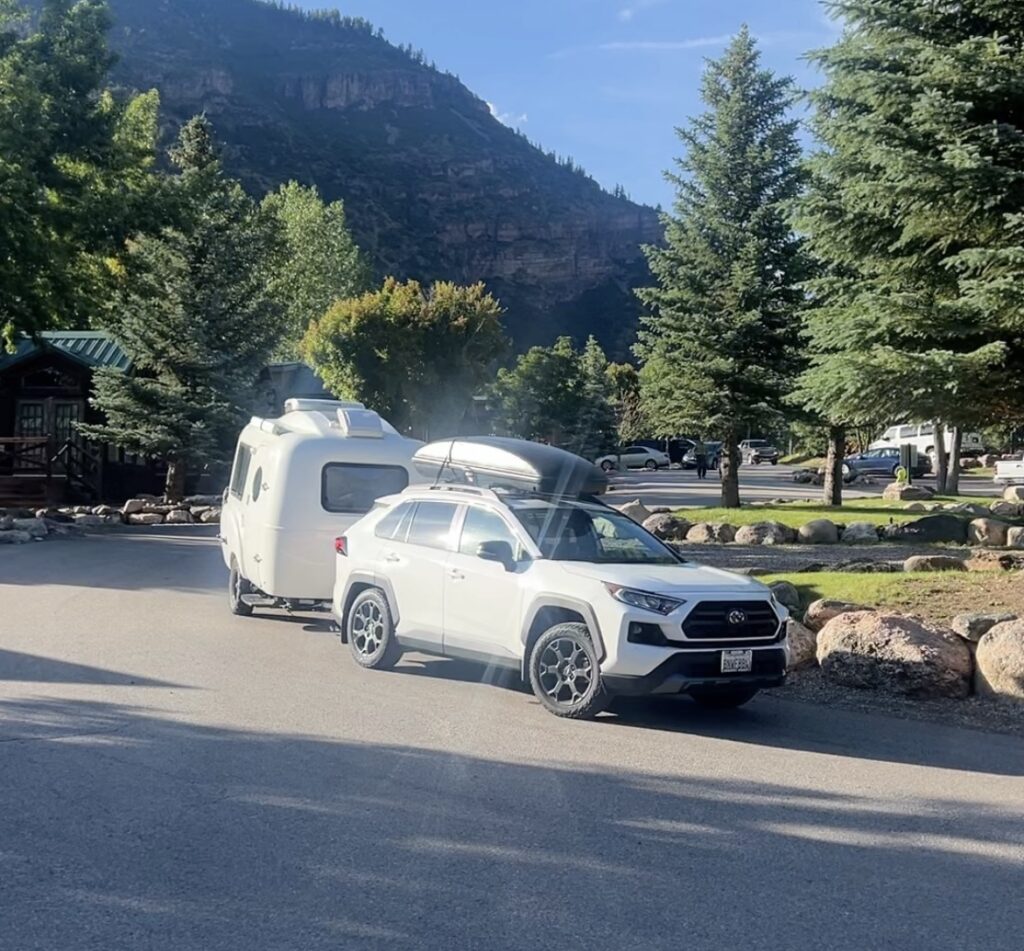 Next, we focused on creating a functional, vibey outdoor space for us to decompress.
Our attempt at an outdoor area at Camp EDC was undoubtedly one of the most pitiful displays I've ever seen. I find some comfort in knowing the heat would have probably kept us in the camper regardless, but for The Forest, we knew we had to come correct. Taking inspiration from some of the more notable setups on The Speedway, we made a list of essentials.
The first, and arguably the most important, was a shade structure. Despite being prohibited at Camp EDC, we still saw many sites with them, and those shady, makeshift living rooms gave us some real FOMO and became the first thing we purchased. We even took it one step further and found one with a protective mesh covering that would not only keep the pesky bugs away but give us a welcomed sense of privacy.
It only took us about three days into our trip to realize we bought the mesh lining, and the shade structure was not included. This posed to become a much more immediate issue than we originally anticipated because a storm was brewing, and if we didn't get our hands on that soon, our belongings would become one with the desert monsoon.
Have no fear, we were able to remedy the situation, and after a short 45-minute drive to the nearest Walmart, we were back in business. The mesh canopy became a welcomed addition to the entire space, turning the EZ-up into an entire room for us to store things in and decorate if you take anything away from this article, please remember that before making any major purchase, for god's sake, read the labels.
We weren't about to make the same mistake twice, so the next thing on the list was a foldable table that would eventually become the designated makeup counter inside our makeshift living room. The living room also became home to the blow-up sectional I mentioned earlier, which was in fluffy blankets. We decorated the mesh walls with string lights and disco balls and layered the floor with rugs and tapestries – we even set out containers with notepads for other attendees to share their deepest, darkest secrets and wishes with us along the hood of the car.
Much like Camp EDC, life on the road was far from easy, yet I'm grateful for all of it.
By the time we reached the sacred Sherwood Forest, we had that setup down to a science. In under an hour, we could turn any site into our own little camping oasis, and all the challenges we faced were the catalysts that turned our amateur hour into a success story. As we looked over our perfect little spot on Lucky Lake and marveled at all the beauty around us, we couldn't help but also marvel at how far we had come.
---
How have you upgraded your festival camping experience over the years? Let us know on Twitter!