It was time to break out of my pattern of solely listening to house music and Anjuna artists, so I took a headbanging dive into bass music!
---
While I am genuinely open-minded to new music and community as an older raver, I've maintained much of the same path since re-entering the scene about seven years ago. My re-entry came via Above & Beyond, and I have mostly stayed in the musical range of Anjuna, house, and adjacent styles for the duration. But one Anjunafamily member from New York that I'm close with kept mentioning Excision to me, and I was having trouble connecting the dots. I didn't consider this person to be a headbanger, so I was curious to learn more.
At the same time, when I looked objectively at my musical journey, I found myself already dipping a toe into bass music with acts like TOKiMONSTA, Alison Wonderland, and REZZ appearing in my playlists. I'd seen all of these artists live and loved the shows! In reality, though, the lineups were pretty chill for bass, so I didn't really see myself as fully embracing the bass music scene.
Enter AC Slater, who was an even greater gateway opener for me with his infectious bass house style. The more I listened to the Night Bass label boss, the more I wanted to slide on down to the deep end of the pool and dive in. So when Excision and Subtronics both announced shows at the Brooklyn Mirage, I knew this was the time to dive in. I reached out to that Anjunafamily friend who immediately picked Excision because they were convinced he would best use the incredible video wall at the Mirage.
I'm a planner, so preparing for my first bass show was an adventure all to itself.
As the Excision show approached, I intentionally didn't listen to a lot of his music. I thought it would be fun to experience the show more objectively from a blank slate. I also didn't want my pre-determined favorite tracks to influence how I took in the live show. One of the best things about live music is to engage with the audience and be part of a singular emotional experience. For all my love of the Anjuna artists, being so immersed in their shows, that novelty is now sometimes lost. For Excision, I'd have no such bias.
Attire, however, was a completely different story. Should I wear my typical rave attire? Go full wook? Or just wear all black and become just another headbanging body in the crowd? I thought it was time to embrace my wook tendencies. A neon spaceman t-shirt, black robe with white accents, and colorful pash rounded out the outfit, and I ultimately felt this was a perfect choice.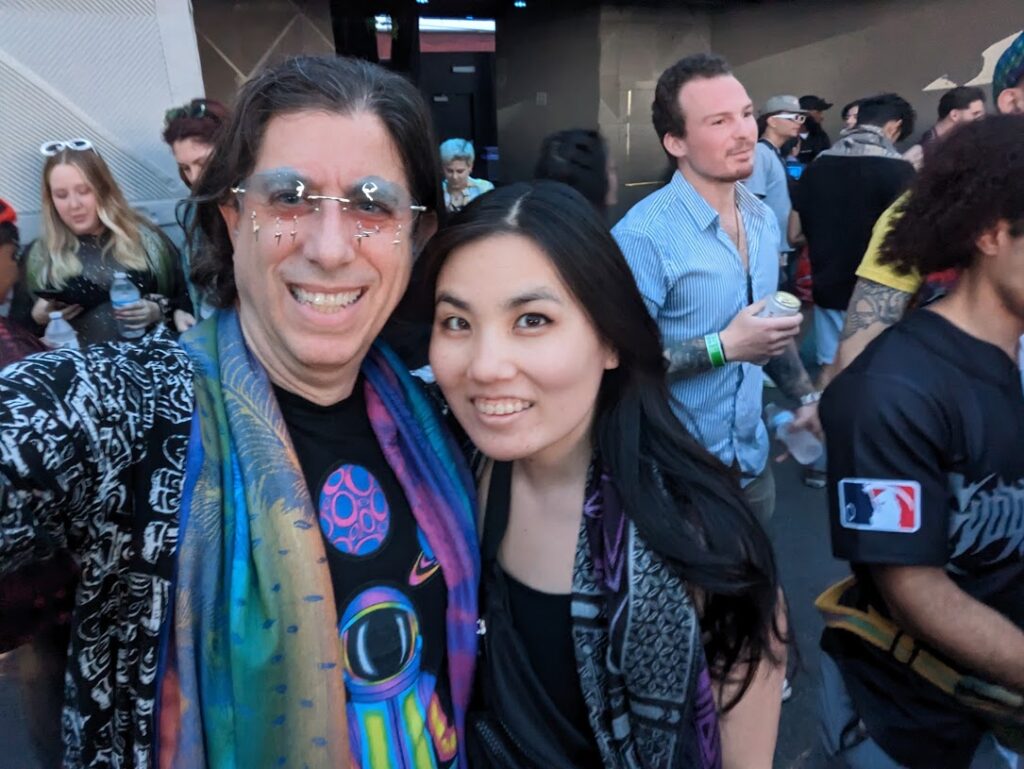 While I didn't have preconceived notions about the musical experience, I did have a bias about the crowd – one that would be beautifully disproven.
I went into this experience fearing that the crowd would be made up of "aggro bros." Maybe the stereotype comes from what I've seen on social media, or maybe I developed this bias because so many of the canceled artists over the last few years were bass artists. No matter how I got there, I'm so happy this show completely shattered the stereotype. In a season where many Mirage patrons have complained about overcrowding and aggressive, drunken behavior, this sold-out show was anything but. The occasional headbanging collision always resulted in an apologetic smile and often an ephemeral dancefloor friendship.
In fact, my absolute biggest takeaway from the night was how wonderful the crowd was overall! Perfect? Of course not! No large crowd can be. But we took in the show from various locations, including near the center of the crowd for Excision's set, and never felt any concerns. At one point, there were two notable mosh pits, each only about 15 feet to either side of us, and they were really well contained. Those around the perimeter protected those not in the pit, and those in the pit did their thing with the expected "violence" of a mosh pit but also the clear respect for everyone in it.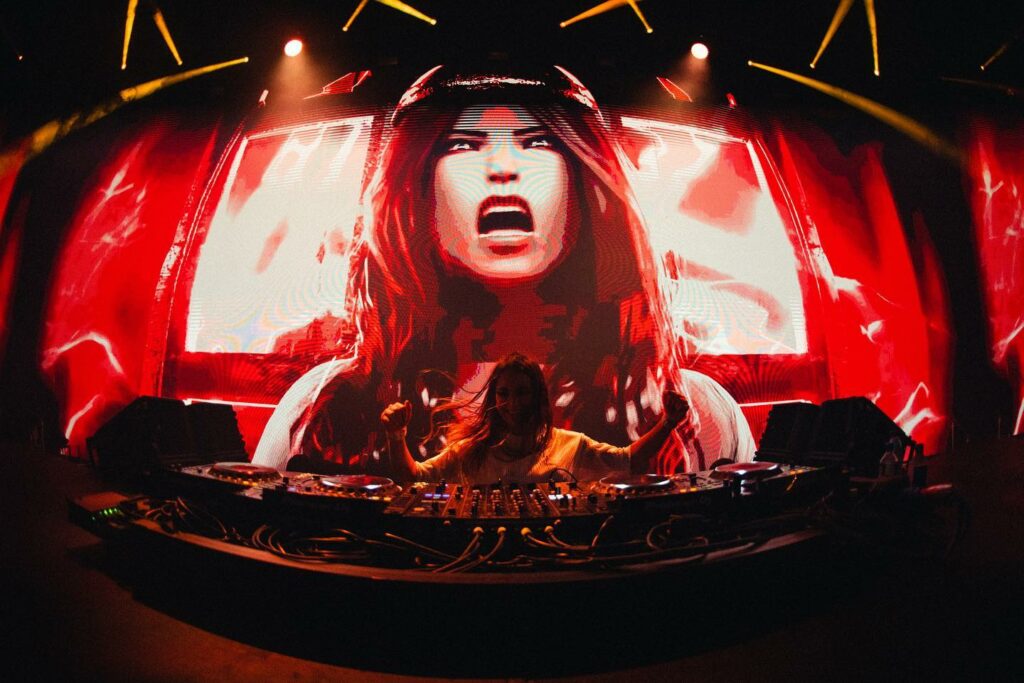 Live music is about the entire experience, which I've praised so far – so how was the music at the show?
The undercard for this show consisted of DRINKURWATER, Stoned Level, LAYZ, and Space Laces. I'm a huge fan of arriving early and discovering new artists, but we couldn't arrive until Stoned Level was almost finished. Besides, these were all new artists to me! We caught about 10 minutes of Stoned Level before LAYZ took the stage, and we were just getting settled in when she dropped a heavy, reverberating series of wubs to kick it off. 
I immediately found myself in a different mindset than my house or Anjuna shows, and I was here for it. I had no idea I had a headbanger inside of me, but I found that persona rather quickly. From a purely musical standpoint, LAYZ put on the best set of the night. She even welcomed me into her world by playing the opening of "Sandstorm" before taking a hard left into a dirty, bass-heavy transition. This was definitely unexpected but appreciated!
Space Laces played a respectable set after she took the stage. But with less variation than LAYZ and with my limited exposure, I found myself a little lost a few times. This is much more likely on me than him due to my inexperience in the bass scene, but that's my take.
As for Excision, he lived up to his role as the headliner for the night and definitely impressed! His music was terrific, but almost more important was his visual experience. Fans already know that he loves his lasers, so he did not disappoint – but only a lucky few get to see 15k visuals designed exclusively for the 200-foot wide video wall at Brooklyn Mirage.
The Brooklyn Mirage video wall is legendary, but most artists run standard visuals in triplicate to fill the ultra-wide format. Production teams need to create bespoke programming for Mirage to maximize the screen. I've seen a few terrific uses of that wall, but absolutely none of them compared to Excision. I'd estimate that 80% of his visuals were programmed exclusively for this configuration, and I doubt many others have done more than 50%. It's a high bar, and Excision crushed it.
So, am I a headbanger now?
First and foremost, I absolutely loved this show. The music, the visual production, the crowd, the headbanging – it was all top-notch. As I try to expand my genre selections, I will absolutely include bass in the mix. I don't think I'll ever again be any one genre, instead expanding further and further until my style can only be described as genre-defying.
Maybe "Am I a headbanger?" is the wrong question, and instead, I should be simply thanking bass music for being the next step on a neverending journey. And, while I don't yet have tickets to my next bass show, I've already put out the local feelers asking, "Who do I need to see next?" I'm looking forward to the answer. And I strongly encourage all of you to consider getting outside your comfort zone and trying some new sounds. You might just be rewarded with a refreshing new journey!
---
Follow Excision:
Website | Facebook | Twitter | Instagram | SoundCloud | YouTube