The family of Karl Clemente has confirmed that his body was found in the vicinity of Brooklyn Mirage after a missing persons search.
---
On Sunday, June 11, Excision headlined a relatively early show at Brooklyn Mirage. Since the show was scheduled for 6pm-12am, most fans were comfortably inside by 9pm. At least one group of friends, including one with 27-year-old Karl Clemente, were not yet in the venue. A friend of Clemente posted to Facebook that their group arrived after 9pm, and while most of the group entered without incident, Clemente was turned away by security because "he allegedly drank alcohol." A Facebook post the next day sought information about Clemente, as he had not returned home since being turned away from the show at the Mirage.
Soon after, Clemente was reported missing to NYPD, who began an investigation into his whereabouts. Over the course of the week, authorities were able to piece together parts of the story, primarily through security footage from outside Brooklyn Mirage and neighboring operations. Clemente was seen walking away from the venue after his friends entered and going in the typical direction patrons used to leave the venue, whether to call a rideshare or walk to the subway. He soon turned away from the local subway and towards an area more likely used for rideshare pickups where there is also a gas station with a convenience store. Some patrons use this as their pickup location so they can get snacks or drinks while waiting and also because it is well-lit.
A few days later, Clemente's wallet was found at a nearby lumber yard and turned in to NYPD. Clemente was seen running through the yard when the security footage from that location was reviewed. A later search of that property uncovered Clemente's body in a creek behind the lumber yard. At this time, there is no evidence of foul play. The investigation is still open, and an autopsy is pending.
Nightlife partons and festival attendees are reminded to look out for each other and travel in groups whenever possible. If you have any information relating to the death of Karl Clemente, NYPD encourages you to report this information using their Crime Stoppers Tip Line: 800-577-TIPS. Information can be reported anonymously, and cash rewards may be available for valid tips.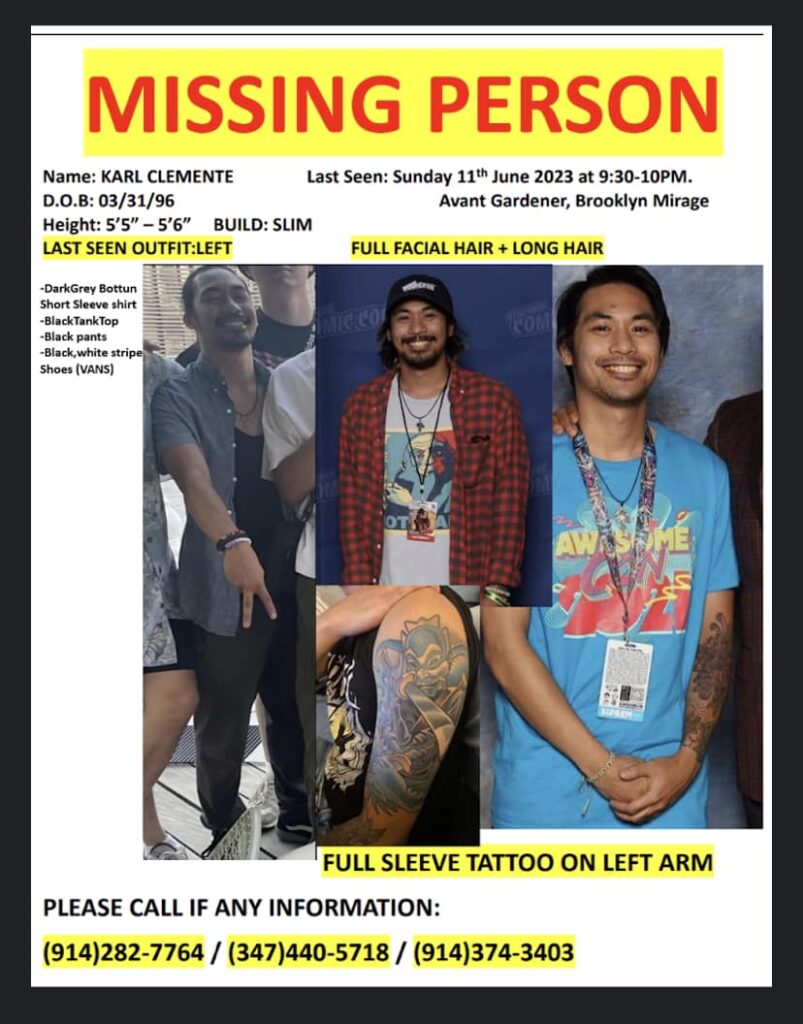 ---