YATÉ co-founder Eric Hoang swung by to discuss the birth of this yerba mate-fueled brand and how they're planning to save the dancefloor.
---
As thousands of music lovers flock to festivals all summer long, one common thing that will be consumed by many are drinks filled with caffeine. Whether it's a can of Red Bull for a quick pick-me-up or having it mixed with the liquor of their choosing, these beverages have become essential to get through long days and even longer nights. The downside of most beverages loaded with caffeine on the market is that it isn't the only ingredient in that can – as many are filled with sugar and other artificial ingredients that make them unhealthy – but YATÉ is looking to change that.
Launched with the notion of being a health-conscious solution to the energy drink craze, YATÉ has quickly won over the hearts and minds of many in Southern California's underground community. Not only have cans of this low-sugar, all-natural yerba mate drink found a home among the house and techno heads who flock to events hosted by the likes of 6AM Group and at venues like Blind Tiger, but this year has seen it continuously expand to the shelves of stores around the region.
One of the masterminds behind YATÉ is their co-founder, Eric Hoang. This entrepreneur has helped the brand become a growing force to be reckoned with while staying true to his roots in the dance music scene and giving everyone a healthy alternative to keep them dancing deep into the night. We caught up with Eric to discuss the beginning of YATÉ, the recent successes the brand has seen, and more.
Read on for the full conversation, and head to their website to grab a case for yourself or find a store that carries it near you!
---
Hi Eric, thanks so much for sitting down with us today. Let's kick this off by exploring the backstory behind how YATÉ came to be. What led to your decision to launch this new brand in the yerba mate space?
Thanks for having us, Grant! We're happy to be here. So we've been going out to bars and nightclubs for years, and we were tired of the same artificial and unhealthy energy options. You know who it is. We thought there had to be a better alternative. While we had heard about yerba mate before, ironically, it wasn't until my co-founders and I were working and living abroad in Shanghai when we had really gotten into this incredible product. We stumbled across a German bar that was brewing fresh sparkling yerba mate on tap (yes, in Shanghai, of all places) and immediately became hooked on its taste and clean energy. We started drinking it before and while going out and realized we might be onto something. It gave us the boost we needed without the crash and jitters, and it tasted great!
Yerba Mate is significantly healthier than energy drinks that are on the market, but there are a number of competitors out there. Can you share why you feel YATÉ stands out from others on the market?
Well, to continue on the inception of this crazy idea… for us, yerba mate gave us the energy we needed to stay up late while we were out listening to music at techno clubs and underground raves without feeling bad that we were drinking something artificial and loaded with sugar. That's when it clicked that there wasn't a beverage brand that specifically focused on music and music venues in terms of its branding, distribution, and target audience. We also knew that a lot of the existing healthy beverages are, for lack of a better term, very granola. Their branding is often associated with yoga, wellness, and holistic health, which are all great and things we're supportive of, but just not what we wanted to focus on. I guess you can say that while they're saving the planet, we prefer to save the dance floor. That was a long-winded way to say that our branding is quite differentiated.
From a product perspective, I believe we're the only yerba mate beverage on the market whose caffeine is 100% from yerba mate. This means you get to enjoy more of the amazing benefits of yerba mate, and the energy you feel is cleaner and less likely to give you the ill effects of other highly caffeinated products. Most other brands add caffeine from other sources such as guarana, green coffee, or, worse, artificial caffeine. We strive for a simpler, cleaner product with fewer ingredients. We're also fewer calories and sugar than competing products while still prioritizing a yummy tea-forward taste.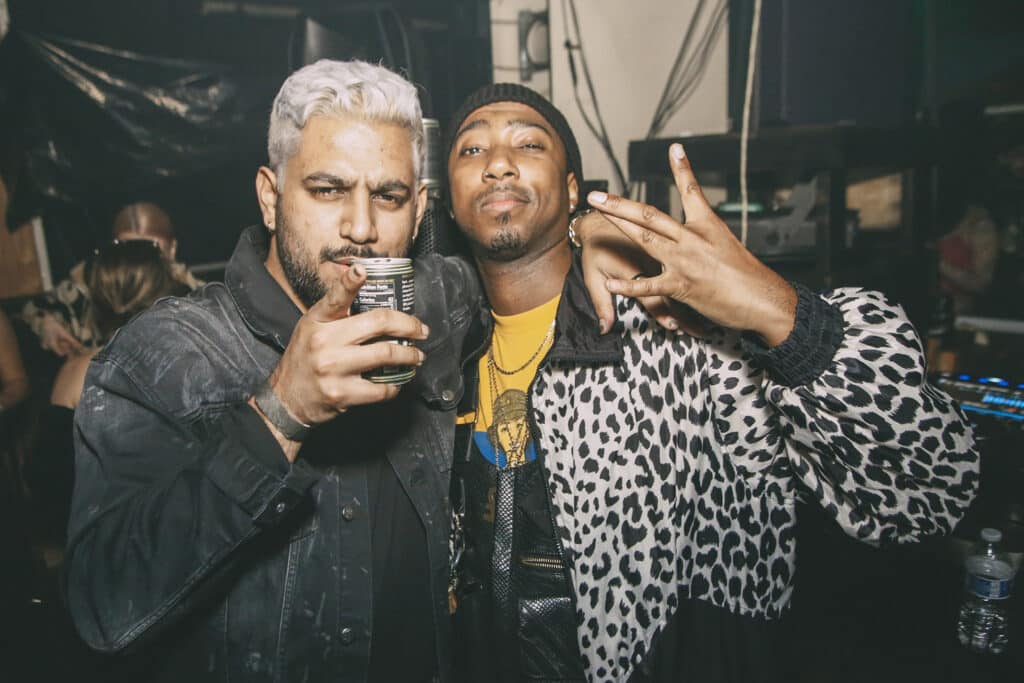 One of the unique aspects of YATÉ is that it can be easily used as a mixer. Which of the signature cocktails has been your favorite so far to sip on?
My favorites are mixed with mezcal or 50/50 with a Mexican lager like Modelo, but honestly, it goes great with tequila, whiskey, rum, gin, you name it.
Over the last few months, YATÉ hosted several shows, including one with Lubelski and the Percomaniacs crew. How have these shows come to life, and do you have more planned for the rest of spring and summer?
Totally! As I said earlier, music is core to our DNA, especially electronic music. We love working with artists and supporting their shows. I have a bit of experience in the electronic music scene, though it's been a while from a professional context, but as soon as we started working on YATÉ, I started tapping back into my network and found that people in music were really receptive to the idea. They, too, were tired of the same old energy drink options.
We'll always have shows, and we're going to continue working with promoters, especially those in the underground. Our goal is to be at every music show in the world, but until then, stay tuned for what's in store this summer!
You've also partnered with promoters like 6AM Group to showcase YATE at their underground events. Why do you feel yerba mate and the underground community go hand in hand?
I forgot to mention that Yerba Mate and the underground community have a history together. In Berlin, which is known for its nightlife and techno scene, there are a lot of clubs and raves that are already serving yerba mate. So we're not really reinventing the wheel here, we're just bringing this cultural niche to the US, and then hopefully, it becomes bigger than a cultural niche or something that's only consumed in the underground community.
That being said, the underground community is really supportive of trying new things and supporting small brands, and many participants in the community are actively looking for healthier, better-for-you products while they're out partying. YATÉ fits the bill.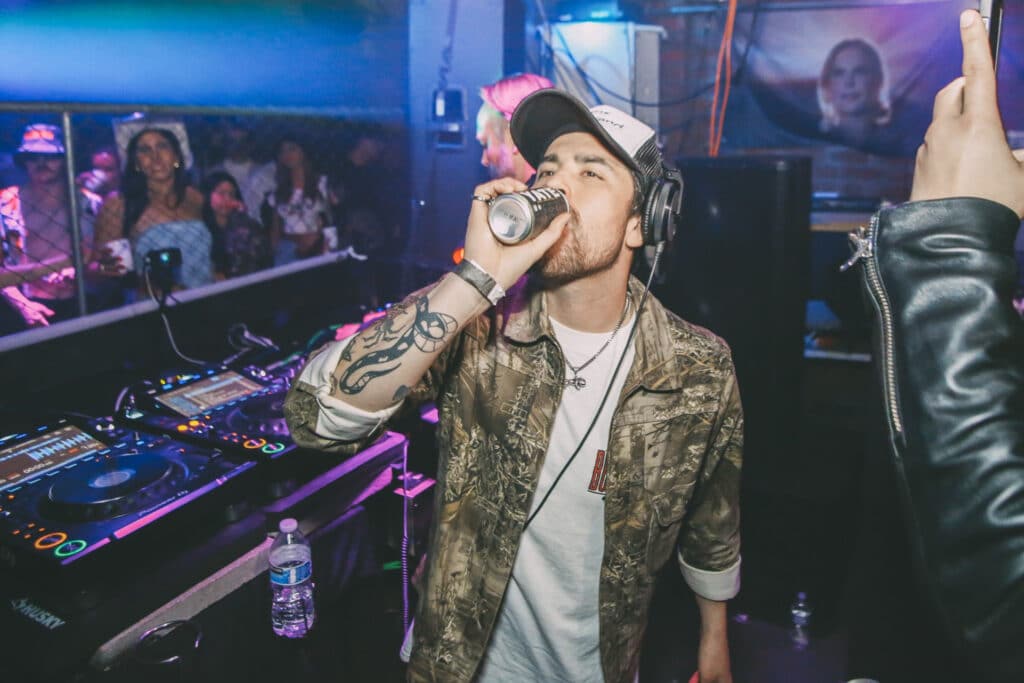 We know artists like Mikey Lion, Lupe Fuentes, and RaeCola have signed off with their support of YATÉ so far. Can you share some of the DJs who you love to listen to on a regular basis?
We're so thankful for our artist friends and partners! At the end of the day, we're still just fans of their music, so sometimes we have to pinch ourselves that we get to work with them and share this amazing product with them.
Some of the DJs I'm currently listening to are Dam Swindle, Sama Abdulhadi, and Anfisa Letyago.
While YATÉ is most commonly found in SoCal at the moment, do you have plans for expansion on the horizon? Where would you like to see your beverage land next?
We really want to focus on SoCal for the time being, but next would certainly be NorCal, hopefully within this year. We're taking it step by step, one show at a time.
Finally, is there anything else you'd like for the world to know about YATE that we can share?
WAKE THE F UP AND TRY A YATÉ!!! IT'S GOOD FOR YOU!
---
Follow Yate:
Website | Facebook | Twitter | Instagram | TikTok
When you purchase through links on our site, we may earn an affiliate commission. Please see this page for more information.