DJ Isaac stopped by to reflect on The Legacy he has built from the ground up throughout his illustrious career.
---
From the inception of hardcore to the current modern era of hardstyle, DJ Isaac has been at the top of his game in an ever-changing scene. His contribution is integral to the story of Hardstyle as he is directly responsible for the sound that fans know and love today. The world-renowned producer consistently pushes the genre barrier with records that set the golden standard for hardstyle music.
Recently, DJ Isaac released his track, "Feel So Good," which landed on Scantraxx. This tune encapsulates the signature DJ Isaac sound with energetic drops, uplifting vocals, and bright melodies. When approaching this track, DJ Isaac went in wanting to create "the ultimate 'feel-good track' with a touch of old-school vibes."
After finishing the track I realized it lacked uniqueness, and I wasn't satisfied with it. It needed something special, so I created the crazy LFO (audio effect) build-up with the unexpected drop – the absolute highlight of the track. For me, this track is now perfect and one of my favorites.

DJ Isaac
"Feel So Good" marks DJ Isaac's first release of 2023 after only one release in 2022 because he believes in quality over quantity. "The thing is, I have always been extremely selective," he explains. "Throughout my career, I have not released much because I want my tracks to be unique and out-of-the-box. This just takes time."
Before the official release, many colleagues asked him about the song with the "Isaac sound," which is exactly what he aims for. After a quiet 2022, fans can't help but wonder what 2023 will look like on the release front. "I'm working on the follow-up to 'Feel So Good,' and my remix of Creed's 'Push Up' will be released soon," DJ Isaac said. "I feel like I've already made up for a slow last year."
Many DJ Isaac records highlight his blissful vocals that capture the true spirit of hardstyle. This signature element is present in many of his songs, including "World Renowned" and "Fascinating Rhythm." DJ Isaac has mastered this style of vocals through a lighthearted method to the madness. His creative process stems from everyday influences.
"Funny enough, most of my music ideas come to me when I'm driving my car. While driving, I don't have many distractions and I can sing without feeling embarrassed. I usually write my own lyrics and I can be inspired by anything; classical music, old-school trance, or people I meet at festivals."

DJ Isaac
Isaac is also an incredible DJ who always delivers a masterclass when it comes to his performances. Although he's behind the decks, it's the crowd who dictates the flow of sets and what records he plays. "I always try to read the crowd. Different festivals have different vibes and expectations from the audience. Ultimately, my goal is to create a unique and memorable experience for each crowd, while staying true to my own style and sound," he said when comparing the diverse crowd at EDCLV to the hardstyle-focused crowd at Defqon.1 Weekend Festival.
DJ Isaac has been a part of Defqon.1 Weekend Festival since the beginning and still remembers his first performance when he was playing with vinyl. For this year, he's planning a special set with lots of Feel Good DJ Isaac tunes along with his newest track, "Rise," which he hopes to have finished by then. He also teased that, "something big is happening that weekend… But unfortunately, I still have to keep it a secret."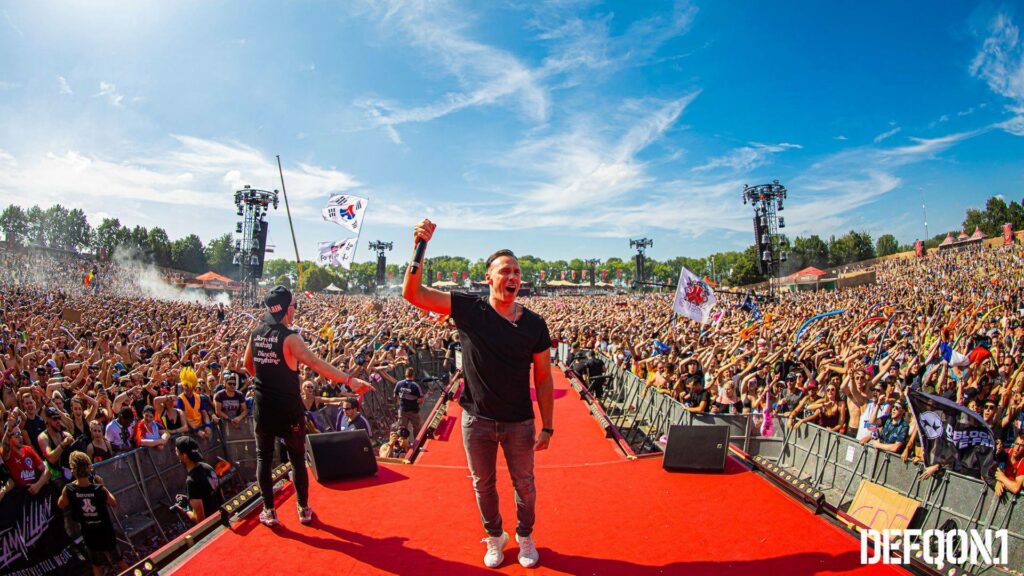 Weekend Warriors cannot wait to finally be reunited on the Holy Grounds of Defqon.1 Weekend Festival in June. For fans that can't attend, DJ Isaac just announced The Legacy World Tour, an epic journey from his Hardcore/Gabber beginnings in 1995 up until now. Expressing his excitement about this tour, Isaac said, "I'll be playing some of my older stuff that I don't usually play anymore, which is particularly special for me since I haven't played hardcore in a while."
After nearly 30 years of service to the harder styles, there's no doubt that DJ Isaac has built up an exceptional legacy that will be highly imitated but never replicated. For everyone in the scene wondering how he has stayed motivated and inspired this deep into his career, DJ Isaac had this to say:
There is no secret. I love my job of playing music, traveling around the world, and entertaining people. I consider myself lucky to have the best job in the world. I take breaks from touring to recharge. Sometimes, I schedule a few weeks for a family vacation. Like in 2021, I went on a 300km solo hike in the Californian mountains to clear my mind.

DJ Isaac
Apart from highlighting the importance of taking breaks to balance tour life and personal life, DJ Isaac also stresses never to imitate but always innovate, as this is the only way to succeed in the music industry. "Try to create something that has never been done before," he said. "Don't release a track that's just okay. Make it more than perfect!"
2023 is shaping up to be a big year for DJ Isaac, so make sure to stay tuned into his frequencies, keep an eye out for The Legacy World Tour dates, and check out his latest compilation, The Legacy, on Spotify or your preferred platform.
---
Follow DJ Isaac:
Website | Facebook | Twitter | Instagram | SoundCloud | YouTube | Spotify