AMFAMFAMF's FRIENDSHIP is set to take place on January 6-11 as they sail to Harvest Caye and Belize on the Norwegian Joy.
---
The vibes were high when world-class music cruise experience FRIENDSHIP returned earlier this year for their first sailing since the onset of the pandemic. This year's edition saw Destructo change things up a bit from previous sailings with an unannounced lineup that was only revealed to guests on the day they embarked on their journey. After the most recent experience, pre-booking for 2024 sold out faster than ever – but have no fear if you missed out because there's some news from Destructo and his motley crew.
FRIENDSHIP 2024 will set sail from Miami on January 6-11, with private island Harvest Caye and Belize as its destinations, the former of which will feature a full overnight stay. The trusty ship for this upcoming sailing will be the newly refurbished Norwegian Joy, which can host over 3,000 guests who will get the chance to experience everything from its onboard attractions like laser tag, an aqua park, and a race track, along with tasty food options and other surprises in store. Not to mention that FRIENDSHIP will once again offer a plethora of top-tier artists taking the stage throughout the sailing, along with Destructo's beloved Sunrise Sermon set.
Due to the new ship and its upgraded capacity for guests, double the number of guests will be able to attend the upcoming FRIENDSHIP sailing. Those planning to book a cabin should check their emails and mark their calendars for a few upcoming dates. Additional Cabin Lead tokens will be available with loyalty, and early-access pre-booking will begin on Friday, April 28 at 10am PT. Then, the general public can access the remaining tokens on Monday, May 1 at 10am PT, with cabin bookings beginning on Tuesday, May 2.
FRIENDSHIP is an experience that any dance music lover won't want to miss and is sure to feature plenty of fun on the high seas. Head over to the Friendship Website for more details on bookings and more.
---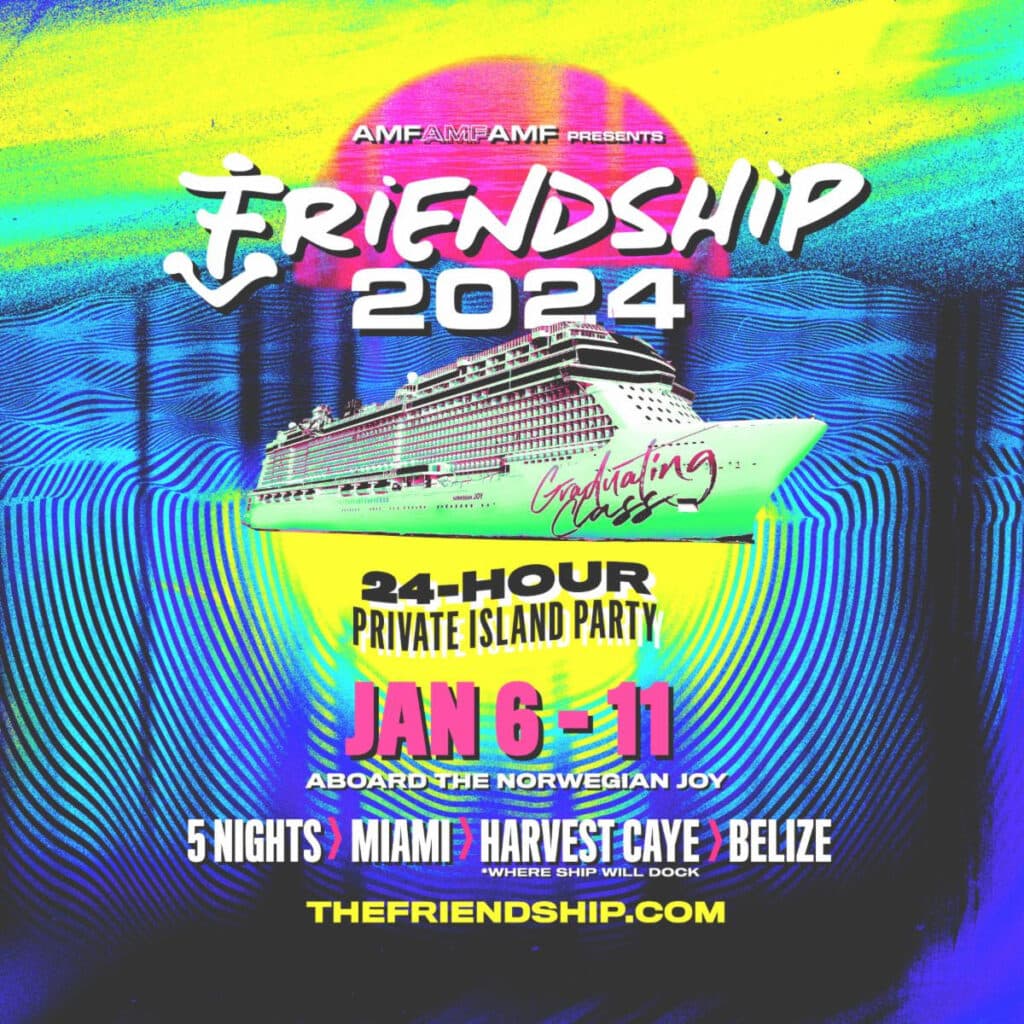 ---
Follow FRIENDSHIP: