AMFAMFAMF's Friendship will once again bring the best dance music to the high seas and a private island in February next year.
---
Fan-favorite festival Friendship will once again take to the high seas for four nights with Destructo at the helm after its lengthy hiatus due to the global pandemic. The most recent sailing took place just before the scene shut down in 2020, but saw the multi-day cruise experience solidify its place as the premier party for any sea-worthy ravers as it reached its second edition – especially with similar events moving to land.
Last week, Destructo and his motley crew teased their return in 2023 that saw their dedicated community breathe a collective sigh of relief and now some new details have emerged. Dubbed "The Family Reunion" edition, the upcoming edition of Friendship is set to take place on February 27 – March 3 and embark from Miami. True to past years, there will be plenty for attendees to do onboard beyond the music and private island party as well including events such as stand-up comedy, mind-melting magic shows, sultry burlesque performances, and much more.
While the artists set to take the stage at the upcoming edition of Friendship have yet to be revealed, one glance at the past lineups will help guide the way and show off their immense curation efforts. Previous editions have packed a punch with enough bass, house, and even hip-hop to keep sailors of all kinds smiling from ear to ear.
Additionally, those who have previously sailed on Friendship should mark their calendars for Thursday, May 12 as the Loyalty Pre-Book will take place that day at 10am PT. Priority will first go to returning shippers that have sailed two or more times and then on to those returning for the second time, and the remaining cabins will then go on sale to the general public on a first-come-first-served basis.
Whether you're a first-timer or someone who has found a home on Friendship in the past, the 2023 edition is sure to be a special experience that you won't want to miss. Head over to the Friendship Website for more details on bookings and more.
---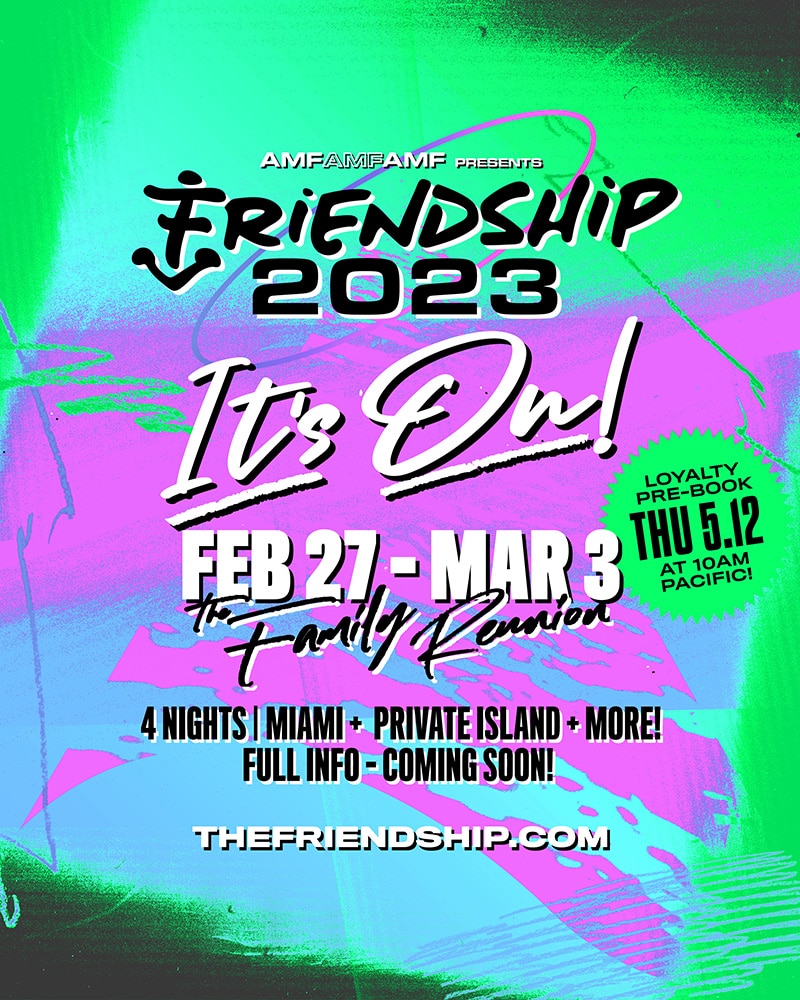 ---
Follow Friendship on Social Media: