Volaris drops off an exclusive mix and chats about his Printworks performance and landing on Armada, Off The Grid, mau5trap, and more!
---
One year ago, Nathan Cozzetto re-emerged as Volaris and proceeded to take melodic house & techno fans on the ride of their life. It all began with "Through The Night," a track that the world-renowned label Armada simply had to get their hands on, lighting the fuse that would grab the industry's attention. If you take a gander at his discography, music seekers will discover a record label list that rivals some of the most seasoned names in the scene, landing on John Summit's Off The Grid, Solardo's Sola (as well as hosting Sola Radio), deadmau5's mau5trap, and Nora En Pure's Purified Records.
In fact, Volaris' tunes are so infectious that when it came to representing Off The Grid, he was chosen as the first solo artist outside of John Summit to release on the label, in addition to "Slow Motion" being used in the Ultra Music Festival after-movie last year. What's more? He even went as far as to craft "Hand Of God" specifically for his performance at Printworks in its closing season, attesting to his deep dedication to his craft and desire to make music that creates timeless experiences.
But it's not just the UK that gets to have all the fun. Just recently, he stepped up to the booth during Miami Music Week at E11EVEN as support for deadmau5 and Cedric Gervais. He definitely plans to drop by the States again soon, so do yourself a favor and keep him on your radar. A big piece of that puzzle includes getting to know the man behind the music, so check out our chat about his recent signings while you wrap your ears around his stunning guest mix.
Stream EDMID Guest Mix 370 || Volaris on SoundCloud:
---
Hello Volaris, thank you for taking the time to chat with us today. Just as a little get-to-know-you, if you could describe your personal productions in three words, what would they be? If you could describe your DJ style in three words, what would they be?
Melodic, Eclectic, and uplifting! I love experimenting with different genres, creating a unique blend of sounds that are full of life and emotion! As for my DJ style, I'd say: Energetic, Dynamic, and Driving. I want to move a crowd, so I'm always looking for big tunes accompanied by groovers and progressive sounds to build my sets.
You've only been releasing music under your alias for a year now but it was the behemoth Armada that first scooped you up. Talk to us about what led up to the signing of "Through The Night" and how your life changed afterward. 
So I had been writing a lot of music in lockdown, and at that time, there were around 15 finished tunes that I was sending out to various people under this new alias, Volaris. I managed to get connected with Armada through my manager at the time, and they were super excited about "Through The Night" and instantly snapped it up. I then had a call with them about doing another three records, and we've now ended up releasing an extra edit (last Friday) of "I'm So Weak" to take the total to five! Armada has been great in showcasing Volaris to the world and it has helped elevate everything extremely quickly. These guys know how to work records! 
It wasn't long before John Summit chose you to represent his new label, Off The Grid, with "Slow Motion." What thoughts went through your mind when you got that call and found out you'd be the first solo release on the label other than John himself?
When I got that call from John about being the first solo release on his new label with "Slow Motion," I was beyond buzzing! It was a massive sense of accomplishment. I felt deeply honored that John chose this track to represent his label and set the tone for OTG future releases. To this day, the tune keeps getting hammered everywhere, so I'm extremely grateful to John and the team for that. 
Fast forward, and you were back in the studio creating a new track, "Hand Of God," designed specifically for your set at the iconic Printworks. I can't imagine the pressure you were going through during its development, and I'm dying to know how the response was. In hindsight, is there anything you would have changed? 
"Hand Of God" was made with this kind of venue in mind; I wanted something massive with a big drop and a vocal hook people would remember. I was extremely happy with the response, as it absolutely went off! I wouldn't change anything about this tune as it was a moment in time for me, and I feel the style worked for what I intended.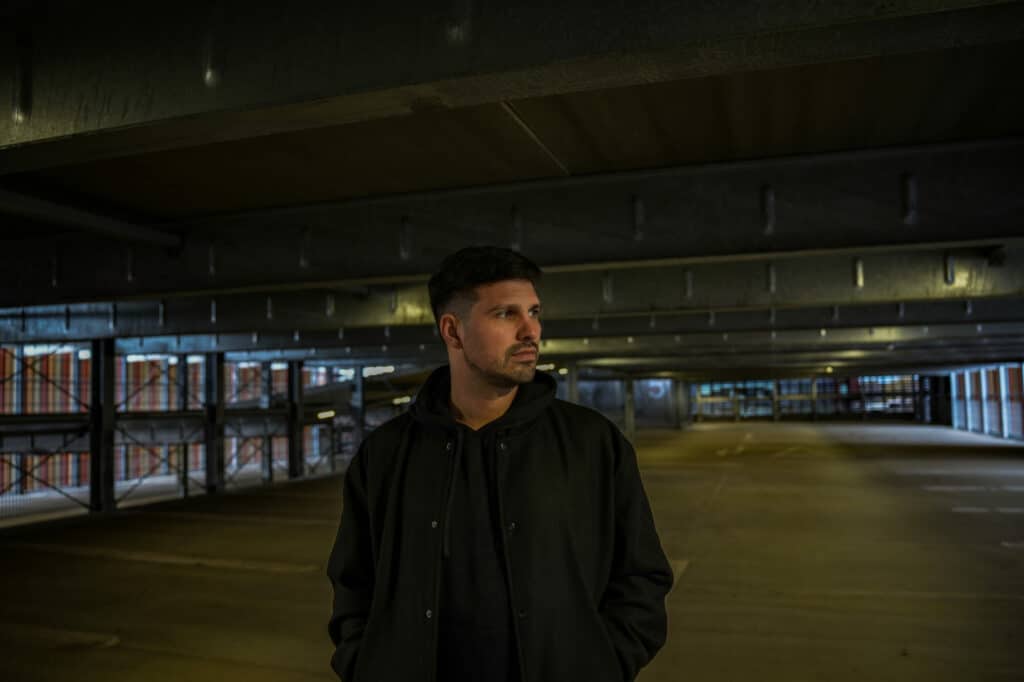 Keeping on Printworks talk, I want to hear more about that night. Spill all the details and what you took away from the experience.
To play one of the opening slots on the first show of the last season of Printworks is nothing short of iconic for me! It'll be a hard gig to top, as the energy that night was unreal! One thing I took away is that no matter how much you prepare as a DJ, you've got to flow with the crowd and meet the energy of the room to try and create something unique for people to experience, and that's how I feel I performed that night. 
Looking back on all of the major artists who have been signing and/or spinning your tunes, like John Summit, Pete Tong, Solardo, deadmau5, Nora en Pure, etc., you are caught in a whirlwind of success. But I'm curious to know, what has been the most challenging or intimidating part of it all?
For me, the most challenging part is trying not to second-guess yourself with making tunes. When I started this project, it was about making music for dancefloors with big beats and epic breakdowns to create emotion. Hopefully, I can continue to take this philosophy forward to keep making tunes that make me and others feel something, whether that's a cool, dark-styled progressive tune that takes you on a journey or a big vocal banger. I want to be able to make music without limits. 
How have you kept yourself mentally grounded through your quick rise through the ranks of the scene?
I just feel extremely grateful every day that people are enjoying my music. I'm also lucky to know a lot of great DJs in the scene that give me great advice, as well as an amazing team I have around me now. 
Looking forward, what are some major goals you'd like to achieve in the industry?
There's so much I'm aiming for in the next few years that it'll be hard to write it all here. But key highlights would be to come back to America for a tour as soon as possible as Miami was incredible. Also, I want to try and hit 500,000 monthly listeners on Spotify by the end of the year and start my own record label that will feed into hosting label parties. As well as that, there are a lot of key festivals and events I want to play for, and I have a list of these on my goal board in the studio!
Volaris, thanks again for your time. I'm looking forward to watching as your career explodes! 
---
Follow Volaris:
Facebook | Twitter | Instagram | SoundCloud | TikTok