Following the announcement of headliner Pretty Lights, Cascade Equinox Festival reveals the full lineup for its debut.
---
Last week, Gem & Jam and 4 Peaks Presents announced the brand new, multi-genre camping festival Cascade Equinox Festival. From September 22-24, escape to the beauty of Redmond, OR, and the Deschutes County Fairgrounds for a weekend of music, experiences, and activities for all ages. The first headliner to be announced was Pretty Lights, who is making his return to the scene after a five-year hiatus, and now the festival is ready to unveil the full lineup.
A perfect fit for the picturesque Pacific Northwest scenery, the full lineup featured over 50 artists spanning a wide range of genres, including jam, electronic, funk, soul, and bluegrass. Joining Pretty Lights as electronic-leaning headliners are the multi-talented producer and instrumentalist Big Wild, pop duo Phantogram, fan-favorite bass artist Of The Trees, and innovative Emancipator. Headliners on the jam band and bluegrass side of the lineup include Goose, Trevor Hall & The Great In Between, and Fruition.
Impressed by the headliners? The undercard boasts heat as well for electronic acts. Also set to take the stage at Cascade Equinox are Opiuo, LP Giobbi (who will serve up a Dead House set), Manic Focus, Maddy O'Neal, Tripp St., Frameworks, Dirtybird-founding member and Anabatic Records label boss Mz. Worthy, and many more. Want to catch some live bands? Gone Gone Beyond, The Main Squeeze, Polyrhythmics, and more will have you grooving to their sounds.
With a clear focus on the natural scenery and promoting the local scene, there will be a stage at Cascade Equinox dedicated to acts from the Pacific Northwest. So whether you're enjoying the music, visiting the many vendors, participating in workshops, or getting a thrill on the rides, this festival will surely be the perfect getaway.
Tier 1 GA passes are sold out, but tickets are still available to Cascade Equinox Festival. Payment plans are also available for 3-Day GA passes. For more information and to purchase yours, visit the official website.
---
Cascade Equinox Festival 2023 – Lineup: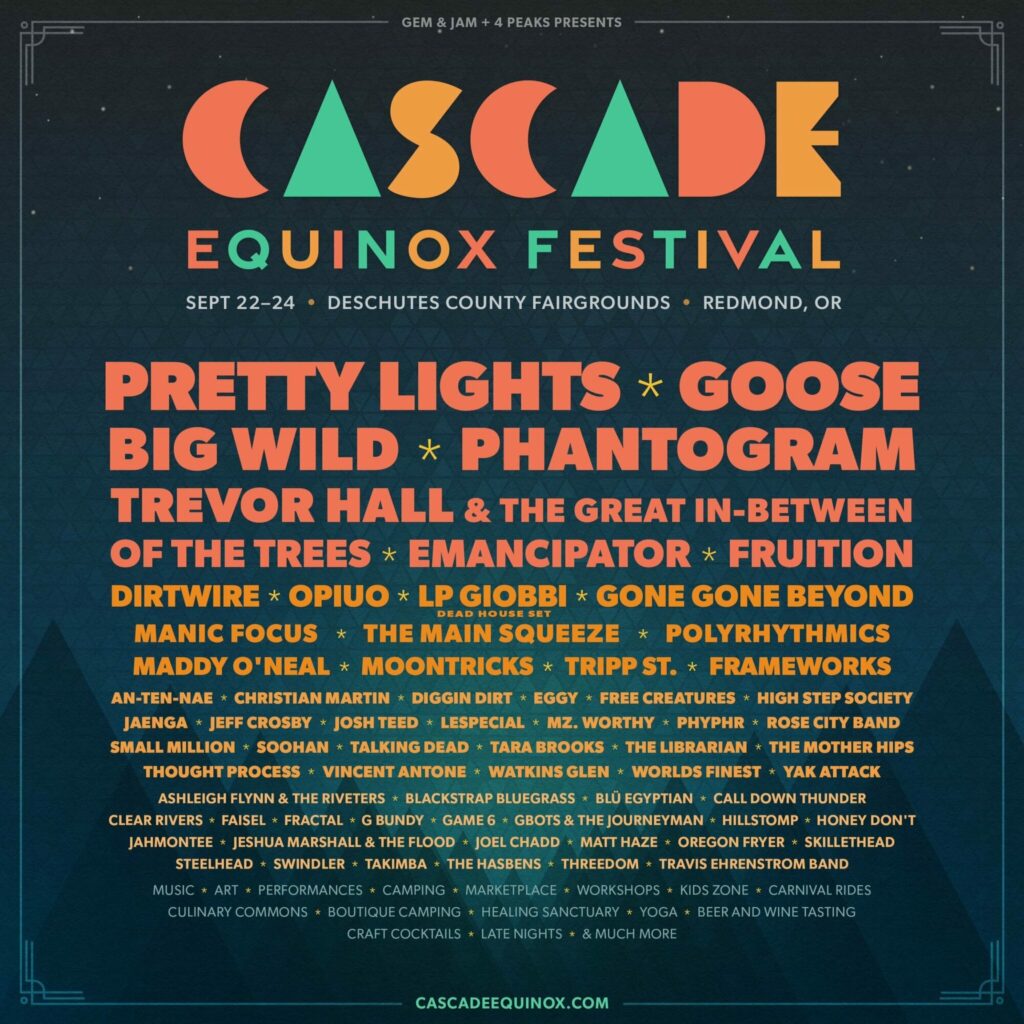 ---
Follow Cascade Equinox Festival: