Headliners can bid on exclusive meet and greets, shopping sprees, and other experiences during the EDC Las Vegas Charity Auction.
---
Can you feel the magic of EDC Las Vegas in the air? The festival is just over a month away, but that doesn't mean that there aren't more surprises in store from Pasquale Rotella and the Insomniac team. Just yesterday, they revealed the theme for this year's edition, kineticAWAKENING, which intends to celebrate the rebirth of the dance music community. Today, they dropped another surprise – the return of the EDC Las Vegas Charity Auction.
Those who have attended EDC Las Vegas in the past will remember the jaw-dropping experiences that their annual charity auction offered, and after going on hiatus for a few years, it has now returned in full force. Packages include everything from an ultimate flyaway experience and chance to propose on stage at the festival to unique artist experiences in Las Vegas as well as others that happen after the festival. There's even a chance to win a "Golden Festival Ticket" that will grant you access to every Insomniac-hosted festival for a year or a first look at EDCLV before the gates open.
Some of the most unique experiences that are being offered include playing Backstage Beer Pong with Ship Wrek or Valentino Khan, drinking Modelos with Svdden Death, or making S'mores with Marshmello. Additionally, those looking to get fit can bid for a personal fitness training session with Lil Texas, while aspiring producers shouldn't sleep on the Master Class with Yotto, and there are plenty of on-strip activities as well, including ones with Mau P, Acraze, and more.
The bidding begins today and will run until April 28 at 10pm PT, so head over to their official website to check out all of the experiences and place your bids. All funds raised during the EDC Las Vegas Charity Auction will benefit the Inspiring Children's Foundation and Camp Alamo in Clark County.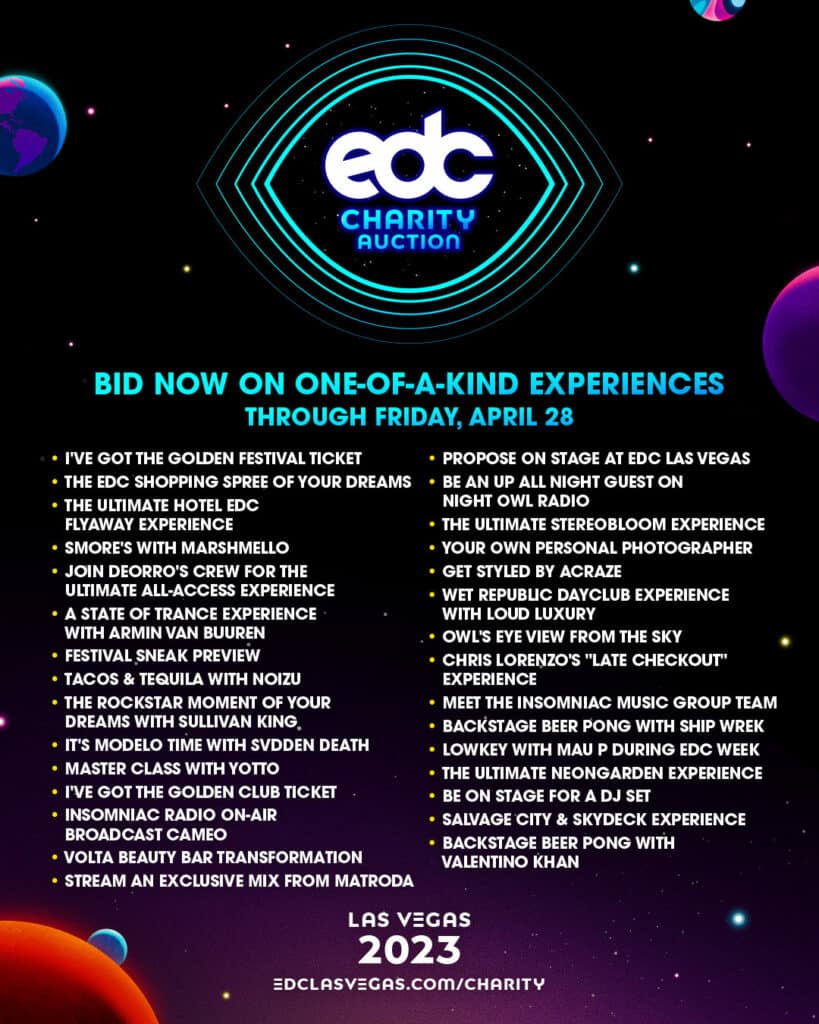 ---
Follow EDC Las Vegas: