Electronic music lovers from around the world converged in Miami for a week to celebrate everything they love the most about the scene.
---
Miami Music Week is undoubtedly one of the most prominent weeks in the electronic dance music industry. With countless day parties and nighttime events that'll take you into the early morning hours, as well as Ultra Music Festival, the Electronic Dance Music Awards, and more happening concurrently, this is one of the busiest times of the year both for sun-soaked Miami and our beloved scene.
Lovers of dance music from all walks of life enjoy flocking to Miami for a time short of nothing but extraordinary. Wherever you decided to spend your time this year, you were met with artists showcasing their best at unique venues and no shortage of vibes to keep the party going. Miami really is a different breed in itself as well, and fans could always find something to do no matter the hour.
From events across the city in art-splattered Wynwood, the iconic Club Space, fiery South Beach, and more, this bustling city came even more alive for an experience hard to beat. Keep on reading for a few events that caught our eye and what we loved most about Miami Music Week this year!
After a full day of flying across the country, the party kicked off with an electric mau5trap takeover at Wynwood's Toe Jam Backlot.
Touching down in Florida shortly after midnight on Thursday, I was tempted to venture out to a few events that were already in the thick of it, like Afterlife at Factory Town or Meduza at Club Space; however, I opted to rest up ahead of my busy trip. After checking into my Airbnb in Hollywood, picking up my rental car, and doing a quick artist interview, I headed down to Miami for mau5trap // hau5trap presents: We Are Friends.
Upon entering the Toe Jam Backlot in Wynwood, I was immediately transported to a tropical oasis. The jungle theme ran rampant around the outside mau5trap stage, with palm trees and the body of an old propellor plane in view. On the second stage inside, hau5trap artists took the decks in a room adorned with retro, groovy, and random decor, like stacks of money, mannequins, a piano, an old car, paintings, and chairs hanging from the ceiling.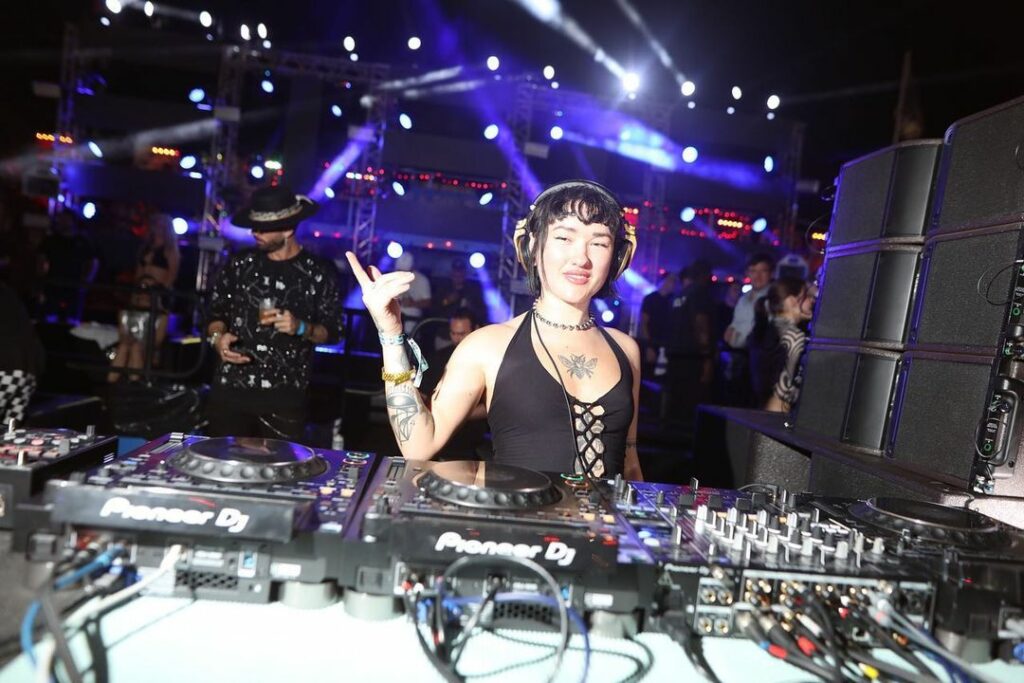 Speaker Honey and Lupa throw down some wicked techno, which I saw via mau5trap's Instagram stories.
I arrived just in time for KREAM, who did not disappoint with tracks like "Numb," Pressure," and a plethora of stunning mashups. Both Wenzday and DJ Susan lit up the inside hau5trap stage as well, with the energy bumping in there every time I paid it a visit.
Rising UK producer Volaris was up next on the mau5trap stage, rinsing through melodic techno and progressive sounds, with the crowd erupting once his hit single "Slow Motion" blasted through the speakers. Witnessing Volaris' rapid success as being heavily backed by John Summit has been exciting to see, and I was thrilled to finally be able to catch him at a show before he propels further.
The "5pecial gue5t" on the lineup was none other than label head himself, deadmau5, who strung the crowd along through a journey of immense deep and dark sounds.
He skewed way more toward his Testpilot alias for this set, also playing a variety of Kx5 tracks for a deadmau5 performance unlike any other. Bringing 22-year-old Dutch producer Justus onstage to play his hard-hitting release "Speed" was a special moment as well, as deadmau5 joked around that he always brings other artists on stage when playing their tracks.
Around 2:30am, I bid farewell to the great time I was having at mau5trap's event, only because I had a before 3am entry ticket to check out Fisher b2b Paco Osuna at Club Space. When I bought the ticket, I never imagined that when the set times came out, Fisher and Paco would be coming on at 8am. I knew there was no way I'd last another five hours until their back-to-back, but I was still stoked at the chance to finally see the iconic Club Space, which I left around 4am to gear up for my first day at Ultra Music Festival.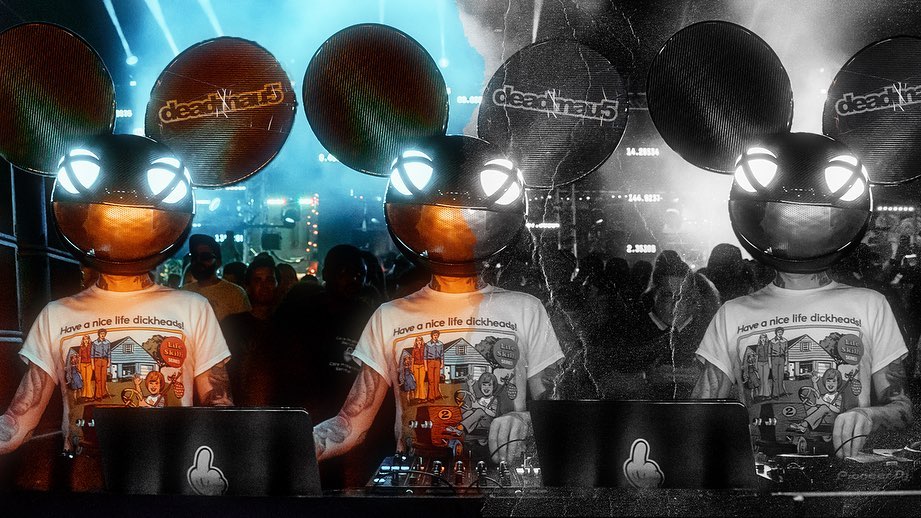 Ultra Miami brought a jam-packed first day, and I later made my way back to Wynwood to catch Steve Aoki's Dim Mak madness.
While Friday was occupied entirely by Ultra Music Festival, I looked forward to attending Dim Mak Miami for a fun afterparty. I got caught up in some traffic heading to the MAPS Backlot in Wynwood, arriving just in time for the final set of the night, Steve Aoki. Aoki played a vibrant, energetic set, hyping up the crowd into the early morning hours and, of course, caking many of his fans. I was taken aback when Galantis appeared onstage too, making for an extra special evening.
I was bummed to miss the majority of the event that happened during Ultra itself and the likes of k?d, CHYL, and juuku taking the stage. The venue itself was a lively, modern-feeling location in Wynwood, with a variety of food and drink options catering to attendees. I appreciated how much room there was to dance, and I was always in perfect eyesight of Aoki. Dim Mak sure knows how to throw a party, and the night lived up to my expectations.
Saturday and Sunday of Ultra Music Festival flew by, leaving me to my final MMW event, Brownies and Lemonade's DNBNL.
I opted to take a breather on Saturday night as I recovered from day two of Ultra Miami and prepared for the third day. The weekend went by faster than I could have imagined, and Ultra finally came to a close. Making my way back to Club Space and The Ground venue underneath it, I prepped myself for a massive dose of drum and bass from Brownies and Lemonade's DNBNL Miami: Worship and Friends takeover. 
The genre came out in full force for what was probably the most stacked drum and bass lineup of all of Miami Music Week. With no specific artists announced to play, fans only speculated as to what Worship artists and other surprises were in store. Sure enough, DNB legends Sub Focus, Dimension, Wilkinson, and Culture Shock came out to play. A radiant back-to-back set from REAPER and Justin Hawkes had The Ground shaking, and DNB enthusiasts could not get enough. 1991 dropped a remix of Dom Dolla's "Miracle Maker," which was a standout memory of the night.
I felt the energy at an all-time high when extra surprise guests Ganja White Night and Apashe hopped on the decks for a unique performance that no one saw coming. Everyone was bouncing off the walls as the bumping sounds of drum and bass carried us to another world. Not thinking I'd make it through the night as I was already exhausted from the weekend, the music and newfound friends I made really lifted me up as I stayed longer than I had planned. DNBNL was the perfect way to close out my time in Miami, and I left with an even higher appreciation for everything drum and bass.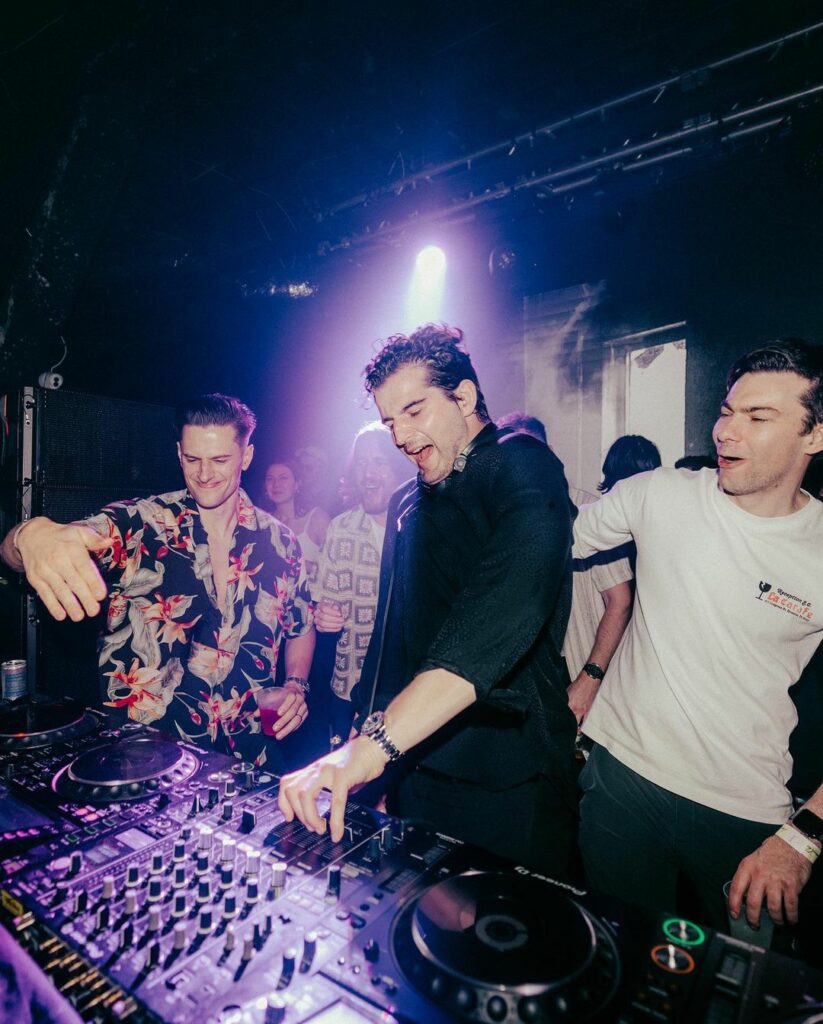 Miami Music Week 2023 was a solid roundup wherever you decided to spend your time.
While my days in Miami were primarily taken up by Ultra Music Festival, which was an insane experience in itself, the events I went to around it were top-tier. I do wish I had the opportunity to try out a pool or boat party during the day, but there's always room next year to arrive earlier in the week for more shenanigans.
While only select events were highlighted here, I do believe that many other showcases and parties went off with a bang as well. I've heard about great experiences from friends who opted for other afterparties or day parties, so I know this year's edition of MMW had to be one of the best ones yet. If you've never been, I highly recommend getting a squad together for next year's festivities; I know I can't wait to come back!
---
Which shows did you attend during Miami Music Week this year? Let us know on Twitter!