With a "Fan First" ethos, DICE is making a real impact on event ticketing with benefits to fans, artists, and venues alike.
---
Founded in London in 2014, DICE isn't new on the scene, but its growth in the last few years has been exponential. In fact, DICE is currently the world's largest independent music ticketing company and it only launched in the US in 2019. From this position, DICE has a real shot at making impactful changes to the industry. Some of the changes it is focused on include transparent pricing, event discovery, simplified ticket exchanges, and the reduction of a secondary market. It has already made an impact in all of these areas, with more to come.
My passion has always been building disruptive brands that are transforming traditional industries, bringing them into a new, consumer-first era. DICE is all about that – getting people out more, breaking down barriers, and making live experiences accessible and inclusive for fans. Phil (Hutcheon, CEO) has created a brilliant culture, with a clear mission and purpose.

Katie Soo, Chief Business Officer
When we sat down to chat with Dan Leitzell, VP of Nightlife Partnerships at DICE, his passion for both his job and the DICE brand was evident. He spoke with confidence, intensity, and a smile that only comes from a true connection to your work. He talks about the company ethos, his colleagues, venues, and fans, all with this same enthusiasm. As my conversation with Dan progressed, it became clear to me that this enthusiasm isn't just personal and it's likely an important part of the company culture. 
"The nightlife team at DICE is personally and intimately involved in the music scene we serve and love," Leitzell shared. "Our partners appreciate the authenticity we bring to our conversations and our full embodiment of the company's Fan First ethos. We've been promoters, venue operators, artist managers, booking agents, AND fans; so we understand the problems both fans and operators face and how to provide them both with the best solutions."
DICE growth has been well-received, especially based on the transparent pricing and ease of ticket transfers to friends. 
Here in NYC, electronic music fans started taking notice of DICE a few years ago. The mobile-first app is clearly designed for a modern era, with discovery and social components, as well as all the requisite ticketing needs. A few things were noticeable to users right away:
Advertised pricing includes all fees
Tickets can be easily transferred between friends
Actual ticket QR codes aren't seen until close to event start times to prevent ticket resale
The transparent pricing is the biggest appeal. No ticketing platform can remove all the fees, but at least clearly showcasing the final price makes it easier for buyers to gauge their interest and make a purchase. Transferring tickets among friends is also a really nice feature – especially since the QR codes can't be captured and shared as would be the case with most transferred tickets. Users originally needed to sync their whole contact list and connect as friends before a transfer could occur, but recently a feature was added where fans can pull up their contacts without importing them, and choose who they'd like to send a ticket to. 
That last point about not showing the QR codes until close to the event time is an important one to highlight. While some users may find this frustrating, it's actually a protection DICE put in place for all parties involved. This system creates unique QR codes that are presented on entry in an effort to stop resellers, which is good for the venue as well as the fans. We've all made the mistake of switching up codes or tickets with friends, using the wrong one to enter and, thus, they couldn't enter. Isn't it nice to know that you aren't at the mercy of your friend making this silly mistake?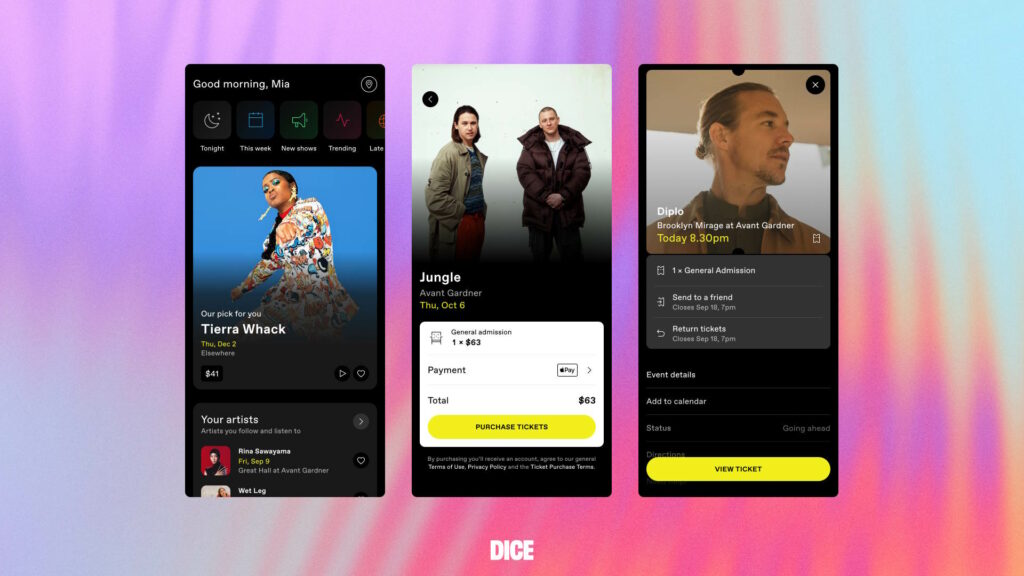 Some users may not have taken notice of the discovery and social aspects of the app, but others sure have, and there's more to come.
When Dan was explaning the discovery (and social) features being so valuable, I challenged him by asking how many tickets are really purchased this way. When he responded that over 40% of ticket sales come through discovery features, I was pleasantly surprised. It became obvious that I fall into one camp of ticket buyers – the "planner" who usually has events booked weeks ahead. Yet there's a bigger group of opportunists who wait till the last minute to see what comes up, and where their friends are going, before buying. 
With world-renowned events and venues signing on to DICE, fans are going to be using the platform more and more. Avant Gardner in New York, Club Space in Miami, DC-10 in Ibiza, Primavera Sound in Barcelona, and Pitchfork Festival in Paris, are just a few DICE partners. In 2021, DICE raised $122 million in a Series C funding round and added Tony Fadell (inventor of the iPod) to their board. It's clear that DICE has a bright future ahead and fans can feel good about the "Fan First" mission as this growth continues!
---
Follow DICE: