Manic Focus stopped by to give insight into his new album Never Not Blue, his early inspirations, staying healthy on the road, and more!
---
Denver-based producer John "JmaC" McCarten, musically known as Manic Focus, has become a staple in the electronic dance music scene over the last decade. His discography includes eight albums dating back to 2012 as well as a plethora of EPs and singles, and he's also collaborated with some of the funkiest artists, such as GRiZ, The Floozies, and Balkan Bump. Additionally, Manic Focus has played at some of the most popular venues in the country including Red Rocks Amphitheatre, The Gorge, and Meow Wolf.
Pulling inspiration from his early love of hip hop, funk, and soul, Manic Focus combines his early roots with hard-hitting bass and genre-bending arrangements to create a funky multi-dimensional sound that is all his own. Further exploring the vast complexities of the mind and using music to communicate those feelings is a genuine theme in his work as well. This rings true on his most recent album release, Never Not Blue, where he continues to navigate existential questions and dive deeper into his introspections.
Having given his fans a taste of the album earlier this year with the release of "You Do You," Never Not Blue is out now in its entirety on all streaming platforms. In the wake of the album's release, Manic Focus also took some time to answer questions about his latest album, its creative inspirations, and how he cares for his mental health while on the road.
Listen to Manic Focus' newest album, Never Not Blue, in its entirety on Spotify or on your favorite streaming platform, and be sure to dive deeper into the album by reading on for our interview!
Stream Manic Focus – Never Not Blue on Spotify:
---
Hi Manic Focus. Thank you for taking the time to chat with us. Your newest album, Never Not Blue, was just released on March 16; congrats! There are multiple stages on the album that guide the listener through a story. How did you go about organizing the album, and what was the main story you wanted to tell?
The album started organically with a random assortment of tracks I'd been working on over the last couple of years. I narrowed down the songs and had a concept to create somewhat of a simulation of a manic episode. Once I had the concept, I added some new tunes and finished the other ones with the energy and flow of the album in mind. I wanted to create an album that starts high energy, then dives into chaos, and ends on a more vibey note. The main story is a manic episode that doesn't end in a disastrous depressive state.
From concept to reality, what was "the biggest challenge, but biggest reward," releasing an album in tandem with a tour?
The biggest challenge is getting new fans with new music while maintaining the core fanbase. My sets are a lot different than they were five-plus years ago. I used to play some songs for over three minutes, but I think today's EDM fans have much shorter attention spans. My recent sets are higher energy, but I still try to throw in vibey sections for the die-hard fans. The biggest reward is seeing how fans react to the new material.
The Never Not Blue tour has already made stops in Austin and Milwaukee, with Louisville up next and 12 more stops after that. How has the live show prep differed this tour compared to previous ones?
I've been working on some heavier stuff that isn't released, as well as some new remixes of nostalgic tunes that really get the crowd going. I've been trying to squeeze a lot more music into my sets while staying true to my sound. There are a lot of short edits of my older tunes that allow me to make a hybrid set of old and new MF that feels fresh.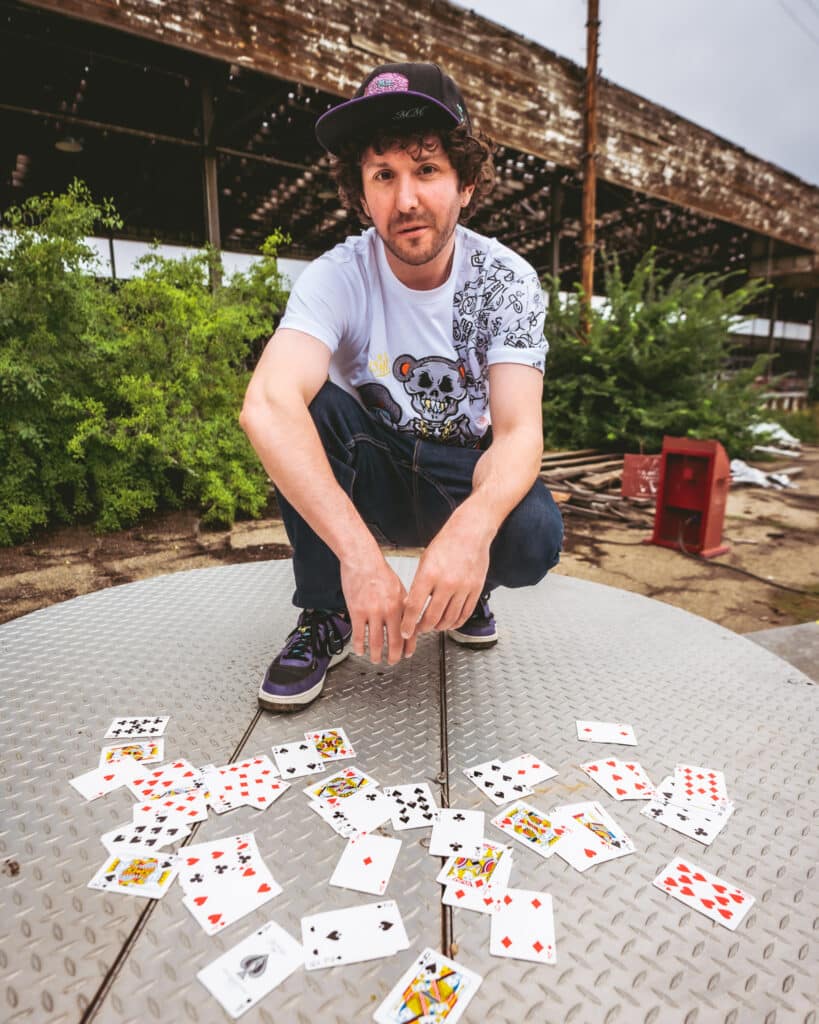 We love that you are an advocate for mental health. Being so busy with a crazy release schedule and playing tons of live shows, what are some ways you keep yourself healthy on the road?
I've toned down the partying quite a bit. I don't smoke weed or drink anymore, and I avoid after parties. I used to party pretty hard, and it really wreaked havoc on my mental health. Getting good sleep and avoiding substances had certainly helped a ton in terms of managing my mental health.
In your career, you've collaborated with artists like GRiZ, Balkan Bump, K + Lab, AHEE, The Floozies, Artifakts, and many more. What is one of the most impactful things you learned during a creative session with an artist that you carry with you to this day?
I've picked up a lot of tricks from the artists you mentioned above. I think I've learned the most from my good friend Borahm Lee of Break Science/Pretty Lights Band — I always love collaborating with him. I think our taste in music is the most similar, and when we work together, we really keep things moving and create a lot in a short amount of time.  It's really easy to get stuck working on the same short loop or mixing things endlessly. With Borahm, we really throw a lot of ideas out there, and we don't get stuck working on trivial details— we focus on the big picture and vibe.
Having an early love of hip hop, who are some hip hop artists that have inspired your sound and groove when producing electronic dance music?
Atmosphere and Eyedea and Abilities were a big influence on me in high school. Ant (of Atmosphere) and Dr. Dre are two of my favorite producers. Their drums are always on point and something I'm always working on.
Taking a moment to reflect on your most recent releases and projects, is there one in particular that stands out as a testament to your growth and healing journey?
This album, Never Not Blue, is a really solid representation of my growth as a whole. It combines my original sound with new sound design and mixing techniques. It's also more open about my mental health experiences and a strong representation of what Manic Focus is all about. I think my house album Feeling Bright which I released in August 2022, illustrates a more optimistic/upbeat vibe that I'm excited to explore a little more. 
Finally, what can fans do to support the Manic Focus project, and what can they expect from you in the next year?
I'm working on a lot of new music and albums that I hope to release this year, as well as some new video content and some really awesome collaborations I'm very excited about!
---
Follow Manic Focus:
Website | Facebook | Twitter | Instagram | SoundCloud | YouTube