In a triumphant return to New York City, Donald Glaude will headline the four-year anniversary party for Luca's Lounge.
---
Spring will celebrate the four-year anniversary of Luca's Lounge with the Kingdom of Mystical Realms party at Bogart House on April 22. Luca's Lounge grew out of pre-COVID livestreams hosted by Luca Graziani and friends would come to his apartment to watch the shows. His small studio apartment was packed with people lounging and enjoying the DJs. The Hell's Kitchen apartment had great views, but soon friends flowed beyond its walls, and the party continued on the rooftop.
I never would have guessed that the small online streaming show based out of my Manhattan studio apartment would have grown to what it has become today. Many people took notice and wanted to be there for the live taping. Thats when I knew that we needed to expand to immersive venue experiences.

Luca Graziani, Founder, Luca's Lounge
In a nod to its Burning Man ethos and style, Luca's Lounge focuses on art and community as much as music.
Luca's Lounge is also part of a movement to make music events more artistic, immersive, and personal. Previous events at 3 Dollar Bill and Gaia NoMaya included lots of themed decorations, and the latter included a Himalayan salt cave with ambient chill music in that sub-space. What could be better than taking off your shoes and walking or laying on rock salt in the middle of a dance party? This time Luca's Lounge is taking over Bogart House with an upstairs loft space that is rather unique, even in the expanse of Brooklyn spaces.
To celebrate the milestone, Luca was able to land Donald Glaude to return to NYC after a three-year hiatus so he can headline the anniversary party.
At Love Burn in Miami last month, Glaude, Malfunkshun, and Luca G were the three headliners over three nights on the fantastical Xuza Art Car. All three really connected, which resulted in Glaude's headlining role and the inclusion of Malfunkshun on the lineup as well. Malfunkshun is also responsible for creating the Yellow Party at Love Burn's Big Puffy Yellow camp. Having been to this incredibly welcoming, brunch-styled day party the last two years, we can tell you that both Malfunkshun and the party itself know how to set a dancey and welcoming vibe.
Rounding out the lineup will be Francois G and DJ Arbelo, as well as a B2B set between Luca G and Travisty. In keeping true to Luca's Lounge fashion, this lineup is inclusive of local talent who also party with the Luca's Lounge community throughout NYC.
Don't miss the opportunity to celebrate this Luca's Lounge anniversary with such a great lineup! RSVP on Facebook and get your tickets now!
---
Luca's Lounge Kingdom Of Mystical Realms 2023 – Lineup: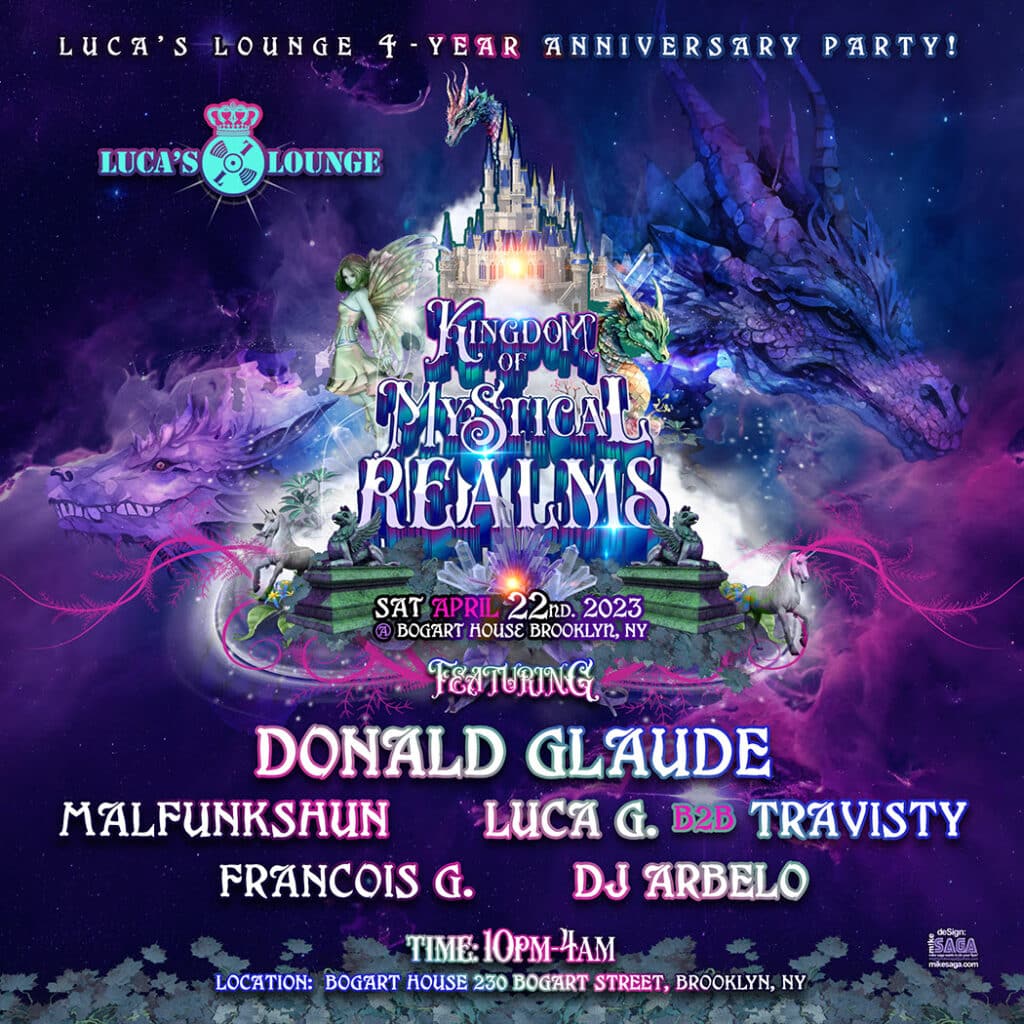 ---
Follow Luca's Lounge:
Facebook | Instagram | SoundCloud | Telegram