Desert Hearts announced that their annual festival will not take place at Lake Perris this year and is moving to The Torch at LA Coliseum.
---
Earlier this year, Desert Hearts dropped a massive lineup for the upcoming edition of their annual festival that was set to return to Lake Perris on May 5-8. Today, those plans have changed as their team announced some unfortunate news for those looking forward to 72 straight hours of house, techno, and love. Due to complications with venue requirements and the effects of inflation on production costs, Desert Hearts Festival could no longer move forward as planned at their latest home without sacrificing the quality of the experience.
But all is not lost for those who were planning to attend Desert Hearts Festival, as their team is still planning to keep the party going in Los Angeles. The festival will now take place on May 6-7 and has relocated beneath The Torch at the LA Coliseum. Aside from the loss of camping, the Desert Hearts crew announced that little will change about the experience, as they're bringing their signature stage and production elements to the new venue, and the lineup will remain virtually the same as well. Additionally, they're looking to bring some unique afterparty experiences to Downtown Los Angeles to keep the party going deep into the night.
We're hard at work and fully committed to making Desert Hearts Los Angeles the best party to hit LA this year and we cannot wait to present this incredible lineup in a more affordable, easy-to-access format so all of our friends and fans can attend.

Desert Hearts
Desert Hearts Los Angeles will feature sets from artists including Skream, Derrick Carter b2b Mark Farina, Enamour b2b Rinzen, Evan Casey, Gene Farris, Justin Martin, Soul Clap, VNSSA, Lee Foss, DJ Holographic, and more. The Desert Hearts crew – Mikey Lion, Porky, Marbs, and Lee Reynolds – will also be taking the stage throughout the weekend, along with some special guests. Check the full lineup below.
All Desert Hearts Festival weekend and single-day tickets have been automatically converted to two-day tickets for Desert Hearts Los Angeles at a discounted price of $99. The difference in price, and all add-on purchases, will be automatically refunded via the purchaser's original payment methods. All ticketing fees are being absorbed by Desert Hearts, meaning that your original fees will be refunded, and all new ones will not hit your account. Check your email if you'd like to opt out of receiving tickets to Desert Hearts Los Angeles tickets, as there is a form that needs to be completed by April 6.
Read the full statement from Desert Hearts on Instagram. Desert Hearts Los Angeles will be a 21+ event. Two-day and single-day tickets are on sale now via Tixr.
Desert Hearts Los Angeles 2023 – Lineup: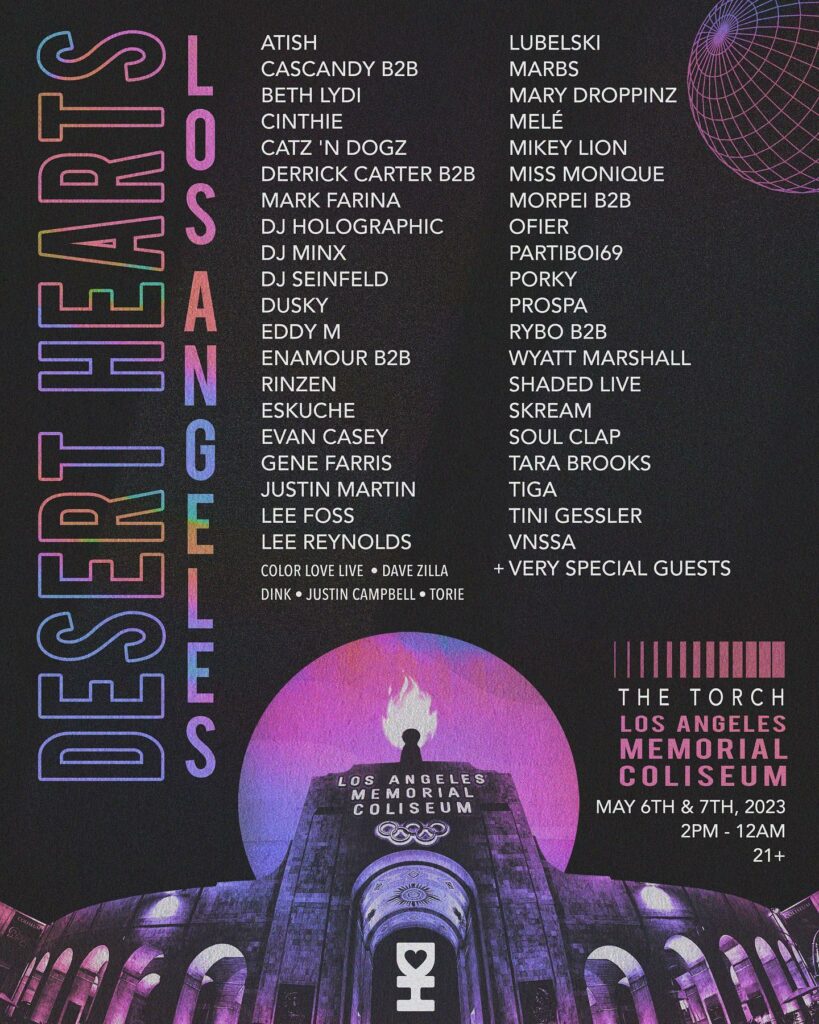 ---
Follow Desert Hearts:
Website | Facebook | Twitter | Instagram | SoundCloud | YouTube