After a two-year hiatus due to the pandemic, Desert Hearts Festival returned with familiar vibes and great music, but some growing pains as well.
---
Since its inception a decade ago, Desert Hearts Festival has become renowned for its mantra of house, techno, and love – and this year they brought a brand new experience for members of its seemingly ever-growing family. Moving from Los Coyotes Reservation to Lake Perris this year, more than 6,000 members of the Desert Hearts Family showed up for the three-day festival ready to camp and experience every second of the unending music.
The line was already 30-40 cars deep when my group and I arrived just after the gates opened at 8am on Friday and the line was moving in waves. We were stopped just long enough to get out of our cars and hug each other since it had been a couple of years since all of us had been together. After the fairly brief entry, we made our way into the campgrounds and were placed on the very edge of the perimeter – which made our location on the very farthest edge of the festival grounds.
The first thing we realized was that the size of the campgrounds and festival itself was much larger than we expected.
Friends who had purchased early arrival were located in the tent camping area, which unfortunately was on the opposite edge of the festival. Just to show how massive Desert Hearts Festival was this year, when we went to visit them we timed the walk and it took roughly half an hour.
As we crossed through empty parking lots on the way, it didn't make much sense as to why there was so much dead space between the campsites. The additional challenge of returning to camp also presented itself due to the fact that there was a steady incline the entire way to where our site was, complete with rocky terrain and rest areas.
The festival grounds were equally large and awkwardly spaced in terms of the vendors and stages. For example, Pile Palace traditionally sat on the edge of the stage just outside the radius of the crowd, however this year it was placed hundreds of feet away creating a wide space between the stage and our favorite area to chill. There was also a lack of signage that made it difficult to locate the one water station the festival had.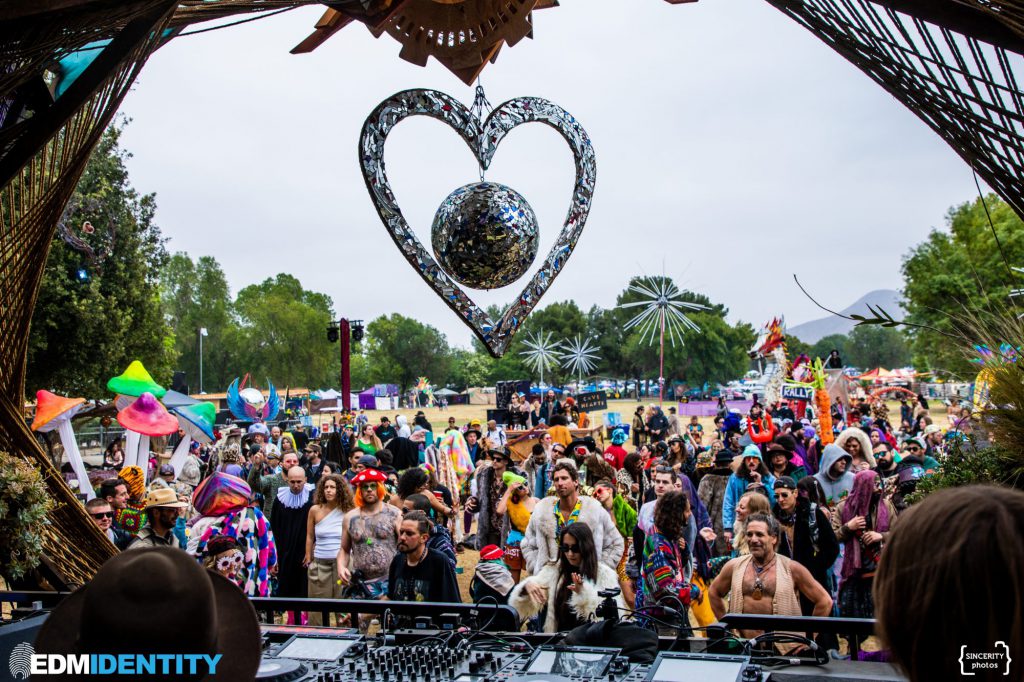 True to the one stage, one vibe nature of Desert Hearts Festival, its two stages never competed with each other.
The Desert Stage played during the day until sunset and after dark, the Heart Stage would come to life. This kept the Desert Hearts tradition alive and well that was found at previous iterations of the festival and their other satellite events like City Hearts. What surprised me was the lack of shade structures at either stage, which would've been nice to have during the high temperatures.
In terms of production, the iconic Desert Hearts stage from previous years with its disco ball enclosed in a heart above the decks felt more colorful than ever before. Lasers and lights shot out above the crowd's head while also creating brilliant rainbows against the disco ball. Many of the art structures also shifted differently at night. Along the beach, there stood an Anhk which would glow with hieroglyphics while at the back of the stage stood spikes that would look like exploding fireworks after dark.
The festival grounds featured unique art exhibits, a tea lounge, vendors, various food trucks, and bars this year.
The vendor area was full of incredible food, beverage, and clothing vendors. At least twice I got cold brew with some Lion's Mane and Cacao additives. For food, I tried the fried rice, Pad Thai dumplings, and some plant-based fish tacos. The prices were fairly reasonable and every choice was delicious – and with everything being cashless transactions were easy to make as well.
Having a lake to swim, float, and wade in during the day was a complete game-changer. Lake Perris made the heat bearable. Every day there seemed to be more camps bringing canopies, inflatables, and umbrellas along with them, effectively making each day feel like a unique beach party.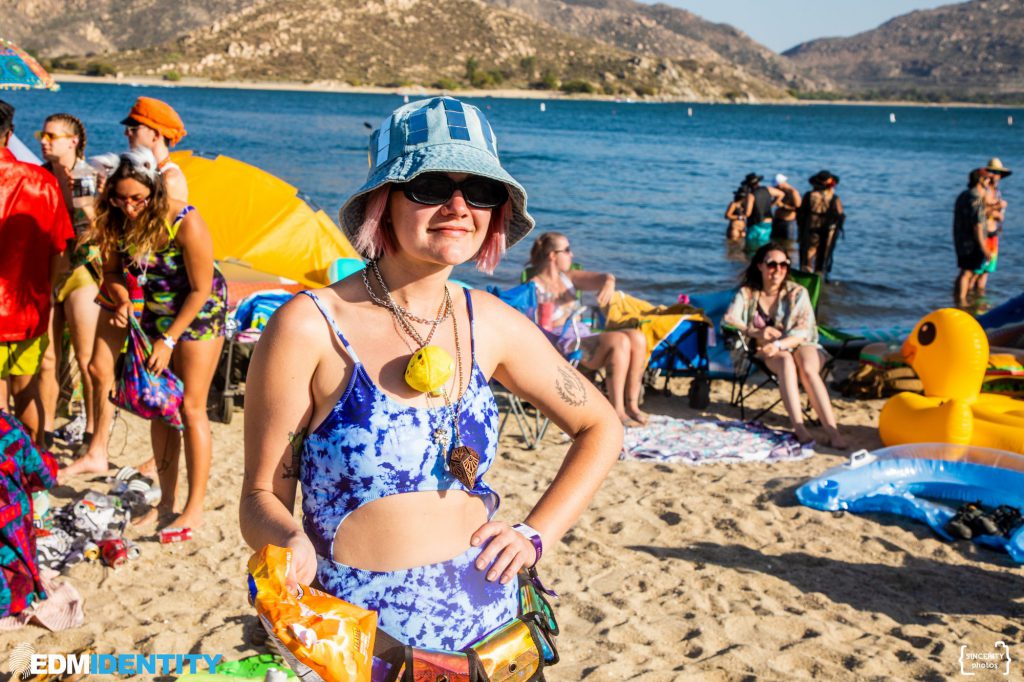 The music was really the highlight of the weekend, there were very few sets we missed.
Throughout the weekend we experienced plenty of fantastic sets but a few stood out. The surprise guest for Saturday morning was Justin Martin and it was absolutely incredible. Porky's set was late to start but was one of my personal favorites and really got me energized for the morning ahead. Doc Martin's set was an absolute party while DJ Harvey's set was melodic and groovy, and Lee Reynolds and Mikey Lion are always a fun time and it was heartwarming to see how happy the moments made them.
Other DJs like Kevin Knapp, Danny Daze, and Anja Schneider were fluid and dynamic. Their sets really showcased the diversity of their music library and the creative way in which they mix tracks together. It was also amusing when Andreas Hennenberg was playing an unbelievable set as I was asked "who is this?" multiple times by those who were dancing away.
The Desert Hearts Family set was the perfect way to end a festival.
By this time most of our friends were now laying on blankets and the sun was really starting to beat down. Toward the end of the set, they brought out all the totems and parade pieces from the weekend for a morning celebration that included tiger and lion trains, space ships, and palm trees that slowly sprouted up throughout the crowd. There were also art cars parked at the very back encouraging people to climb and get a higher view of the stage.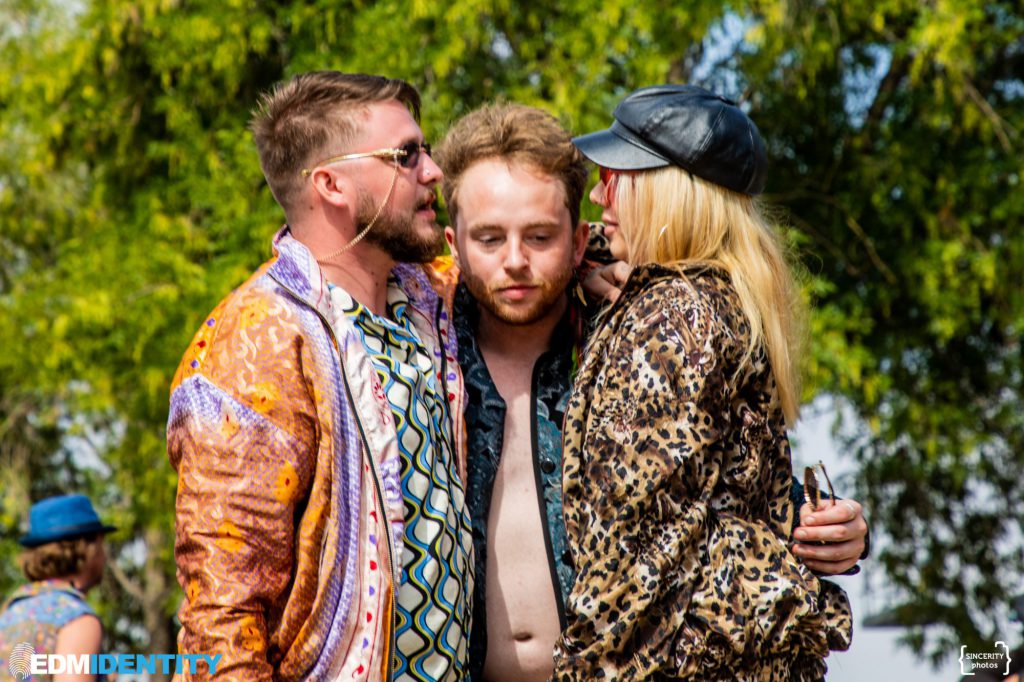 The community and vibe typically found at Desert Hearts Festival was intact and refreshing.
I witnessed a stranger come up and hug a young woman who was gently crying on the beach. She first embraced the girl, reminded her that she and all of her friends were there for her, and at the end, introduced herself. At night when it started to get cold, there were a couple of guys pretending to warm themselves up with an LED flamingo. When other people saw their body language they began to try to warm themselves up as well, which resulted in boisterous laughter. Those moments reminded me why I fell in love with this festival to begin with.
It was also nice to see certain traditions being upheld such as the tea lounge, the fashion show, the wine and cheese party, and various other attendee-driven meet-ups. It really did feel like a family reunion. I was able to reconnect with friends that I hadn't seen in more than two years. There was so much to catch up on and so much that we had missed, yet all of that was overshadowed by the gratitude I felt to be able to embrace them after so long.
A festival at a new venue so wildly different from its former one is bound to cause some growing pains, but the future is bright for Desert Hearts.
The large spaces of emptiness made the festival feel a bit disjointed compared to the previous editions at Los Coyotes. The distance and placement made the physical aspect of the festival very challenging and at times, lonely. Hopefully, this can be addressed in future editions as Desert Hearts Festival continues to grow.
Setting the logistics aside, it was still the familiar Desert Hearts Festival full of house, techno, and love. I am beyond grateful for the experience and the ability to reconnect with so many people as we celebrated this beautiful ten-year anniversary. I look forward to returning next year to experience it all again.
---
Connect with Desert Hearts on Social Media:
Website | Facebook | Twitter | Instagram | SoundCloud | YouTube