Rising artist AIMMIA stopped by to talk to us about her production journey, advice for aspiring women producers, "Group Therapy," and more.
---
If you've been paying close attention to dance music circles lately, AIMMIA is likely a name you already have on your radar. The up-and-coming producer has broken onto the scene with full force, playing shows at clubs and venues all over LA and growing her discography with remixes and collaborations that showcase her bass-tinged house sound. Her first remix found her putting a fresh spin on SIDEPIECE's track "Acrobatic," while her collaboration "No Self Control" with Ciszak leaned further into exploring her own original sound.
Last week, her remix for VNSSA's "In The Dark" got an official release after she won first place in the producer's remix contest. The original track, which first landed on LP Giobbi's FEMME HOUSE project, was revamped with an oscillating bassline and club-ready feel provided by AIMMIA. But listeners are still hungry for more – lately, she's gotten a roaring response from social media as her highly sought-after ID "Group Therapy" has been making its rounds. Previews of the track hint at an irresistibly fun house track that is sure to make its way into playlists and live sets across the board upon its official release.
AIMMIA's stage presence is nearly as infectious as her music, so while you're waiting for more releases to come, make sure to catch her throwing down a set at a show or festival near you. In the meantime, she cooked up an addicting house mix for us filled with original tracks, including her "In The Dark" remix and "Group Therapy" ID, as well as tons of other goodies to feast your ears on. Get your groove on by checking out the mix below, and read on for a closer look into the producer's mind.
Stream EDMID Guest Mix 365 || AIMMIA on SoundCloud:
---
Hey AIMMIA, thank you so much for taking the time to talk with us today! For starters, tell us a little bit about your background in electronic music. What inspired you to start DJing and producing?
Hi EDM Identity fam! It's an honor to be here. My journey in the electronic scene began in my teenage years, and I fell in love with the culture after attending my first festival – Bonnaroo 2015. After moving to LA in 2019, I was amazed by the city's music scene and inspired to turn my passion for music into a career. I immediately invested in Ableton and have spent the last four years working on my production skills behind the scenes. I'm so grateful for the journey that has brought me here, and I love being part of such an amazing community.
You've dabbled in bass and trap music in the past, but it seems you have more of an inclination toward house now. Would you say you've found a permanent forte in house music, or do you see yourself continuing to switch up genres in the future?
My sound has definitely evolved over time. I grew up in Atlanta, where the bass music scene was huge, and that's what inspired me to start producing. However, once I moved to LA, I fell in love with house, and that has been my focus ever since. I think my production is influenced by my background in bass music, but I've started to find my own sound too. If you come to one of my shows, you'll definitely hear me drop a drum and bass track or two, but regardless of the genre, my goal is always to create music that moves people and makes them feel something.
Right now, AIMMIA is primarily a house project, but I don't like to limit myself to just one genre. I think experimentation and exploration are essential to growth and creativity as an artist, so I'm always open to trying new things. I've got some exciting projects in the works, so you'll have to wait and see what the future holds!
We saw you teased some new music on TikTok, and it looks like the feedback has been insane – can you tell us about the reaction you've been getting on this one?
The response I've been getting is amazing! I'm so grateful for all the feedback, as it's going to be my first original track – Group Therapy. As an artist, there's always a bit of nervousness when you share your music, so it's been incredibly rewarding to see people connect with and feel inspired by my music. I really can't wait to share the full version with everyone very soon! Reaching over four million views on Insta and TikTok was definitely not something I expected when I posted the preview.
When is Group Therapy coming out? Will this be your first official single? 
I'm thrilled to announce that Group Therapy is on its way! I can't reveal the release date just yet, but I'm just as eager as my fans to have it out. Although I have a remix that actually was just released, this will be my first official single, so it's a bit of a milestone for me as an artist. I've poured my heart and soul into this track, and I can't wait to share it with the world! 
You were the first-place winner for VNSSA's "In the Dark" remix contest, with your remix getting an official release – congratulations! What was your creative process like in making this track?
Thank you! VNSSA's "In The Dark" is a track that I would play in my sets, so when I saw the remix contest, I immediately locked myself in the studio and got to work! For the creative process, I knew I wanted to make something completely separate from the original. I decided to change the bassline to a fast-paced rolling bassline to give the track a unique and fresh feel. I really pushed myself as an artist, and it has been very rewarding to hear the early reception to the remix. 
You also have a track, "No Self Control," with Ciszak. What was this collaboration process like, and do you hope to participate in more collaborations in the future?
Working with Ciszak on "No Self Control" was so much fun, and it's another one that's gotten an amazing response. Collaborating with other artists is something that I find very inspiring and exciting – it's a great way to discover new sounds and push creative boundaries. I am always open to working with other artists, and I currently have some exciting collaborations in the works!
What has been the most significant challenge you've faced so far on your artistic journey? On the flip side, what has been the most rewarding aspect of it all?
I definitely would have to say being self-taught. I couldn't afford music school, so it was a struggle at first to figure out everything on my own. I like to say I went to YouTube University. [Laughs] While some could see it as a setback, this has really given me the freedom to experiment and develop my own unique style without being constrained by traditional techniques or rules. I feel like there are no true rules to making music – as long as the music sounds good, it doesn't matter how you create it.
On the flip side, the most rewarding part of my journey has been the ability to connect with people through my music. There's nothing more fulfilling than seeing people shouting the lyrics to my music at a show and seeing how it resonates with people on another level. It truly is the best feeling, and it keeps me inspired and motivated to keep creating.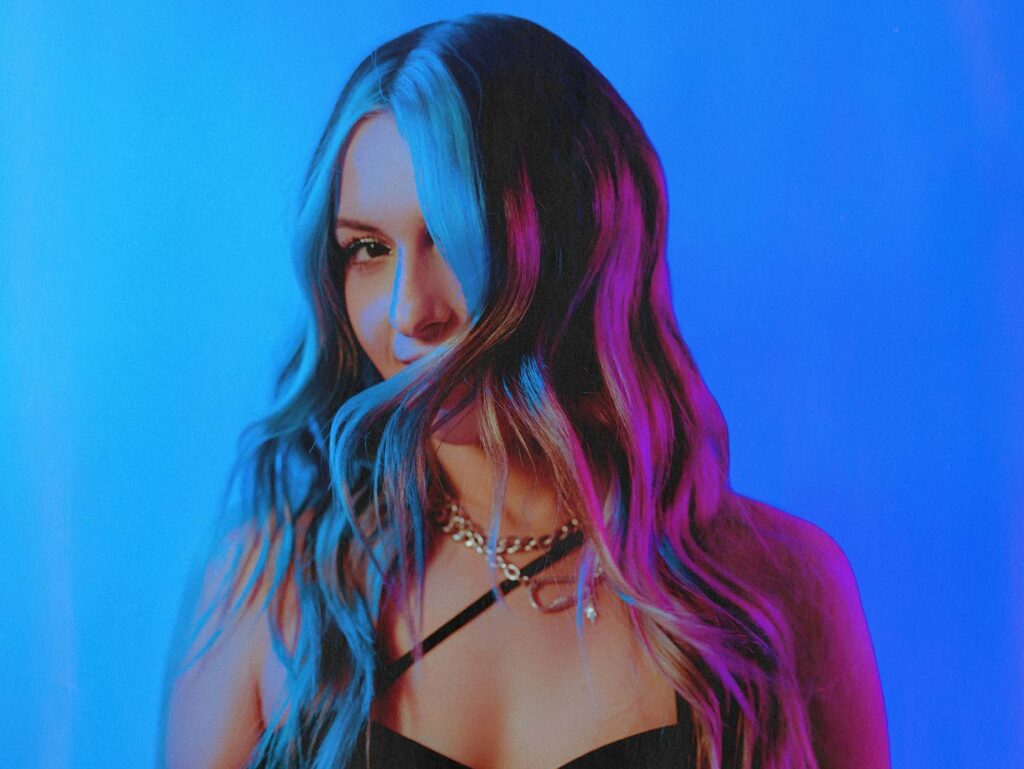 When it comes to playing live sets, how do you go about curating the music you play out to the crowd? Are there any specific vibes you try to evoke?
I love finding new music on Beatport, SoundCloud, and TikTok. I'll make cool edits of popular tracks and love playing ones that aren't as well known. I always like to start with high energy to set the vibe and then create a journey throughout the set. As for specific vibes, I would say my sets are very energetic and exciting. I love to keep the crowd on their toes and will randomly drop a drum and bass track – I've noticed those moments are when the crowd has the most fun. Ultimately, my goal is to create a unique and memorable experience that leaves the crowd wanting more!
If you had to give any advice to aspiring women producers and DJs looking to break into the dance music scene, what would it be?
Make sure to always believe in yourself and know that you can do anything you set your mind to. Try to do something that has never been done before and experiment. Don't be influenced by current trends – try to create your own unique sound that will make you stand out. 
Also – Network. Network. Network. Get involved in your local scene and support other artists at their shows. Be consistent on social media and connect with other people in the industry. Be prepared to spend countless hours alone in the studio, and if you aren't feeling motivated, just know that the only person that can change your life is you, so get up and get to work! Also, don't forget to have fun and enjoy the ride.
Finally, what's in the cards for you in 2023 and beyond?
2023 has already been a pretty amazing few months for me. My debut single, "Group Therapy," will be released soon! Like everyone else, I'm eagerly anticipating the release and can't wait for you to hear it.  I can also share (or I suppose hint) that my team and I have some exciting projects in the works to follow up "Group Therapy." The support thus far has been incredible, and I'm ready to see where the music takes me from here. Definitely follow along to start the journey with me on Instagram!
---
Follow AIMMIA:
Facebook | Twitter | Instagram | SoundCloud | YouTube | TikTok