Can't make it to Tomorrowland Winter this year? Tune in to their official live stream to catch all the action from Alpe d'Huez!
---
The warmer days of spring are nearly here, but there's plenty of action in the scene that's already heating everyone up. Thousands are beginning their annual trek to Miami Music Week to soak in the South Florida sun, while many in Europe have set their destination to Alpe d'Huez in France for this year's edition of Tomorrowland Winter.
Tomorrowland Winter isn't your average festival. While it still hosts larger-than-life stages, immersive production, and top-tier artists, it provides a snowy getaway for those who love to ski, snowboard, and participate in other winter activities all week long. Artists set to play at the festival include everyone from Afrojack and Dimitri Vegas & Like Mike to Lost Frequencies and Vintage Culture, with even more dynamic sounds arriving from Netsky, Basswell, and more.
The party starts today and tomorrow on One World TV with a look back at the special sets that took place during the 2022 edition of the festival, along with exclusive interviews and more. Then, from March 22-24, the People of Tomorrow can tune in from all over the world to get their dose of electronic grooves found at the CORE, Crystal Garden, and Frozen Lotus stages between 19:00 – 21:00 CET. From 21:00 – 02:00 CET, the focus shifts to the Mainstage, where some of the most prominent artists in the scene will play.
Tune in to the Tomorrowland Winter 2023 live stream on YouTube, their website, or in the Tomorrowland App on your iOS or Android device. Additionally, audio streams will be provided by DAB+ in Belgium, The Netherlands, Switzerland, the UK, and Malta, while it can also be found on FM radio in Romania and Spain. Please note that all set times are in CET, so make sure to convert them to your local time zone!
Tune in to the Tomorrowland Winter 2023 Live Stream on YouTube:
---
Tomorrowland Winter 2023 – Live Stream Schedule: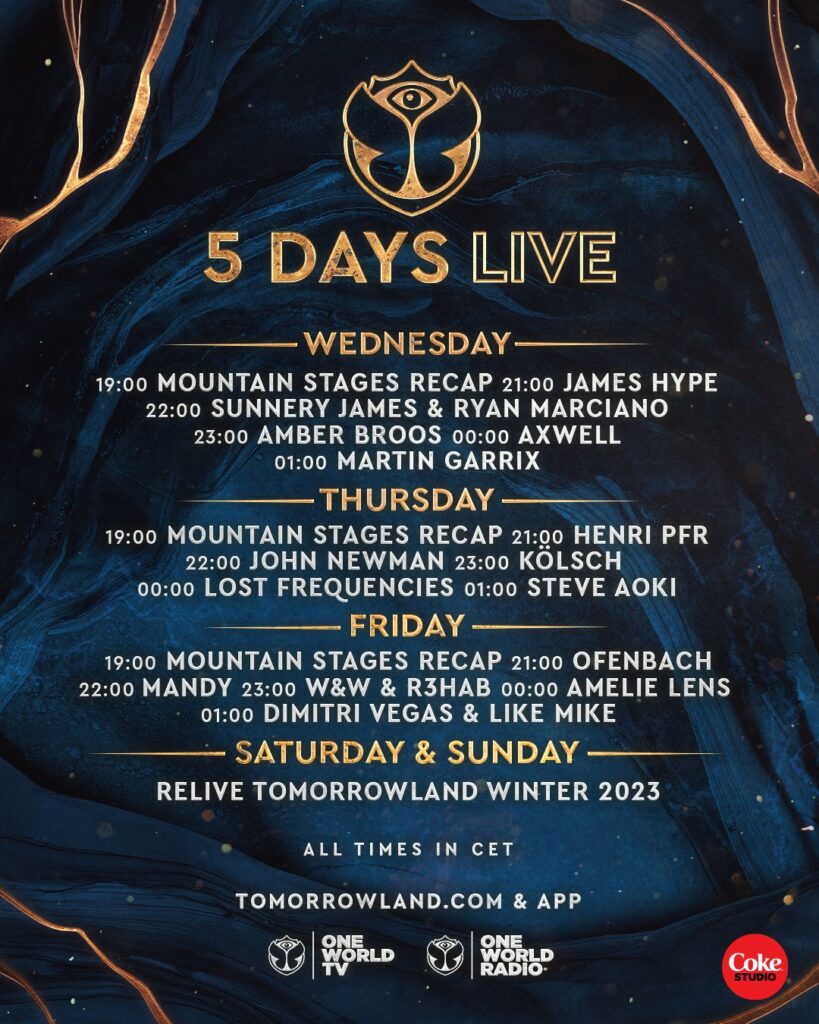 ---
Follow Tomorrowland Winter: