Heading to Gem & Jam this year? Be as prepared as possible for the upcoming edition with all the essential info you'll need to know!
---
Gem & Jam is an incredible event running for longer than many other festivals of the same caliber. This year's edition is slated to be one of the most memorable ever as the festival continues to improve its infrastructure, access to vendors and workshops, and of course, the diverse music lineup. This year, The String Cheese Incident will play two sets as the main headliner, accompanied by The Floozies, Emancipator, Ott, Snakes & Stars, The Motet, LSDREAM, SoDown, and many other well-known artists on the Emerald and Onyx Stages.
This festival also has a large number of different workshops for attendees to diversify their experience that range from talks on the Amethyst Stage covering topics like mushrooms and aphrodisiacs to intimate ceremonies and drumming workshops at the Drumming Sounds Workshop space. You can also find meditations and workshops hosted at the Topaz Healing sanctuary to take the opportunity to dive into yourself throughout the weekend.
The weather at the Pima County Fairgrounds in previous years has been pretty dynamic – expect sunny, warm days and nights to get quite cold and windy. Be prepared with layers and all the comfort items you need to make your camp cozy, and get that essential rest over the weekend! Luckily, the Onyx Stage is indoors and will host late-night music every night of the festival.
Beyond all the fun ready to be had on the festival grounds this year, there's plenty of information that you'll need to know to make this experience as seamless as possible. Between camping at the festival, arrival times, and essential items to bring along with you, this guide will help you be fully prepared for Gem & Jam 2023 and make the most out of the experience.
---
Gem & Jam 2023 – Essential Info:
Dates: February 3-5, 2023
Festival Hours: Friday: 11:30am – 4am | Saturday: 10:45am – 4am | Sunday: 10:45am – 3am
Venue Address: 11300 S Houghton Rd, Tucson, AZ 85747
Tickets: Purchase HERE
Facebook Event Page: RSVP HERE
Box Office Hours and Gate Opening Times:
Thu:  3:00pm – 10:00pm box office, 4:00pm camp gates
Fri:   9:00am – 12:00am box office, 10:00am camp gates, 11:30am festival gates
Sat:  10:00am – 12:00am box office and camp gates, 10:45am festival gates
Sun: 10:00am – 12:00am box office and camp gates, 10:45am festival gates
---
Gem & Jam 2023 – Music Set Times: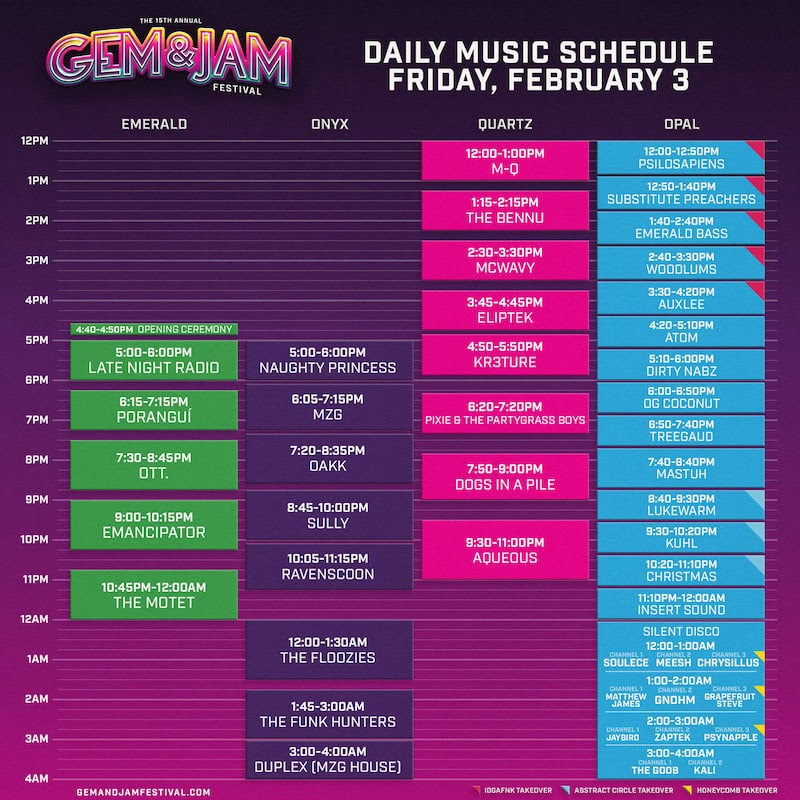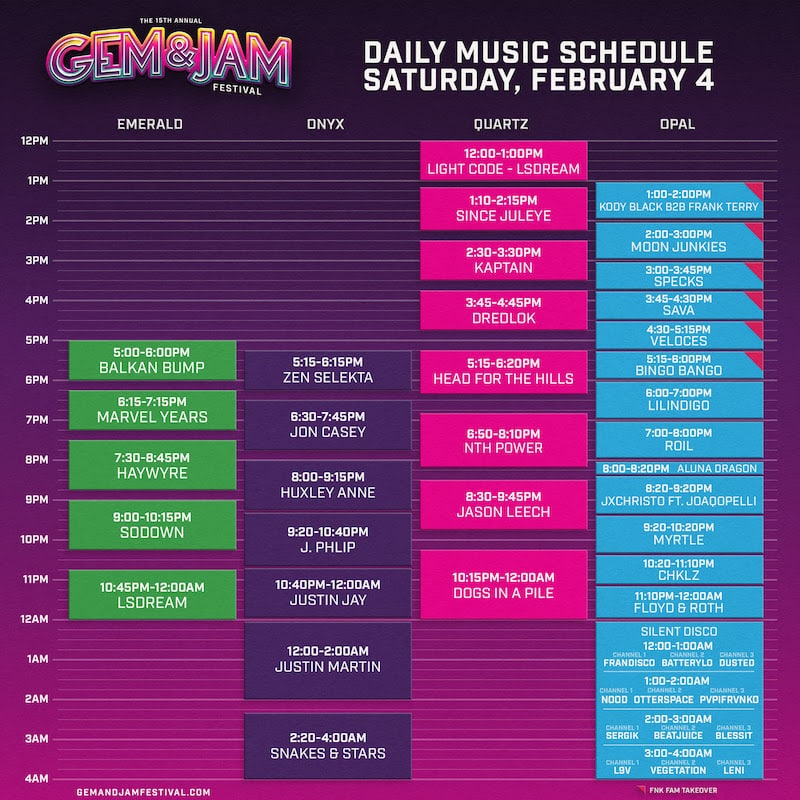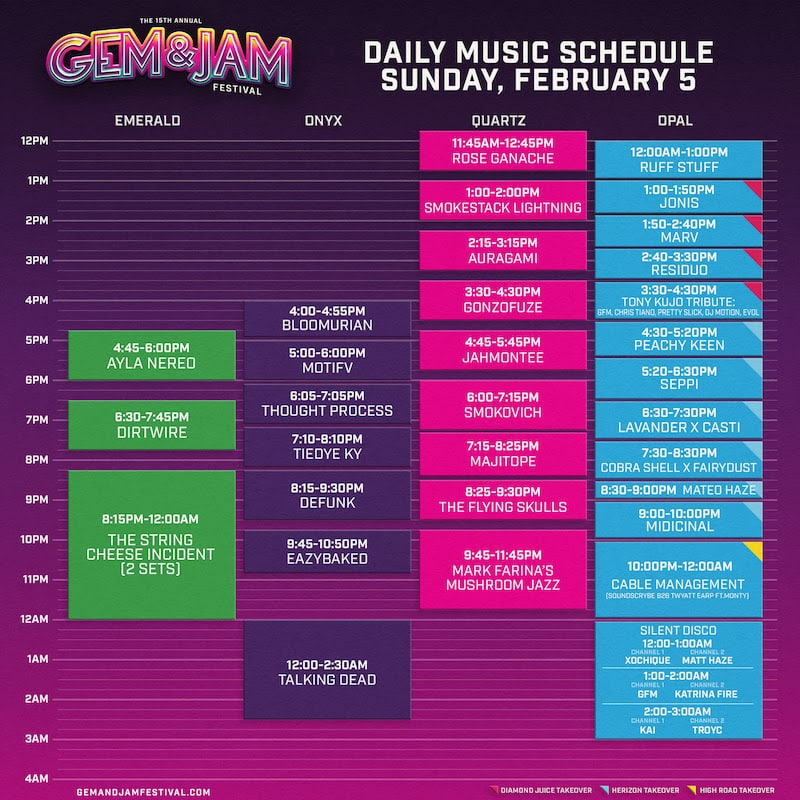 ---
Gem & Jam 2023 – Workshop Schedule: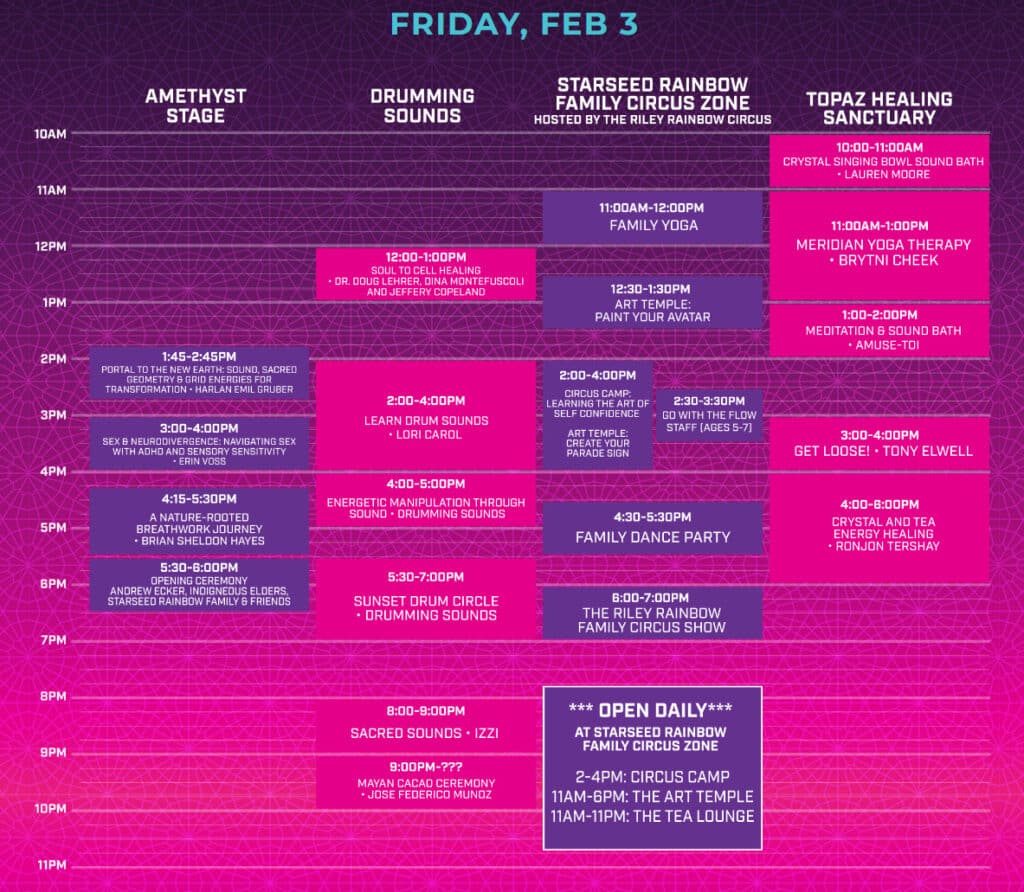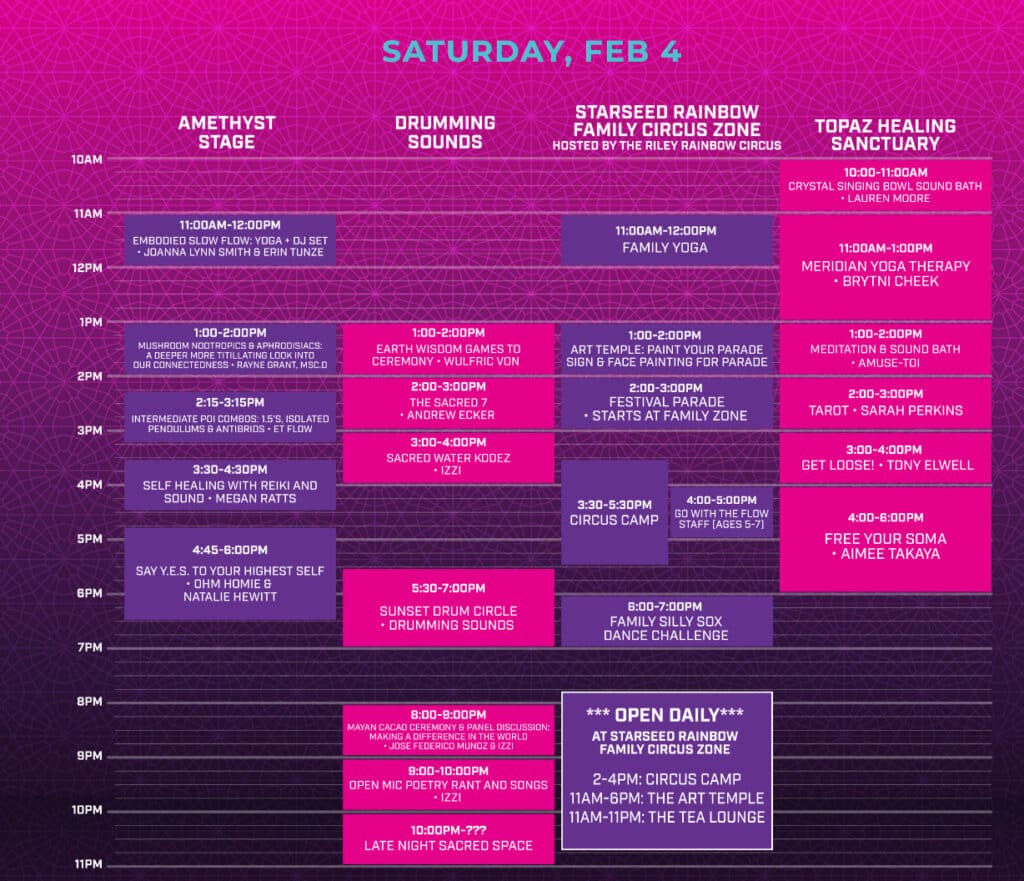 ---
Gem & Jam 2023 – Festival and Parking Maps:
Coming soon!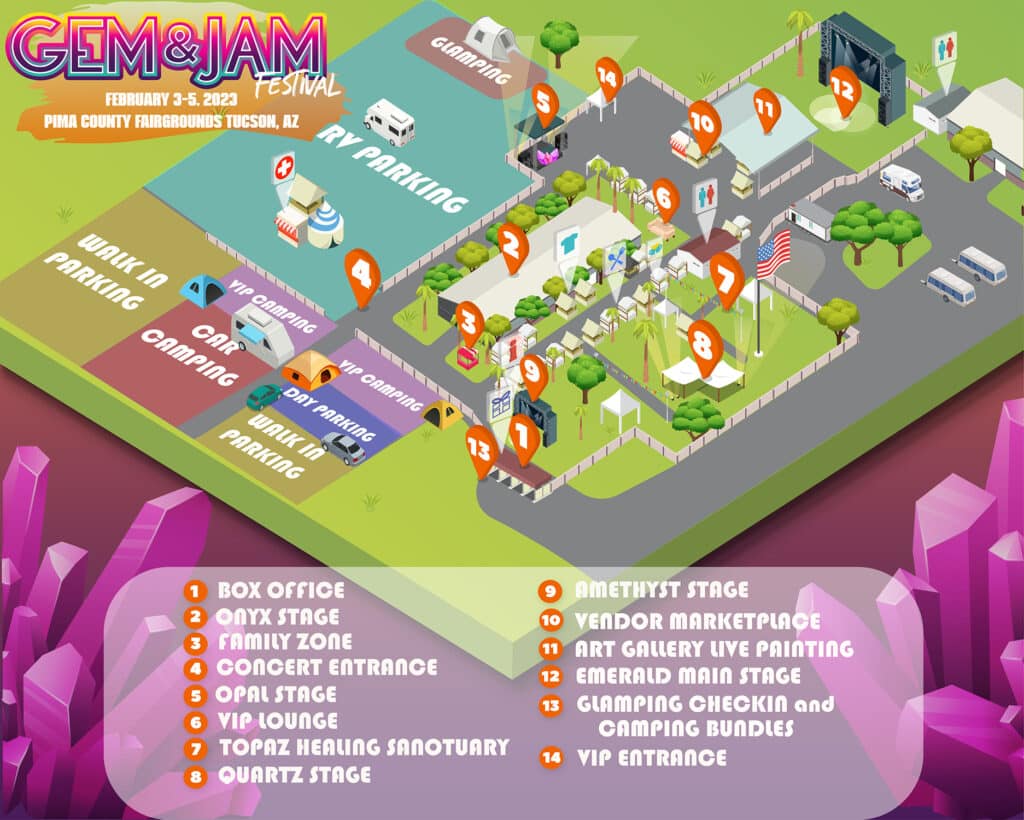 ---
Car Camping Information:
The Car Camping pass includes 4 individual people to camp by their car.
Everyone must be present and inside the vehicle upon arrival.
The Car Camping Pass DOES NOT include your Festival Pass. You MUST purchase your festival pass separately.
You MUST purchase a Festival Pass in addition to a Car Camping Pass. Anyone in the Car Camping zone without a Festival Pass will be asked to leave.
Everyone must be present and inside the vehicle upon arrival.
Walk-In camping is free, for anyone looking to camp and not arriving with a vehicle.
If you arrive with a vehicle and choose to walk in camp instead of car camping, there is a $20 weekend parking fee charged on site, upon arrival. The weekend parking lot is in close walking proximity to the campgrounds.
RV passes are good for up to 6 people arriving together in an RV
---
Reminder To Mind Your Belongings:
Unfortunately, many people have reported pickpockets, bag slashings, and theft of wallets, smartphones, purses, and other valuables during this festival season. While this small number of bad apples in the bunch doesn't define an entire crowd, some opportunistic people come to these events to take advantage of unsuspecting partygoers, and it's important to be mindful of your valuables while at Gem & Jam.
Looking for tips to keep your belongings safe? Check our post highlighting some ideas!
---
Gem & Jam 2023 – Do's & Don'ts:
Prohibited Items
NO Weapons of any kind including slingshots, sticks, bats or clubs
NO open flames, campfires or charcoal grilling (propane grills are ok in the campsite ONLY)
NO Outside food or beverages in the festival grounds, only in the designated campsite zones
NO Coolers or Ice Chests in the festival grounds, only in the designated campsite zones
NO Professional photography equipment or cameras with detachable lenses longer than 2 inches, without proper credentials (point-and-shoot cameras without additional lenses are OK)
NO Drones
NO Fireworks or explosives of any kind
NO Audio Recordings
NO tents in the festival grounds, only in the designated campsite zones
NO water guns or squirt guns
NO skates, skateboards or bikes 
NO Pets (even really, really small ones)
NO Box trucks or trailers (a camping trailer is OK, but it is considered an RV which requires an RV pass)
NO Drugs or drug paraphernalia
NO Refunds or exchanges
NO Laser pens or similar focused-light devices
NO Vending of any kind without a vendor pass (Sharing yes, selling, no. You know the difference.)
NO OPEN FIRES OF ANY KIND WILL BE ALLOWED.
Suggested Items
Rain Gear
Camping Gear: Tent, Tarp, Sleeping Bags (in the designated camping zones)
Your Favorite Hoodie and extra layers (for warm days and COLD nights)
Extra shoes/sneakers/sandals
Mud Boots (In case it rains)
Bug Spray & Sunscreen
Shade hats and sunglasses for sun protection
Bandana for dust
Aluminum or Stainless Steel reusable water bottle
Earplugs
Biodegradable plastic bags for your campsite (pack in, pack out)
Toilet Paper
Lantern, Flashlight, Headlamp (and extra batteries)
Flag or Balloon to Identify your campsite
Extra set of keys
Small Luggage (please don't bring valuables)
Soaps, Detergents, Shampoos
Portable ashtrays for smokers
Extra Blankets
Totem Guidelines
Maximum 10ft tall
Must be made from lightweight material (eg foam, PVC / no solid metal)
PVC, Light Wood, Aluminium poles must be no thicker than 1″ diameter
Decorated pool noodles work great for easy entrance through security
Inflatables attached to totems must be deflated upon entry.
Please note that any items that are deemed dangerous may not be admitted into the event.
---
Follow Gem & Jam: