Ready to rumble with the dinosaurs at Lost Lands on September 22-24? Tickets, camping passes, and more will go on sale soon!
---
Paradise takes on a bassier meaning every fall in Legend Valley, Ohio, when Excision heads to the region with a sonic vengeance, bringing along the annual edition of his now-iconic festival, Lost Lands. This year, bassheads will be making their way back to their dinosaur-laden home away from home from September 22-24, but while the dates were announced, there are more details you need to know before you make your way to the festival this fall.
Lock in those calendar reminders and set your alarms for Friday, January 20, because that's when Lost Lands will drop tickets and camping passes to their much-awaited 2023 edition. Anyone hoping to attend the multi-day camping music and arts festival will be able to access information regarding ticket tiers and pricing, amongst other important aspects like camping information and passes.
Related: Want to know if you should be setting your watch to the Lost Lands 2023 ticket drop? Check out our review from the most recent edition to find out!
While pricing is still yet to be revealed, there are more details ahead of the upcoming sale to help Headbangers begin their planning. VIP has been upgraded a bit more for the 2023 edition with new perks such as a dedicated festivals entrance, a VIP merch booth, exclusive WiFi zones, and free showers in the campgrounds so you can wash off that bass music filth you've picked up while at the rail.
Early entry options this year start as soon as Tuesday Evening or on Wednesday, while many are sure to arrive on Thursday in time for the pre-party on the Prehistoric Stage inside the festival grounds. Lost Lands will feature a number of camping options to choose from this year that include everything from regular car, RV, or tent-only camping to quiet options and an "easy tent" experience for those who don't want to travel with their gear. If you're someone looking to upgrade your experience, Jurassic Glamping may be for you with a plethora of exclusive VIP amenities in their pre-set tents.
Additionally, if you're planning to stay off-site and drive in each day, parking passes are available ahead of time. Those planning to party hard can also opt for the Dino Express Shuttles that run every hour from Columbus to offer an easy experience to get to and from the festival. Airport or Long Haul shuttles are also available via their partnered travel site, Bus.com.
Tickets and camping passes for Lost Lands 2023 go on-sale Friday, January 20 at 3pm ET (12pm PT), with payment plans available to help split the cost. Head over to their website to sign up for access and dive into more details on different options for this year's edition.
---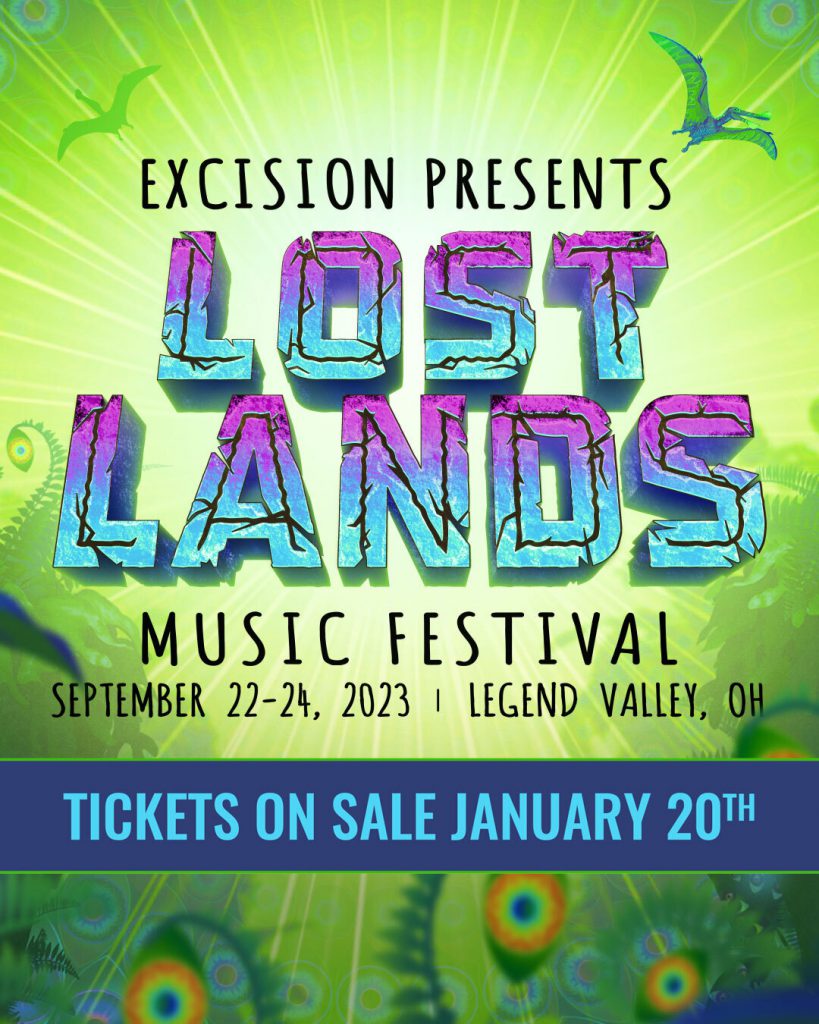 ---
---
Follow Lost Lands:
Website | Facebook | Twitter | Instagram | SoundCloud | YouTube | Twitch
Follow Excision:
Website | Facebook | Twitter | Instagram | SoundCloud | YouTube