Get ready for a dose of blog house nostalgia as DIM MAK TUESDAYS returns for a special one-night affair on December 13 at 1720.
---
Turn back the clock to the 2000s, and you'll find a dance music scene that shares some similar artists, events, and figureheads but is starkly different in many other ways compared to today. The pre-EDM boom era was littered with pop-up parties and underground events, especially in huge hubs for the scene like Los Angeles – and there was no bigger party that carried status than DIM MAK TUESDAYS.
Hosted by Steve Aoki, DIM MAK TUESDAYS wasn't just your everyday, average label party with resident DJs; it was a core institution during the blog house era and helped grow the dance music scene grow to become the behemoth it is today. Other residents, Them Jeans and Dan Oh, along with a laundry list of guest artists that ranged from Skrillex and Dillon Francis to DJ AM and Felix Cartal, made these parties the place to be. Although their run of weekly shows might've come to an end a decade ago, the legacy lives on, and this month will see it make a return once again!
DIM MAK TUESDAYS is set to take place for one special night on December 13 at 1720 in Downtown Los Angeles. This unique show will be thrown by Indie Sleaze, Last Gang, and ORLOVE, while The Cobrasnake, who shot photos to document the events in the past, will act as host for the festivities. Those attending DIM MAK TUESDAYS will get a taste of the 2000s as they celebrate the sounds of blog house with performances throughout the night and some surprises in store.
While the party is sure to be bumping, DIM MAK TUESDAYS is also focusing its efforts on giving back to the local community by partnering with LA Mission. Attendees are encouraged to bring sweaters, coats, or blankets to drop in the donation bins that will be given to those on the streets who need to keep warm this winter as temperatures will continue to dip below 40 degrees.
DIM MAK TUESDAYS is free with RSVP if you can make it to the show before 10pm, but entry is not guaranteed. If you want to secure your chance to party all night long, grab a ticket for $15 (+fees). Head over to Eventbrite to RSVP or make your purchase.
---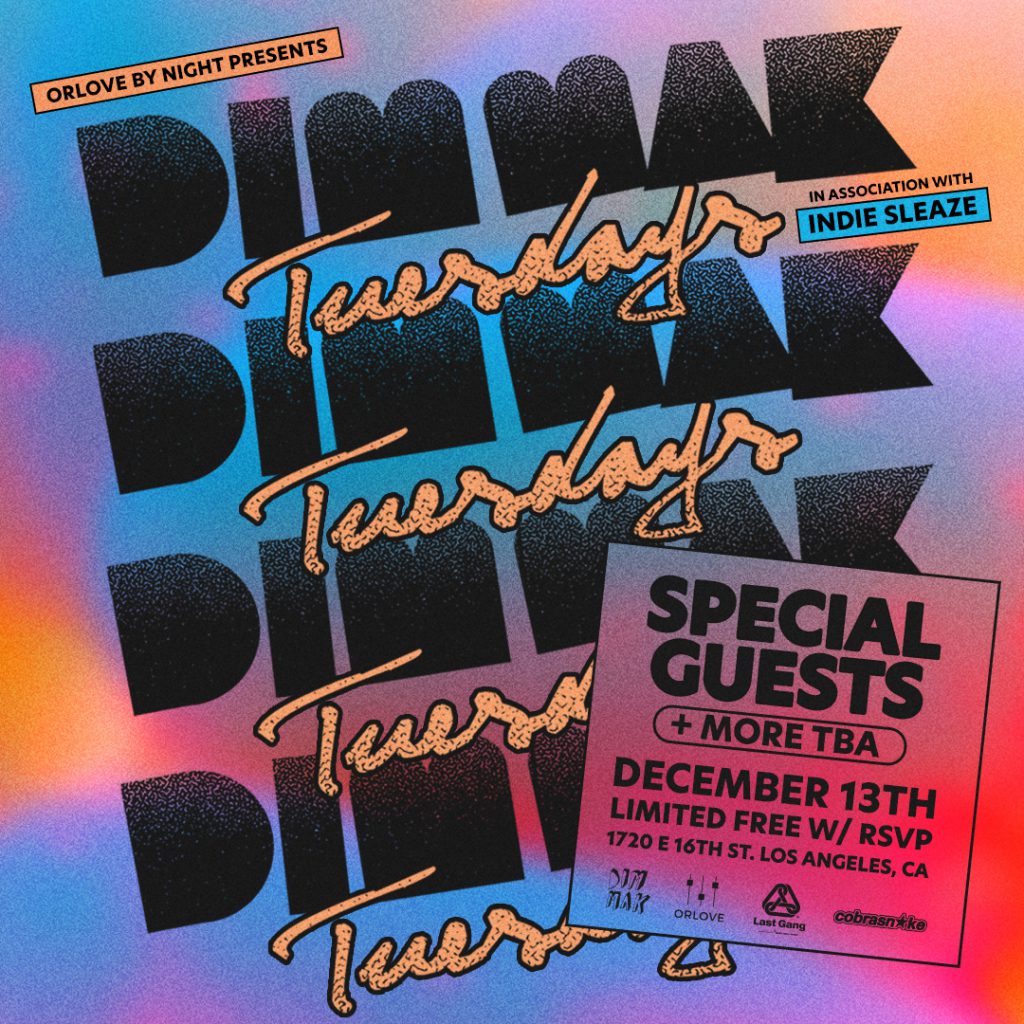 ---
Follow Dim Mak on Social Media:
Website | Facebook | Twitter | Instagram | SoundCloud | YouTube