Momentive Recordings starts its journey strong with an impressive compilation of talent featuring dela Moon, Axja, Keerd, and more!
---
Momentive Recordings may be new to the label side of the electronic music realm, but Momentive has had its hand in many drum and bass-focused events in the Los Angeles music scene for many years. The creator of the brand, Chief Jesta, and his crew have their heart in the pulse of the underground electronic scene, allowing them to curate unique musical experiences. With raw and influential artists at their fingertips, they realized it was time to expand their reach and dive into the recording side of the vision.
The darker side of drum and bass is highlighted when Momentive is involved, so you can guarantee that the label will be heavily invested in showcasing up-and-coming artists within that realm. With that being said, they also plan to dabble in a variety of elements ranging from heavier tones to conscious-expanding influence. With many LA events under its belt, including a successful music label release party, Momentive Recordings is ready to bring fresh creative sounds to the light with its debut compilation, Omphalos.
It's exciting to see labels go in directions less traveled, and Momentive Recordings is coming in hot with the first volume of Omphalos. There are diverse soundscapes presented in its eight tracks that take you on a journey of emotions ranging from an intense desire to unexpected surprise throughout its runtime. Featuring an impressive slew of artists such as dela Moon, KarmasynK, and Forin, it's exciting to anticipate who else they will support and bring into the scene along the way.
Listen to Momentive Recordings' Omphalos Vol. 1 on Spotify, grab a copy on Beatport, and read on for a deeper dive into its tracks!
Stream Momentive Recordings – Omphalos Vol. 1 on Spotify:
---
Omphalos Vol. 1 starts off eager to prove it deserves your attention.
Created with the shared brainpower between Chief Jesta, dela Moon, and Forin, "Agur" kicks off the project and sparks the listener's attention with its gradual incline of energy. Keeping you on the edge of your seat by building up the suspense, "One Step" plays with anticipation as Badlama provides subtle white noise to cleanse your palate between each intense drop.
"Decky" takes the wheel next as Gabriel Habit plops you into a wild, bumpy ride with hard-hitting choppy bass lines greeting you at every turn. The imagery of an interrogation light beaming brightly comes to mind as the hum of the intro of Nodsy's track "Werk" fills your ears. The snares intensify the momentum, immediately leading you into a trance-like state led by the command of every beat.
"Neuromancer" by Axja opens up with a sensual, feminine energy to imitate a feeling of desire as it leads into a wave of turbulent textures, simulating the feeling of a strobe light. KarmasynK pushes you into the next dimension as "Hollywood Hustle" blasts with forceful subs, leaving you unsure of what realm you have traveled to.
"Surge" features another combo of Chief Jesta and Forin, but this time adding in Goodwin to make a musical cocktail of talent. It feels like you've been hit with a current of electricity as rapid drums and experimental bass increase your heart rate to the beat. Keerd wraps up the compilation with "Thyphlo Ruins," which opens with an eerie, hazy intro that morphs into an energetic, repetitive rhythm that carries you from low to high ranges of tempos.
Momentive Omphalos Vol. 1 showcases just how vast this collective can be as it focuses on fresh takes of drum and bass and isn't afraid to explore areas less traveled. Momentive Recordings, with an unwavering commitment to the underground, is definitely moving in a direction that will be exciting to watch unfold as they continue to expand their catalog.
---
Momentive Recordings – Omphalos Vol. 1 – Tracklist:
Chief Jesta, dela Moon, Forin – Augur
Badlama – One Step
Gabriel Habit – Decky
Nodsy – Werk
Axja – Neuromancer
KarmasynK – Hollywood Hustle
Chief Jesta, Forin, Goodwin – Surge
Keerd – Thyphlo Ruins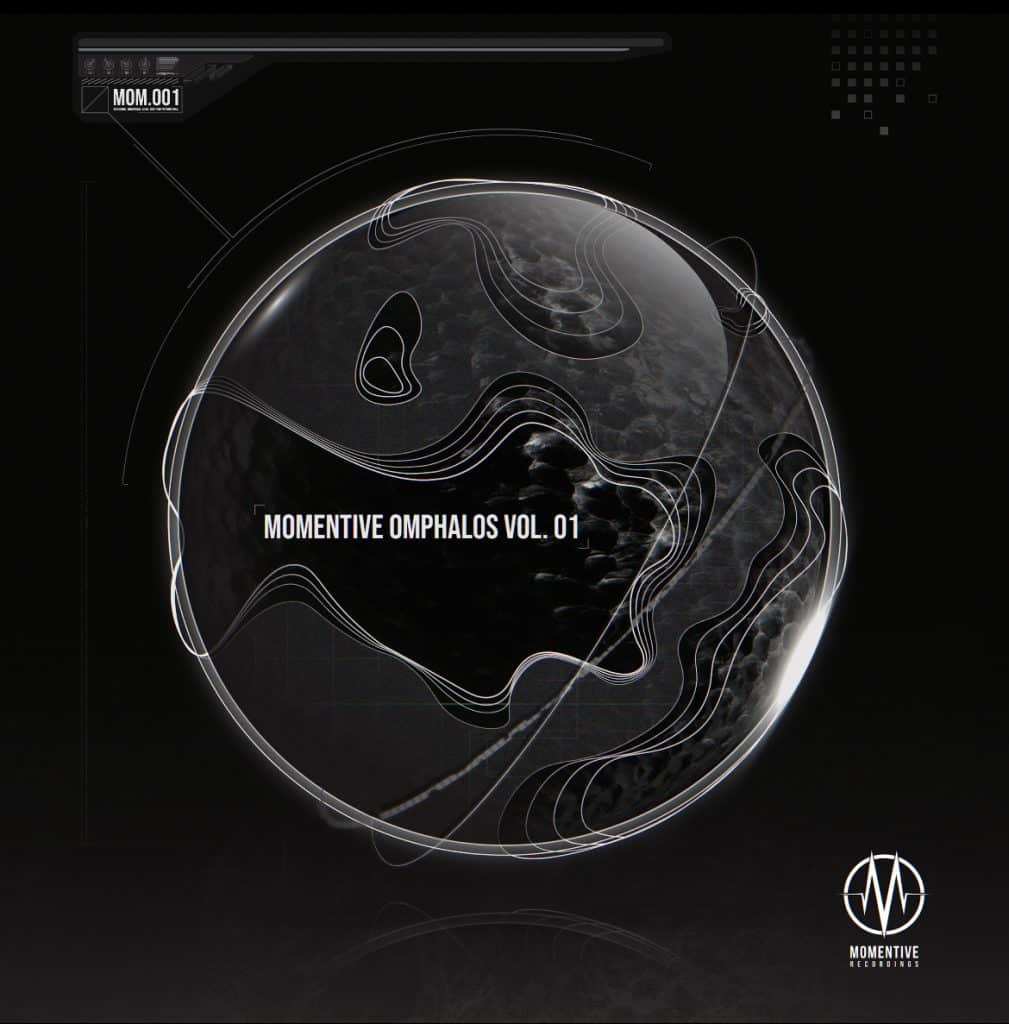 ---
Follow Momentive Recordings on Social Media: