FKJ brought serenity, love, and bliss to the forefront of his sold-out show in Denver to rejuvenate the souls of all who were present.
---
FKJ, short for French Kiwi Juice, is a man of many talents. Any instrument you can think of, you could probably bet that FKJ has played it. You could say he is s man of many talents, and what makes it even more magical is that he is completely self-taught. No matter what instrument he decides to grace you with, you always feel a sense of light-hearted youth while being wrapped up in his melodies. His energy on the stage is one-of-a-kind, so it's no surprise why he's adored by many.
FKJ's liberating and vibrant sounds have caught the attention of many, giving his music the ability to reach all over the world. When the beloved artist released V I N C E N T this year, fans were ecstatic as it was the first album he has released since his self-titled debut album in 2017. To celebrate, he has been touring across the globe in Canada, Mexico, and the US showcasing his flawless ability of spontaneous creativity in his latest work of art. Luckily I was able to attend one of his sold-out stops at The Mission Ballroom in Denver because the feeling it left within your soul will be something to remember for many years to come.
As the sounds of footsteps filled the void, FKJ walked out on stage, painting a picture of a day in the life at his at-home studio.
As the beautiful sounds of OHMA lifted vibrations to the frequency of the night, anticipation burst at its seams. By the time FKJ grabbed the microphone after his easy-flowing entrance into the replicated space of his home studio, his voice echoing throughout the venue grounded the crowd as everyone was in a puddle resting in the palm of his hands.
If you've ever had the chance to watch his Tiny Desk (home) concert, then you were able to grasp the concept of his production almost instantly. The backdrop often reflected his studio windows where you could watch the moments change day-to-day from tropical storms to sunny palm tree-filled skies that he sees in his everyday home life. Feeling like a fly on the wall seeing his genius at work, you couldn't help but feel inspiration flood your body as you witnessed the process unfold.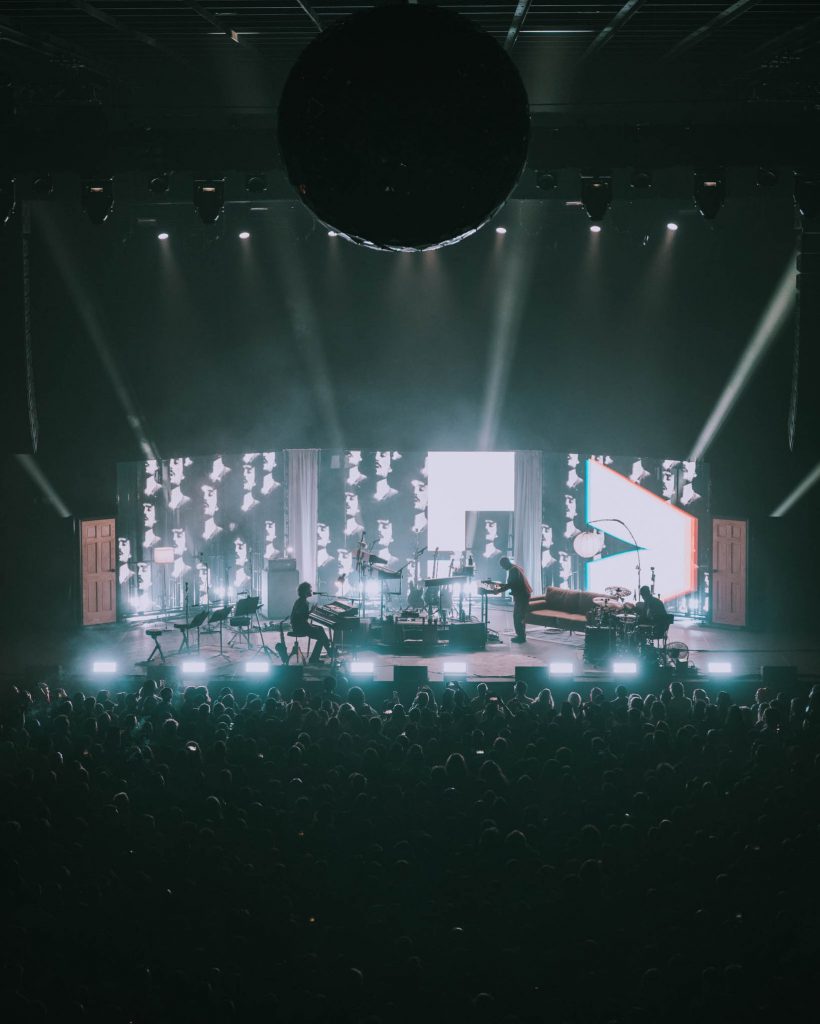 As new songs like "Way Out" and even older classics, including "Vibin' Out" featuring his wife ((( O ))), filled the room, their compositions served to advise enthusiasts, travelers, and dreamers.
With a live orchestra to bring soundscapes to life with their melodic touch, attendees were encapsulated by sounds of the piano, violin, cello, drums, guitars, and other elements really heightened the experience. If you took a moment to look around, you would have gazed upon a sea of bodies swaying and dancing with each other in a state of bliss. Heartwarming is the word that comes to mind when I think back to this moment in time.
FKJ's night full of warm and inviting compositions left listeners feeling uplifted and refreshed for the weeks to come. From his inviting production that makes you feel right at home to his live creative process unfolding right in front of your eyes, every single person left replenished in some form. It was a loving, reassuring, and sensual universe that all attendees were able to get lost in for a moment. A night that will live rent-free in minds forever.
Tickets for FKJ'S tour are still available. Head over to his website to grab yours for when he stops in a city near you!
---
Follow FKJ on Social Media: