Highlnd introduces himself with an impressive, multi-genre bass mix and chats with us about his origins, newest release, and what's to come.
---
From the mind of Los Angeles' Elliot Sorgen comes Highlnd. Drawing on varied inspirations ranging from alternative rock to emo and pop, Highlnd is rising through the scene with his melodically driven productions that often include organic sounds and live instrumentation. His productions range from pop-forward electronic tracks to heavy-hitting bass, all with strong emotional undertones.
With appearances this year at EDC Las Vegas and Beyond Wonderland, and one on the horizon at Lost In Dreams, fans are quickly catching on not only to Highlnd's impressive production style but his captivating sets as well. Performing live is new for this rising artist in the scene, so fans can expect to get more opportunities to catch him out on the road in the near future.
Earlier this year, Highlnd released his debut EP Patterns on Lost In Dreams featuring collaborations with Drowsy, Elle Vee, Zack Gray, and Misdom. Most recently, he teamed up with Sabai and vocalists Ni/Co for "Dead In The Water," a melodic bass offering with powerful lyrics, once again showing off his versatility.
After the release of "Dead In The Water," Highlnd took the time to talk with us about the track, his early influences, and what's to come for 2022 and beyond. He also gifted us a guest mix featuring his own tracks as well as remixes of the likes of ILLENIUM, Taking Back Sunday, Jack U, and more! Much like his productions, you'll hear emotive melodic bass mixed in with DnB and heavier sounds, with Highlnd stating that the mix is "a bit different" than his typical live sets.
Press play on this exclusive guest mix from Highlnd and keep on reading to learn more about this rising artist.
Stream EDMID Guest Mix 339 || Highlnd  on SoundCloud:
---
Hey Highlnd, thanks for sitting down to chat with us today. Let's start from the beginning; what was the catalyst for you to start music production and create this project? Were there any specific influences either within or outside of electronic music?
Of course! I've been making music ever since I picked up the guitar at 13. I started out writing, recording, and performing with rock bands and slowly transitioned more and more into pop music and then the electronic space as time went on. I still draw a lot of inspiration from the rock/emo days, though!
Highlnd was actually supposed to be a 'pop electronic' project when it first started. Some of my biggest influences were the duo Grey and Odesza, as well as Flume, Jack U, and several more. I think attending EDCLV for the first time in 2018 is what really opened up my eyes to how amazing the scene is and how far I could push my project. Since then, my music has definitely strayed away from the cookie-cutter pop sound in favor of a more emotional and energetic style.
What drew you to more melodic, emotive bass music?
There are a few different things! On the surface, I really like how it feels to experience this type of music in a live setting, whether it's on a festival stage with immaculate production or in a more intimate club. From a technical standpoint, I'm drawn to it because it challenges me to bring together every musical skill I have – from songwriting to sound design to mixing and everything in between. Also, it has a lot of parallels with music I already love modern pop acts, as well as all the emo bands I grew up on. The sounds may be different, but to me, the energy, melodies, and harmony feel pretty similar.
You call yourself a "musical scientist," which is really intriguing. Can you dive deeper into what this means to you?
[Laughs] I'm not sure if there's any deep meaning to it. It's just a term that I coined while joking around with my friends, but I felt like it fit me! Of course, I focus on the overall flow and energy of my tracks, but I also love the nerdy technical stuff that goes along with it, which feels a little scientific to me.
"Dead In The Water" was written from scratch with the vocalists Ni/Co, can you give some insight into the production process for this track? How did it differ from other collaborations you've worked on?
This track actually came together pretty similar to most of my others. Coming from producing pop music, one of my favorite things to do is to get in the room with another talented artist/singer/songwriter and create something on the spot based on what our vibe is that day. I will say that not every session is as special and smooth as when we wrote "Dead In The Water."
The main difference for me was producing in person with Sabai. I'm used to doing everything myself or sending a file back and forth for the couple of other collaborations I've done. Working with Sabai in person was awesome, though, and allowed us to form a friendship that I don't think would have been possible otherwise! 
This track is about coming to terms with a potential love lost. Did you draw on personal experiences to write this song?
Not exactly. I think it was an amalgamation of life experiences that inspired this one. Ironically, the song started to mean more to me as life events unfolded after we finished writing the song.
I feel like I needed to give credit where credits due and mention that Dani and Colton (aka Ni/Co) did a lot of heavy lifting with the lyrics on this one! I've written several tracks with them, and it's always a treat to work with such talented people.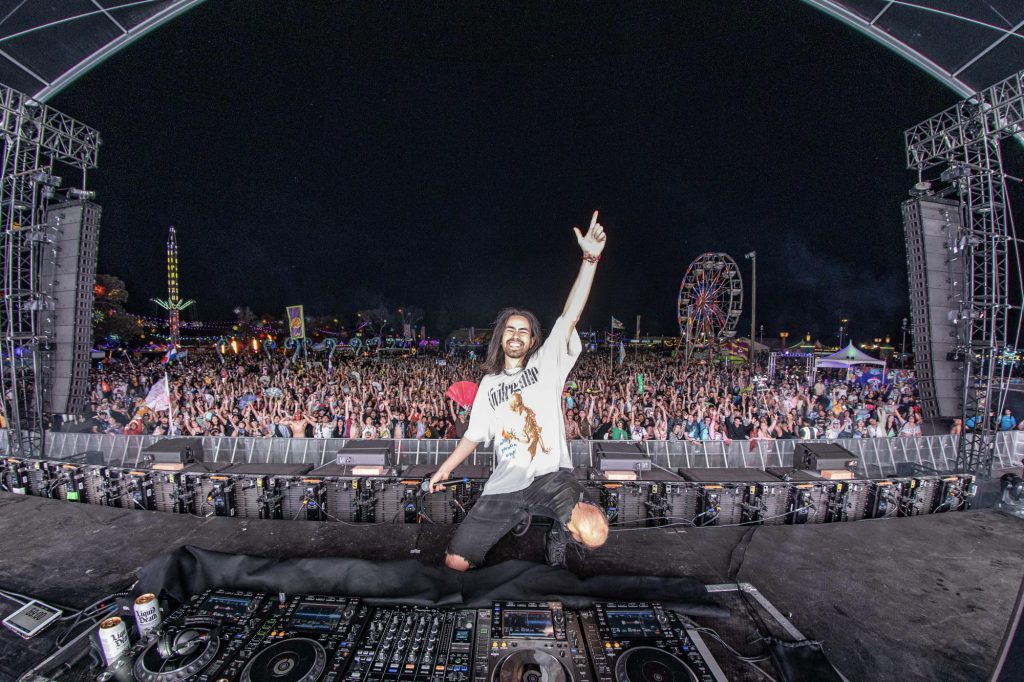 This year has been quite a big one for you with performances at EDC Las Vegas and Beyond Wonderland, and you have Lost In Dreams on the horizon next month as well. What has been one of your most memorable moments so far this year?
I'd probably have to say my Beyond Wonderland SoCal set. It just felt like the perfect storm. Before heading over, I was extremely proud of the show I had prepared and couldn't wait to see how it would go over live. When I stepped on stage, I already had a pretty good crowd, but it was absolutely packed out within the first 30 minutes or so! Feeding off that crowd's energy was one of the most intense things I've ever experienced and was legitimately one of the best moments of my entire life. I had so many "pinch me" moments during that set and even had to hold back tears a couple of times.
Just for fun, what's a dream festival that you hope to play in the future?
There's a couple! EDCLV was always the dream for me, but since I was already able to play this year, I'll be dreaming about playing a primetime set on the circuitGROUNDS stage! Another bucket list festival for me to play AND attend is Electric Forest! I'm going to try my best to at least check it out in 2023.
Finally, now that half of the year is over, what do you hope to accomplish in the rest of 2022 and beyond?
Honestly, I really want to make as much music as possible for the rest of this year. With everything else going on, finding time to make music is harder than it used to be. It would be cool to seclude myself and ignore all my responsibilities for like a month and just make music. Other than that, I'm looking forward to filling out my show schedule for next year! Playing live is still new to me, but it's quickly become one of my favorite things in the world to do.
---
Follow Highlnd on Social Media:
Facebook | Twitter | Instagram | SoundCloud | YouTube | TikTok