Washington DC-based techno duo TonalTheory swung by to discuss their beginnings in the scene, their recent releases, and plenty more.
---
Techno has been a force to be reckoned with in the electronic music scene for decades, but it has grown even more over the past few years with a fresh crop of artists who are helping pave the way for the future. This includes TonalTheory, a Washington DC-based duo that has consistently captivated crowds with their unique releases and performances that have delivered plenty of energy.
Since breaking onto the scene, TonalTheory has only continued to refine their sound with each passing release while making Bandcamp their home to connect with their community on a deeper level. The past few years have seen the duo drop their debut album, How Could We Have Known, as well as EPs such as Existential Beings Among Us and CLXXX.
This year has only seen them continue to thrive after dropping Confidential Movement back in March to the delight of techno lovers. Beyond their work as DJs and producers, TonalTheory is also making more moves in the techno scene with their imprint, Undertone, which has hosted releases from Stukes, Licit, Adrian Hex, and Paul Atreides already in 2022.
Looking to gain more insight into the minds behind TonalTheory, we caught up with the duo for a quality chat. Read on to find out about their beginnings in the scene, where they plan to go next, and more, and listen to their exclusive guest mix to get a taste of their techno style.
Stream EDMID Guest Mix 338 || TonalTheory on SoundCloud:
---
Hi TonalTheory, thanks so much for taking the time to chat with us today. Before we get any further, let's dig into your roots as artists. Where did both of you get your start in music? Who or what were some of the earliest influences that helped guide you to the electronic music scene?
We both had a very close relationship with music in general growing up. We both come from classical backgrounds, Marissa having spent all of her high school years in an orchestra playing the viola and piano, and Rae playing in a classical guitar ensemble throughout high school and college years. But what we both have in common is that all of the music from our childhood was riding the sounds of grungier metal/rock or Korean house/dance hits, and reminiscing on it now, we believe that was what kept drawing us back to electronic music over the years.
Was there something specific that drew you both to creating music in the industrial techno space? 
Techno was the perfect space that allowed us to experiment with all of our dance, classical, rock, and even cinematic influences. We respect the flexibility to create stories with melodies but also trance-inducing repetitive elements that get you lost in the music, which contributes to the timelessness of the genre. 
From the brooding, haunting soundscapes all the way to yet hopeful, mesmerizing melodies. It's limitless. 
Back in March, you released the Confidential Movement EP with four hard-hitting techno tunes on it. What was the process like when producing that EP? Did you create all four tracks with that specific concept in mind?
Actually, the Confidential Movement EP was created at the beginning of the pandemic when everything shut down in 2020. It was a solemn time, but we tried to be positive and keep in contact with different parts of the community that have been supportive of us from the beginning. "About You, About Us" was actually the seed that started the EP, and it was created for the DMV Shuffle Circle team to show our appreciation. From there, we create tracks to compliment it, show our melodic side with "Don't Be Mistaken" and "Confidential Movement," and push the boundaries a little with "What Is There To Navigate."
You've dropped a number of releases on Bandcamp, including your debut album, How Could We Have Known. Can you share your thoughts on that platform and how it has helped you as artists who love to self-release? 
When we make music, we don't really pick a label and say, "I'm going to make music that will fit this label/artist!" We're not sure if this approach is working against us at times, but we love to self-release because it allows us to connect with our audience in real-time about what we are feeling at that moment and how it translates into our projects. For example, we worked on the Confidential Movement EP in 2020, but it was just released this year, and a lot of things can change in the span of two years. 
That is part of the reason why we love Bandcamp because we believe that the platform gives artists the opportunity to be more expressive, and we believe it allows you to stay true to your artistry and helps you curate your sound without the stress of catering to the standard out there.
Aside from your work as DJs and producers, you also run Undertone, which has hosted some of your releases along with others from Paul Atreides, Licit, and Adrian Hex. What prompted you to launch your own imprint, and where do you plan to take it moving forward?
We've been involved in the DC scene for a while, and over the years, we've seen a lot of great labels that came out of our area, but we felt that there wasn't a label that was putting out the faster and harder sounds of techno that we really love, especially one that was based out of DC. We've always put a lot of focus on creating a platform for our local music community, and we believe that launching our Undertone label was a part of our efforts not only to start releasing the music that we want to be making as an artist but also to help cultivate the scene in the hopes to make a mark in the DC techno community.
As rising artists in the scene, what has been the biggest struggle (pandemic-aside) that you've faced so far in your career? Building off that, what has been the best advice you've been given so far?
We can't argue that being an Asian artist duo is a struggle, but we believe that it is something that can be improved, especially in the techno community. But what we are always conscientious of and occupies our head space a lot is being a male and female duo.
At the core of it, we are both individual artists that really came together to create music that spoke to our audience, but we can't help but feel that sometimes Marissa has to prove herself as an individual artist consistently. We can't count how many female-only lineups we were turned down from just because Marissa is part of a duo.
On the other hand, although we want TonalTheory to be recognized as an artist duo, it is sometimes difficult to turn away from all-female lineup opportunities because we do not want Marissa's artistry to be masked or undermined in any way by turning it down, just because of the fact that she is "part of a duo," if that makes sense.
This is the dilemma that we often have to go through, but we would love to get more advice for a healthy balance.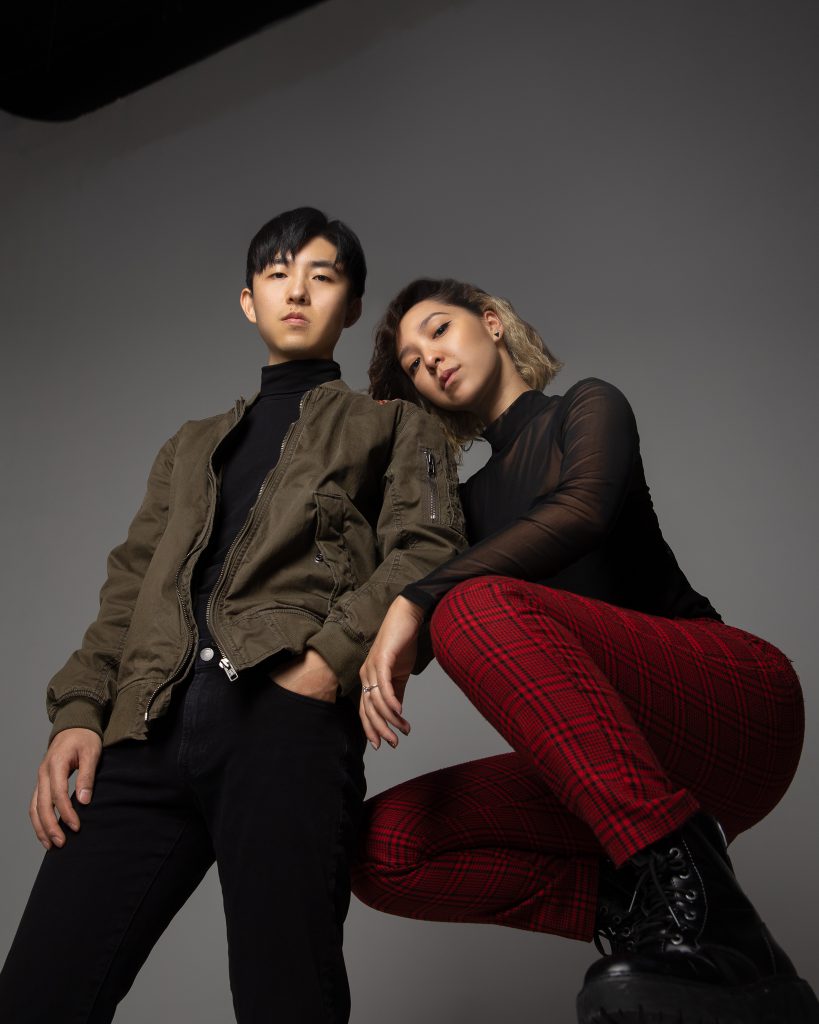 Can you share what you feel makes the local scene in Washington, DC stand out as special compared to other places in the US (or abroad)? What have been some of your favorite curated nights in town?
We feel that what sets the DC scene apart are inclusivity and community. We've always felt that we have a very close-knit community that is really driving the DC underground scene forward every single weekend.
This year, we launched our label event series called Max PSI. Just like the name says, our idea behind this was to curate an underground event that aims to keep the room at "full pressure" from start to finish, with faster BPM and hard-hitting sounds all night. All of the artists on our lineup have the full reign on how to curate their sets, and we have really encouraged them to showcase their artistry freely. We've put up two events so far, and they have been an absolute blast. We really want to thank everyone involved who has put in countless hours and efforts to create such a welcoming and safe space for people to enjoy music and helped our vision come to fruition.
Looking toward the future, what goals do you hope to achieve in the rest of 2022 and beyond?
We feel very fortunate and grateful because we have been taking a lot of positive steps this year so far. We made our debut in LA back in May with our own headlining show with TechnoFamLA team, who is one of the hardest working teams we've met, and we just made our debut in New York with Taken NYC team supporting ØTTA from Possession Techno based in France, so we would like to keep the momentum going.
It is definitely our goal to reach more cities for the remainder of the year because we love to connect with more people through our music, and seeing the same emotions that we put into our music being translated on the dancefloor is our biggest joy and what keeps us going.
---
Follow TonalTheory:
Facebook | Instagram | SoundCloud | YouTube | Spotify | Bandcamp