Outside Lands put music, food, art, and cannabis in the spotlight and paired it with Golden Gate Park's natural beauty at this year's edition!
---
Outside Lands returned to its usual dates at its beautiful home in Golden Gate Park this year, and it was one for the books. Having attended the festival once previously, in 2016, I was long overdue for a trip to the Bay Area and excited to see how the festival has grown in the last six years. The drive from San Diego to San Francisco went smoothly, and after getting settled at my accommodations, I was excited to send it for the first day!
There is so much to love about Outside Lands, but this year was all about the musical performances, art, food, and natural beauty of the park. When I needed to rest and refuel, there was more than enough shade and delicious food to keep me energized for the long nights. And as I wandered the venue, I could not help but be enamored by the towering, neatly groomed trees, the luscious green grass, and all the vibrant art that crucially helped bring Golden Gate Park to life.
Countless sets impressed me throughout the weekend, from the headliners to those on the undercard.
The first set of the weekend I saw was Cory Henry at Lands End on Friday. Lands End is a marvelously designed stage with its staple bridge across the top, rotating decor, and stage production. As soon as I walked in, I could not help but gravitate toward what they were playing. An eclectic mix of funk, soul, and jazz Cory Henry had the early crowd buzzing from all the energy he exuded on stage. Not to mention, the band members are all stellar musicians who performed a very polished and professional set.
Another early set worth mentioning is Planet Booty, who played the opening slot at Lands End on Sunday. In a similar vein to Cory Henry – if the music is that good, you start to be pulled toward it literally. When that happens, you have to lean into that intuition. Combining live instrumentation with funky melodies and dancefloor-inspired beats, Planet Booty has a distinct sound that resonates with many people. The crowd reciprocated energy from the first beat to the last, and by the end of the set, the crowd had at least doubled in size.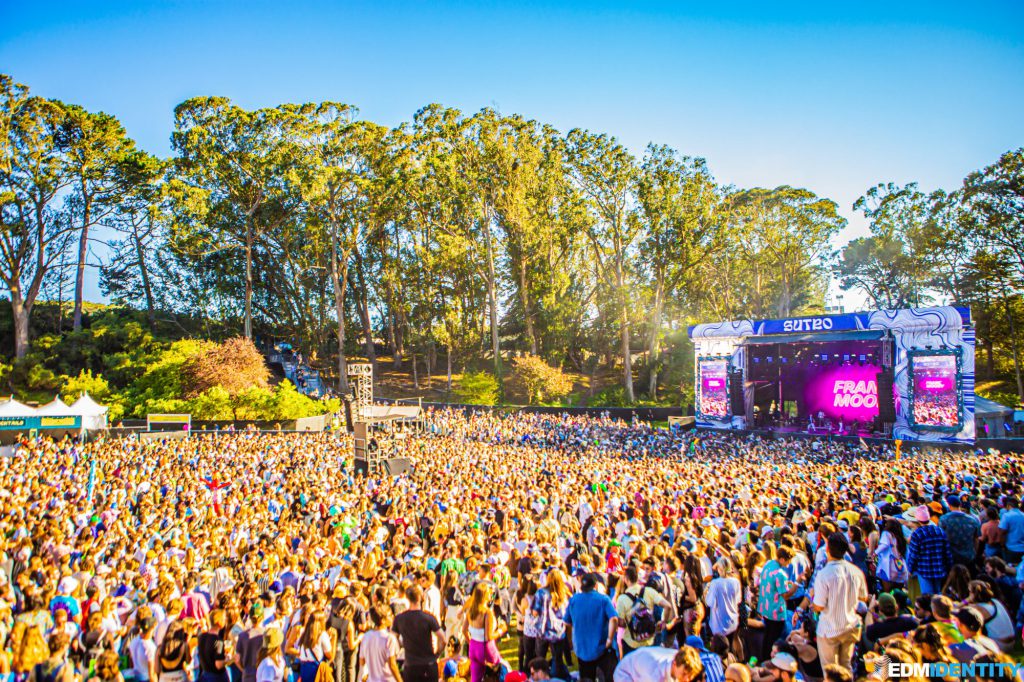 When it comes to my favorite performances of the weekend, I found myself experiencing all of them at the Sutro Stage.
Hands down, my favorite set of the weekend was Franc Moody at Sutro on Saturday. The UK electro-funk band never ceases to amaze me and leaves me extra stoked every time I see them. Over the last few years, Franc Moody has released a plethora of funky dance-infused tracks like "I'm In A Funk," "Mass Appeal," "Big Cheese," and most recently, "Raining In LA." All of which they expertly incorporated into their set amongst classics like "Dopamine" and "In Too Deep" along with remixes like their take on Elia y Elizabeth's "Alergía." When you see a group having that much fun on stage playing undeniably groovy tunes, there is nothing else to do but dance and enjoy.
My second favorite was Parcels, who played right after Franc Moody on Saturday. This was the three-hour block I expected to be the most fun of the weekend, and it absolutely was. Parcels are a five-piece Australian electropop band that burst onto the scene with their ear-tickling tracks "Tieduprightnow," "Lightenup," and "Gamesofluck." Their productions translated even better to a live setting as each group member was multi-faceted, singing harmonies and playing an instrument. Being able to experience these two sets back to back was a storyline I did not see coming and made Saturday a special day.
Other memorable sets at Sutro were Purple Disco Machine, Disclosure, Polo & Pan, and Washed Out. After the weekend was all said and done, I concluded Sutro was my favorite stage. It was well run with no apparent sound issues. Finding a solid spot in the crowd where vibes, sound, and a view of the artist all met in perfect harmony was surprisingly easy, especially if you hung out for multiple sets. While I loved seeing artists I was excited about, I also discovered a lot of new music.
One of my favorite new music finds was LA-based indie-electronic duo Forester, who played two sets on Sunday.
Having just found out about Forester, I can confidently say that this duo is onto something special. They took the stage for their first Outside Lands on Sunday at Twin Peaks and performed a live set with Xander on keys and vocals and David on guitar, percussion, and DAW. Although Forester played the day's first set, their dedicated fans showed up early and brought a fun and palpable energy. The sound was cranked high, the visuals were stunning, and it felt like the audience was experiencing a mainstage closing set. Forester may be in the early part of their career, but their combination of live instrumentation with dance-forward production has all signs pointing upward.
Then, the two took the stage at the Toyota Music Den for a DJ set. Catching that set right after they played a live one was a cool contrast because it showcased their ability to craft different types of experiences. The live set was strictly their music, all live instrumentation, vocals, and visuals, and on a huge stage. The DJ set was more intimate and allowed them to play outside their music catalog and some of their own. Each performance was high-energy and full of good vibes, and I certainly won't be missing a Forester set moving forward.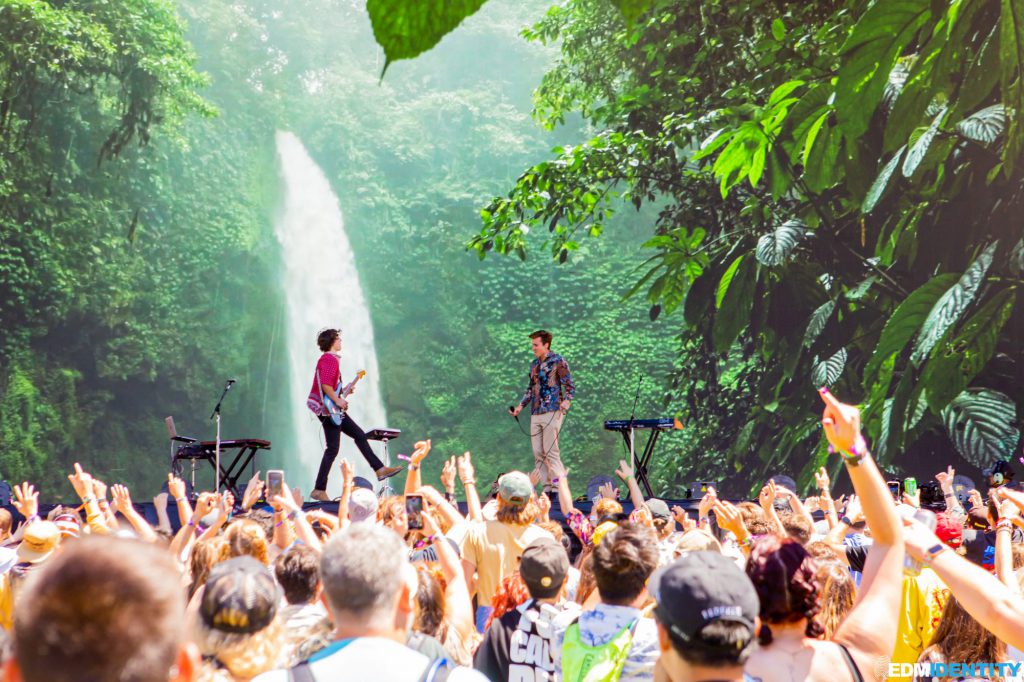 When I wasn't watching music, I could be found in Grass Lands, at the food vendors, or roaming around checking out the art and installations.
Outside Lands is one of the California festivals beginning to incorporate cannabis into the event experience. Not just in a recreational way, but in an educational and informational way too. There were cannabis vendors, consumption areas, and local organizations educating people on the legislature surrounding cannabis and informing attendees of what they can do to support the cannabis movement.
There were a whole range of discussion topics like wrongful arrests, medical use, or the fact cannabis is still federally a Schedule 1 substance. But the most crucial thing Grass Lands has done is bring more awareness to cannabis as a whole, and hopefully, that will lead to a more destigmatized mindset to cannabis use.
The next best thing about Grass Lands is that the food vendors and art instantly became more radical, dude.
I supported a few food vendors throughout the weekend, from pizza and coffee to nachos and bao. My favorite was the pork buns from The Chairmen. It was a relatively large serving for a festival and expensive, but worth it. It was about the size of a regular hamburger, but the flavor from the pork belly mixed with the cucumber shavings, soft bun, and aioli made me forget about the hole forming in my wallet.
As I walked around the festival, I noticed some familiar art pieces and many new ones. I always seem to find Greg Mike's funny little vibrant characters, which always put a smile on my face. Greg Mike was also spray painting live in the meadow, and it was really neat to see him work. I also found some new pieces that immediately caught my eye. Same Flores painted a piece that displayed a gorilla turning on a record player with colorful animals coming out of the sound cone. I also saw a wonderful, bright, colorful, and creepy wizard painted by Skinner.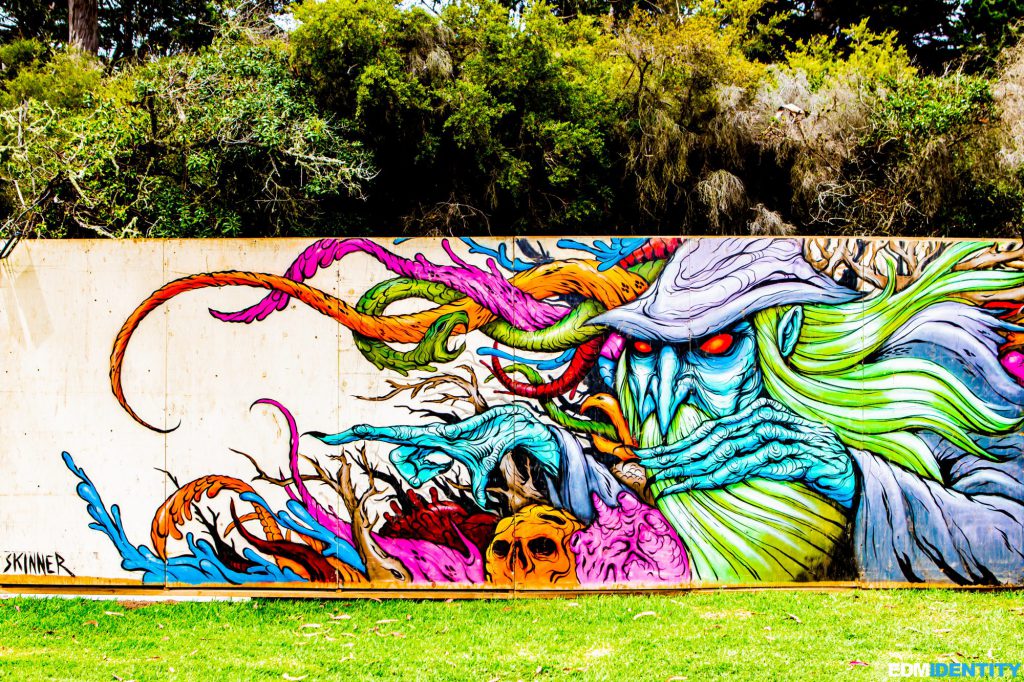 The music, food, and art guided my experience, but the venue's natural beauty was one common factor that elevated all those aspects.
Being able to experience world-class music, cuisine, and art in an environment like Golden Gate Park truly is an adventure in itself. The coastal breeze keeps temperatures comfortable during the day, and you can bundle up in a jacket or blanket at night. The trees' canopies cast large pockets of shade throughout the park. The sun fell behind them at sunset, and huge light beams would shine through the leaves. I remember a particular moment on Sunday at Sutro when Mt. Joy was playing "Fire On The Mountain" at sunset, and the light was beaming through the empty spaces of the trees. It was so magical, with everything perfectly placed in its role.
It's also well worth mentioning the park would not have stayed as clean as it did without Outside Lands' volunteers. The Green Team, or whatever they are rightly called, were hustling all day to keep the grounds clean. Doing so increased the overall vibe by not seeing or stepping on trash all over the place. Every volunteer I interacted with was in great spirits and was excited to play an essential role in preserving the venue.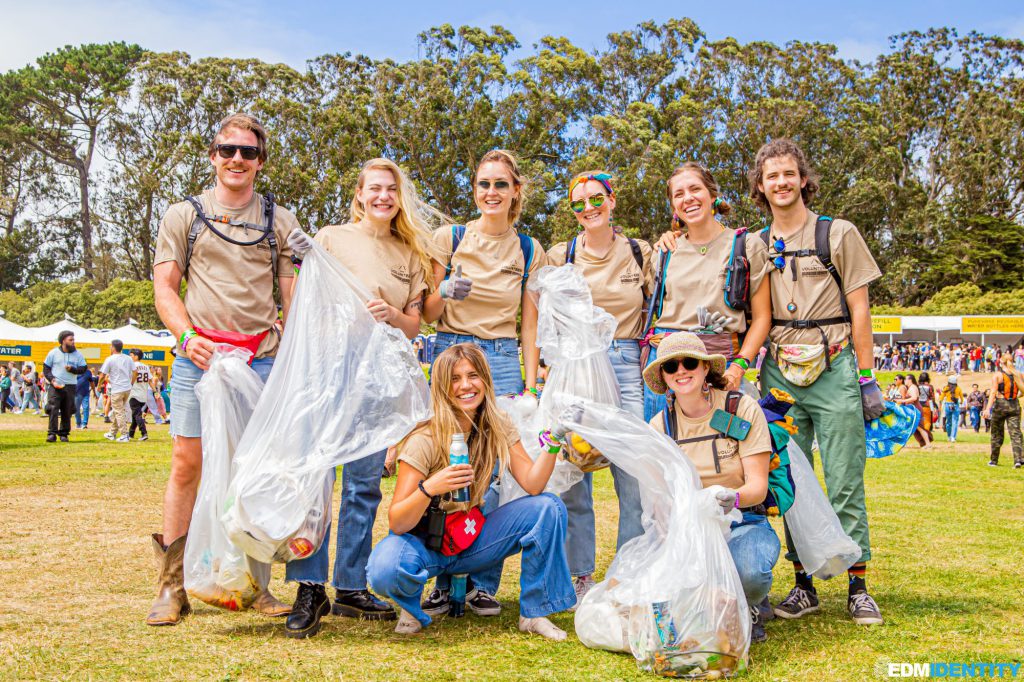 Overall, I had a wonderful time at Outside Lands and plan to return in the future.
It was a fun and successful weekend for my first time back at Outside Lands in six years. I saw amazing sets, discovered new music, ate a lot of good food, met new friends, hung out with old ones, and was inspired by all the art. I will admit the most significant change I saw was in the audience. It was a noticeably younger crowd, which has much to do with the bookings.
Previous year's lineups brought in groups like Radiohead, Metallica, The Who, and Gorillaz, whereas the 2022 lineup booked artists like Post Malone (who was amazing), Lil Uzi Vert, and Jack Harlow. It was nice to see the younger generation figuring out music festivals, but that didn't come without its fratty moments.
Outside Lands is a wonderful place to see music, eat delicious food, and enjoy a beautiful natural venue. If you are trying to have a relaxing festival where you can sit, eat, drink, and not feel conflicted about set times, I highly recommend checking out this festival. Even if the lineups continue to diverge from the old days, there is more than enough new music, food, art, and cannabis to make it worth attending.
---
Follow Outside Lands on Social Media: