Excision, Alison Wonderland, Adventure Club, and more are set to play the debut edition of Necropolis Music Festival in Chicago this year.
---
Auris Presents has been on a roll over the past two years as one of the blossoming brands to emerge in Chicago. They delivered heat with the debut editions of ARC Music Festival and Heatwave, and with the sophomore edition of ARC on the horizon, they've added another festival into the mix – Necropolis.
Set to take place on Northerly Island in Chicago on October 29-30, this new festival from Auris Presents intends to flip the script on the norm for the company by delivering a bass-fueled fantasy world for attendees. Backdropped by the Chicago skyline and Lake Michigan, Necropolis will be the perfect way for headbangers to celebrate Halloween in the Midwest – and the initial lineup is teeming with talented artists.
Major names set to take the stage at the debut edition of Necropolis include the likes of Excision, Adventure Club, Alison Wonderland, Dimension, Gramatik, and Kayzo. But while those artists might stick out immediately on the lineup, there's plenty more in store. From artists like Blanke and JOYRYDE to ARMNHMR and Lucii, and even DJ Diesel (aka SHAQ), there will be a large swath of bass sounds for everyone to bask in during the festivities.
This is just a sample of what's in store as more artists are set to be announced – and in a similar vein to their other festivals, Necropolis will also bring some stunning after parties to life at venues ranging from Concord Music Hall to RADIUS. Stay tuned for more details on the artist additions and after-party lineups that will arrive soon.
General tickets for the debut edition of Necropolis will be available on August 19 at 12pm CST. Head over to their website to sign-up for the pre-sale, and let us know if you plan to attend on Twitter!
---
Necropolis 2022 – Lineup: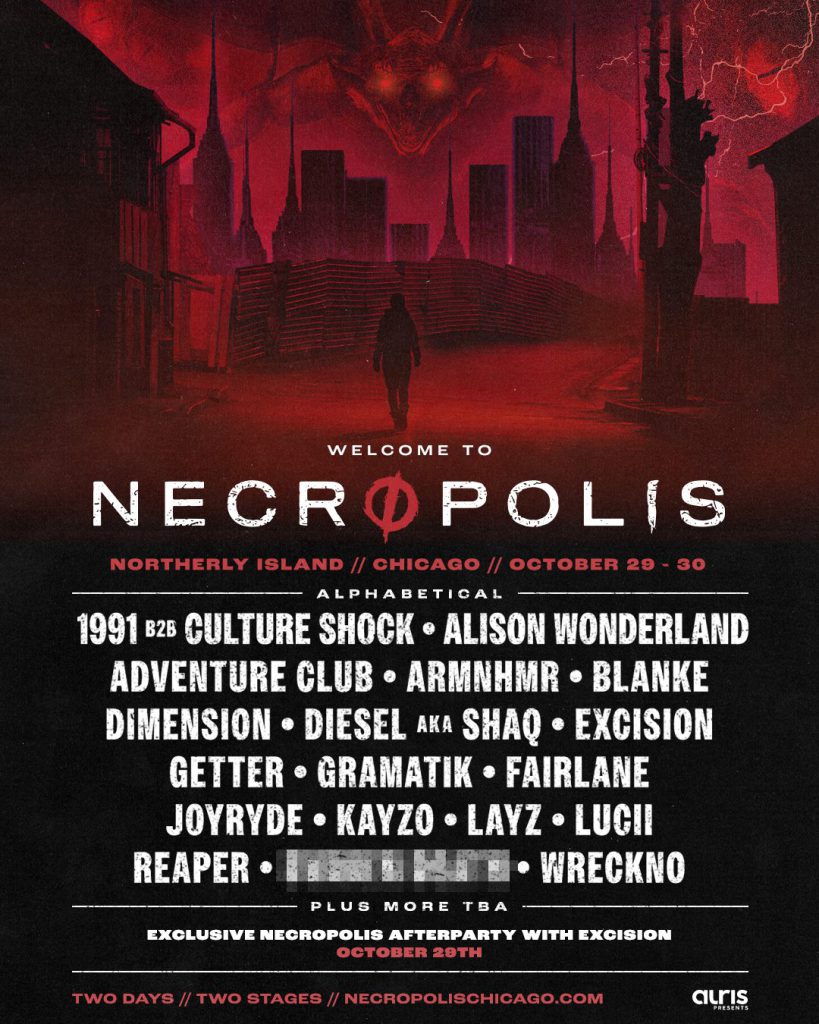 ---
Necropolis 2022 – Lineup By Artist:
1991 b2b Culture Shock
Alison Wonderland
Adventure Club
ARMNHMR
Blanke
Dimension
DJ Diesel
Excision
Getter
Gramatik
Fairlane
JOYRYDE
Kayzo
Layz
Lucii
Reaper
Wreckno
---
Follow Necropolis on Social Media: